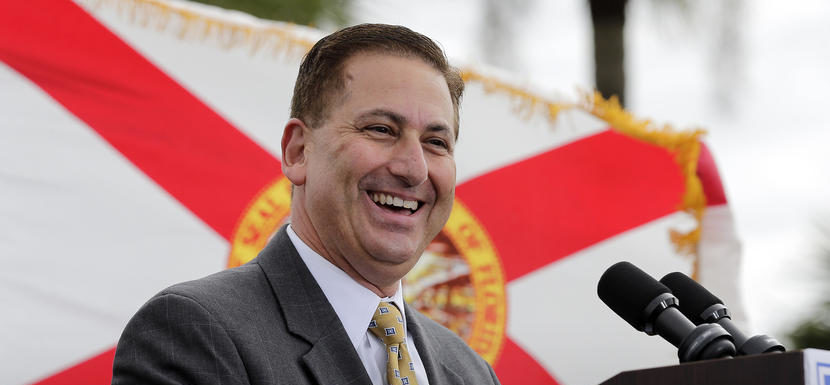 Although St. Petersburg isn't officially classified as a sanctuary city, Mayor Rick Kriseman all but declared that's exactly what his town is on Saturday. And if the Trump administration wants to deny the city federal funds because of that stance, the mayor's response is essentially, 'We'll see you in court.'
"While our county sheriff's office is ultimately responsible for notifying the federal government about individuals who are here illegally, I have no hesitation in declaring St. Petersburg a sanctuary from harmful federal immigration laws," Kriseman wrote on Medium on Saturday.
"We will not expend resources to help enforce such laws, nor will our police officers stop, question or arrest an individual solely on the basis that they may have unlawfully entered the United States," the mayor added. "Should our solidarity with 'Sanctuary Cities' put in peril the millions of dollars we receive each year from the federal government or via pass-through grants, we will then challenge that decision in court. Win or lose, we will have upheld our values."
In general, sanctuary cities are defined as localities that help shield undocumented residents from deportation by refusing to fully cooperate with detention requests from federal immigration authorities. The right-leaning Center for Immigration Studies listed Pinellas (as well as Hillsborough, Pasco and Hernando) as sanctuary counties in a 2015 report, but that classification has been strongly disputed by Sheriff Bob Gualtieri.
"When they ask us to do things within the law, we operate with them and their programs to help them take those that are illegal who have committed crimes . . . and get them out of here,"" Gualtieri told the Tampa Bay Times' Laura Morel last week.
Although sanctuary cities and counties have existed in some form since the 1980's, they became a much more potent political flash point in the summer of 2015, after 32-year-old Kate Steinle was fatally shot while walking on San Francisco's Embarcadero by a Mexican national with a criminal record who had been deported several times.
On the campaign trail last year, Trump vowed to dismantle sanctuary cities, citing those areas for harboring dangerous immigrants who commit crimes against Americans. He followed up on that promise shortly after being inaugurated last month, signing an executive order threatening to pull federal funding from sanctuary cities.
While nearly every mayor of a sanctuary city has brazenly defied Trump's executive order with rhetoric indicating that they will dig in and resist the threat (and in the case of San Francisco, gone ahead and filed a lawsuit blocking that executive order), Miami-Dade County Mayor Carlos Gimenez has been one of the few local officials to heed Trump, ordering his jails to comply with requests from the federal government on detaining illegal immigrants.
There have been efforts by immigration activists in Tampa for months to persuade Mayor Bob Buckhorn to convert his municipality into a sanctuary city, and Kriseman acknowledges in his post that he too has received similar requests. Both have deferred on the issue, saying that the responsibility for holding undocumented immigrants is left to their respective county governments and law enforcement officials.
While the issue of sanctuary cities isn't going anywhere anytime soon, it's been superseded by the fallout from Trump's executive order signed last week banning travel into the U.S. by citizens of seven majority-Muslim countries.
On Friday, Buckhorn attended Friday prayers at the Islamic Society of Tampa Bay mosque, where he called Trump's actions "an attack on Islam as a religion."
In his post on the online platform, Kriseman wrote that "the larger debate is no longer about sanctuary cities but about President Trump's demonization of Muslims and the recent suspension of our refugee program."
On Saturday morning, the State Department announced that previously banned travelers will be allowed to enter the U.S after a federal judge in Washington state on Friday night temporarily blocked enforcement of the president's immigration ban.
"We have reversed the provisional revocation of visas under" Trump's executive order, a State Department spokesman said Saturday. "Those individuals with visas that were not physically canceled may now travel if the visa is otherwise valid."