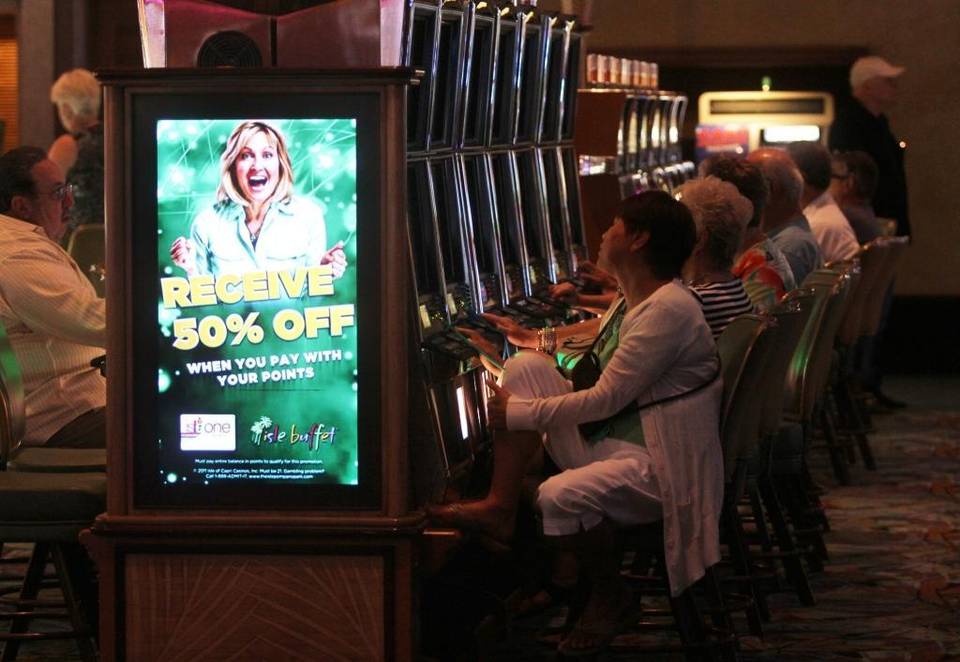 The topic of, dare we say, urination rarely comes up in legislative committee meetings in the Capitol.
But there it was, most surprisingly, being mentioned by a gambling expert Thursday in a discussion on slot machines.
The House Tourism and Gaming Control Subcommittee was having a panel discussion on slots, first hearing from Natasha Dow Schüll, a cultural anthropologist and author of "Addiction by Design: Machine Gambling in Las Vegas."
"Her research concerns gambling, addiction, and technology in Las Vegas," her website says.
And pee-pee, apparently.
"Gamblers describe going into what they call a 'zone,' or a 'machine zone,' " she said via Skype. "And in that zone, the flow is so absorbing that you lose a sense of time, a sense of space … you lose a sense of monetary value, and even a sense of your own physical being," she told the panel.
"Every evening in casinos, you can see a whole row of machines that say 'out of service to clean,' " she added. "That's because people are actually urinating on the machines so they don't have to leave."
The reaction from Twitter was swift, with people calling the statement "hyperbole" and saying it "belongs in the embellishment hall of fame."
Seminole Tribe spokesman Gary Bitner called the statement "ridiculous … with no basis in fact." The tribe operates several casinos in Florida, including Tampa's Hard Rock. 
"The only time anyone would do that at a slot machine is if they hit a million-dollar jackpot," he said. 
But, eww, it has happened, at least according to a cursory search of Google News.
There weren't any stories at Florida facilities, but as recently as 2015, "a gambler at a Pennsylvania casino allegedly turned the coin tray of a slot machine into an impromptu urinal," according to a story on PennLive.com.
He even resisted his arrest "by state police, who say he became physical with officers when they attempted to take him into custody," the story said.
David Schwartz, director of the Center for Gaming Research at UNLV, told CasinoCenter.com some Vegas casinos "do change the carpets for that reason."
"(I)t is true that some die-hard gamblers don't ever want to leave … It wouldn't be a bad idea to check the seat before you sit down at a casino," he said.
Lesson learned: Use the restroom often as you play, or urine trouble.
Coming up, the usual assortment of tidbits, leftovers and not-ready-for-prime-time moments by Jenna Buzzacco-Foerster, Michael Moline, Jim Rosica, and Peter Schorsch.
Now, the "Takeaway 5" — the Top 5 stories from the week that was:
Cabinet shake-up — CFO Jeff Atwater sent shock waves through Tallahassee Friday when he announced he was resigning at the end of the 2017 Legislative Session to accept a position of Vice President of Strategic Initiatives and Chief Financial Officer at Florida Atlantic University. In a statement, Atwater said he while he would have preferred to embrace the the opportunity at a later date, "the timing of crucial University initiatives warranted an accelerated transition." Gov. Scott applauded Atwater's service, calling him a "Floridian, father, husband and friend" and said he will "truly miss working with him." The announcement set off a scramble of speculation of who Scott and the Cabinet would select to fill the seat. Among the names mentioned: Developer Pat Neal, former state Rep. Tom Grady, Lt. Gov. Carlos Lopez-Cantera, Sen. Aaron Bean, Sen. Jeff Brandes, Sen. Jack Latvala, Sen. Tom Lee, Sen. Lizbeth Benacquisto, as well as state Rep. Joe Gruters, former House Speaker Dean Cannon and Jacksonville Mayor Lenny Curry.
First blow — Call it a bad week for Enterprise Florida. The House Careers and Competition Subcommittee voted 10-5 to approve a bill that would eliminate the state's economic development organization; Visit Florida, the state's tourism marketing agency; and a slew economic incentive programs. The vote was just the latest in a series of moves meant to target the agencies, which have drawn the ire of House Speaker Richard Corcoran. Opponents of the committee bill said it would destroy the tourism industry; while opponents applauded House members who "stood up for fairness, for principle, and for Florida taxpayers." Gov. Scott took to Twitter during the debate, giving supporters shout-outs and scolding members who voted in favor of the bill.
Fast track — The Florida Senate will have plenty to do when the 2017 Legislative Session officially kicks off in a few weeks. The Senate Rules Committee this week approved a bill to repeal a Prohibition-era law that requires businesses, like grocery stores, to have separate stores to sell liquor. The same committee also OK'd changes to the state's Stand Your Ground law. Both bills now head to the Senate floor. Also on the fast track: The Senate's "Excellence in Higher Education" legislation. Both bills (SB 2 and SB 4) cleared the Higher Education Appropriations Subcommittee this week, and are now headed to the full Appropriations Committee, the last stop before the full Senate. The higher education package is a top priority for Senate President Joe Negron.
Term limits — The Florida House is moving forward with a plan to put term limits on judges, a top priority for Speaker Corcoran. The House Civil Justice and Claims Subcommittee voted 8-7 for a proposed constitutional amendment that would put a 12-year term limit on Florida Supreme Court justices and appeal court judges. The measure, proposed by Rep. Jennifer Sullivan, wouldn't apply to judges who are currently in office, and begin with anyone appointed to an appellate court in beginning in 2019. The Florida Bar is opposed to the proposed constitutional amendment.
Marijuana meetings — The Office of Compassionate Use took its medical marijuana rule-making process on the road this week, holding five workshops across the state to get input from Floridians about how to implement the medical marijuana constitutional amendment. During a workshop in Tallahassee this week, speakers said the agency should, among other things, allow "whole-plant use;" let doctors determine which patients should get medical marijuana, and find ways to keep the costs down. The health department accepted written comment through Friday, and now faces a July deadline to write rules.
—
Gov. Scott took to the high seas — OK, maybe just stopped by a few of Florida's ports — this week to highlight a proposal to set aside cash for infrastructure improvements.
Scott visited Port Canaveral and JAXPORT to highlight transportation investments included in his fiscal 2017-18 budget. The budget includes $10 billion for the Florida Department of Transportation's work program, including $178 million for seaport infrastructure improvements.
"Port Canaveral is a major economic engine for the state, and we have great plans to continue growing and supporting our local community," said Tom Weinberg, chairman of the Canaveral Port Authority, in a statement. "It is clear Governor Scott knows that by strategically investing in our seaports, we are investing in new opportunities for our state's businesses, families and visitors."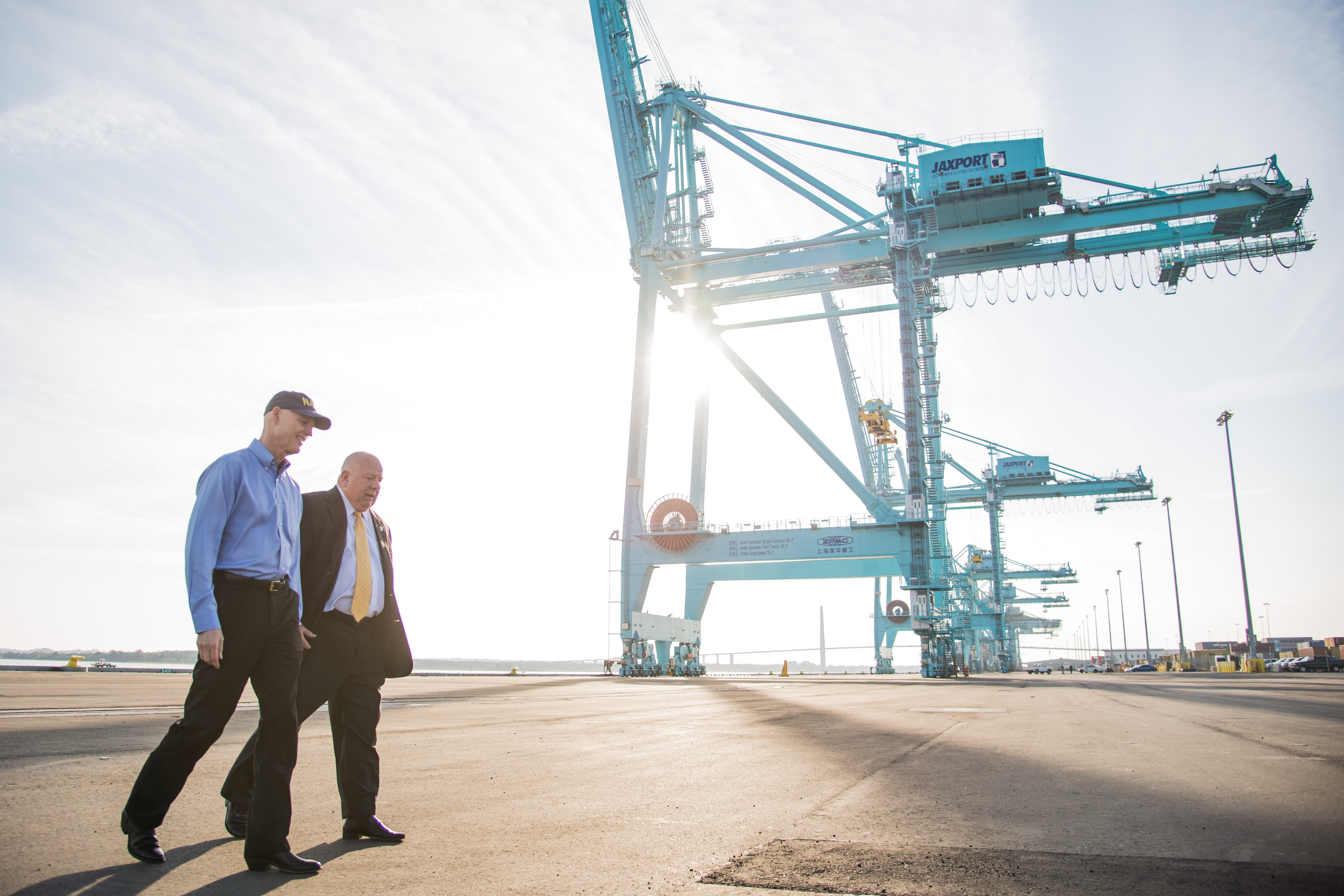 Scott also stopped by PortMiami later in the week to highlight the budget request.
"PortMiami is big ship ready and we are honored that the world's largest container alliances call here, which even further solidifies our position as the World Class Global Gateway," said Juan Kuryla, director of PortMiami. Governor Scott truly understands the importance of investing in Florida's ports and making Florida a global trade leader, and we are proud to fully support his budget recommendations."
Florida's 15 seaports are responsible for $117.6 billion in economic activity and support nearly 900,000 jobs.
—
New moms have a friend in Sen. Lauren Book.
Book, who is expecting twins, filed a bill this week to help pregnant women and mothers with infants while they are shopping. The bill (SB 650) would require retailers and shopping centers with more than 100 parking spaces to reserve at least one for expecting mothers.
"As a mother-to-be expecting twins, I've spent the last nine months watching moms attempt to balance it all while out in public with their babies. And I've seen that we're just not doing enough to support women during this incredibly challenging time," she said in a statement. "A new mom simply shouldn't have to sit on a toilet seat in a public restroom or out on a hot curb to feed their child. We need to provide more dignity, comfort and safety for both mothers and babies. This bill proposes a small change that would make a big difference."
The bill also requires retailers and shopping centers to maintain one clean and private breast feeding area that isn't a restroom or changing area.
Rep. Jared Moskowitz is sponsoring the bill in the Florida House.
—
Want to donate your health data? Sen. Brandes has a bill for that.
The St. Petersburg Republican filed a bill this week to allow individuals to anonymously donate their health records, just like they are allowed to donate their organs.
"The healthcare industry has moved to electronic medical records and there is now an opportunity to use enhanced analytic tools to study those records," he said in a statement. "Donating our healthcare data enables large, sophisticated studies of a wide range of health records. This bill will leave a lasting impact for future generations, and Florida will lead the nation in healthcare innovation."
The bill allows individuals to donate all or part of their electronic health records anonymously; and requires the Agency for Health Care Administration and the Department of Highway Safety and Motor Vehicles to develop and implement a program encouraging individuals to donate electronic health records.
—
Reps. Carlos Guillermo Smith and Alexandra Miller are joining forces with Sen. Dana Young to protect greyhounds.
The threesome filed legislation this week to ban the use of inhumane anabolic steroids on greyhound racing dogs. Female racing dogs are routinely given injections of anabolic steroids, or testosterone, to prevent the loss of race days and push their bodies beyond natural limits. There are currently 19 racetracks in the United States, 12 of which are in Florida.
"Greyhound racing is a cruel, but dying industry that will hopefully be phased out soon in our state," said Smith in a statement. "I am proud to be part of this bipartisan effort with Senator Young and Rep. Miller to ensure the humane treatment of greyhound racing dogs at all 12 of Florida's remaining racetracks facilities."
—
Give this doctor a round of applause.
Gov. Scott presented Dr. D.J. Brickler, with the Volunteer Florida Champion of Service Award during the Florida Cabinet meeting this week. Brickler is the creator of the Commemorative Air Force Red Tail Project Exhibit, which is a tribute to the Tuskegee Airmen, or "Red Tails."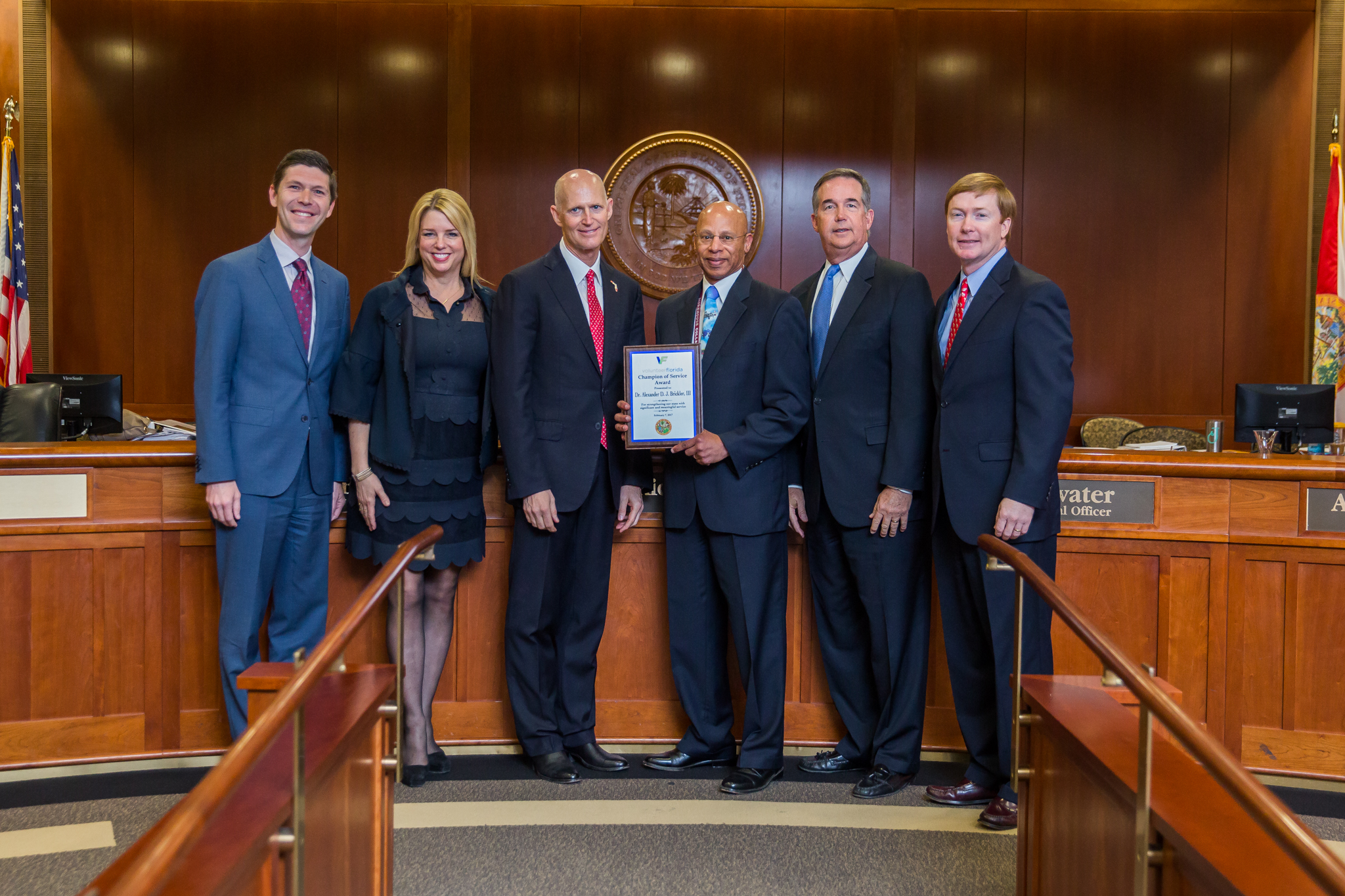 "Dr. Brickler has deep roots in the Tallahassee community as a beloved physician, community servant, and volunteer advocate," said Volunteer Florida CEO Chester Spellman in a statement. "Today we are especially proud to honor him for his work in creating a tribute to the Tuskegee Airmen, a tribute which has been shared with over 900 students from 11 Leon County schools in conjunction with Black History Month."
A native of Tallahassee, Brickler has served as chairman and vice-chairman of the Department of Obstetrics and Gynecology and as Chief of Medical Staff at Tallahassee Memorial Hospital.
—
The Florida Senate is taking steps to reduce the number of children prosecuted as adults.
The Senate Criminal Justice Committee voted 5-3 to approve a bill (SB 192) that would dramatically overhaul the way children are fast tracked into the adult prison system. The bill, sponsored by Sen. Bobby Powell, would create a uniform system throughout the state based on the child's age at the time of the crime and on the type of the offense committee.
"In the past, the direct filing of children as adults in the courts was the fallback position by officials who found it easier to dehumanize kids than work to solve the problems driving the behavior," said Powell in a statement. "This bill reflects a new attitude that kids aren't disposable, that warehousing them in adult prisons is not a solution, and that redemption and rebirth are possible."
According to the Senate Democratic Office, the bill aims to bring greater transparency into the criminal justice system by requiring prosecutors to document their decisions to prosecute children as students.
—
House members filed 319 bills seeking money for local projects as the deadline for such legislation fell. They would cost more than $708 million if enacted.
Under rules approved when Richard Corcoran assumed the speakership, members must file a specific bill describing each project they hope to insert into the state budget. The idea is to get away from secretive logrolling late during sessions.
The most expensive item is HB 2503 by Cary Pigman, a Sebring Republican. He would spend nearly $62 million to tear down and replace the aging Okeechobee High School.
The least expensive is HB 2003, by Deltona Republican David Santiago, to install a virtual reality lab for STEM students at Edgewater Public Elementary School in Volusia County. The price tag is $25,000.
—
Insurance Commissioner David Altmaier's solution to the insurance assignment-of-benefits problem includes limiting contractors' ability to recover attorney fees in litigation against insurance companies.
Florida's one-way attorney fee statute is intended to shield policyholders against legal bills if they want to sue their insurers for failure to pay or lowballing claims. Critics argue that unscrupulous contractors can exploit these agreements to file inflated claims backed by lawsuits.
Atwater said he wants to specify that only policyholders can benefit by the law.
"If your name is not on the policy, then you don't. It's just as simple as that."
—
Grab a book and head to Florida State University next week.
The Florida State University community kick off its sixth annual reading marathon at 9 a.m. Wednesday on the main floor of Strozier Library, just outside of special collections. The event is expected to run until 10 a.m. Thursday.
The annual event gives community members a chance to celebrate storytelling by reading aloud fables, fairy tales and myths for 24 straight hours.
"These stories may seem simple, but they help us understand our world, ourselves, each other and what it takes to get along," said Peggy Wright-Cleveland of FSU's Office of Faculty Development and Advancement and organizer of the marathon. "Hearing and telling them aloud, in their older forms, will help us pay attention to the power storytelling wields in shaping individuals and communities." 
Interested in reading aloud? Select your favorite tale and sign up for a time slot by visiting SignUp at signup.com/go/ozCEMJ.
—
Gov. Scott gave some belated congratulations to the winners of the Governor's 2016 Hispanic Heritage Month art, essay and educator awards recently.
The awards were presented during a reception at the Governor's Mansion this week. While Hispanic Heritage Month is held every year in Florida from Sept. 15 through Oct. 15, the 2016 event honoring awardees was postponed because of Hurricane Matthew.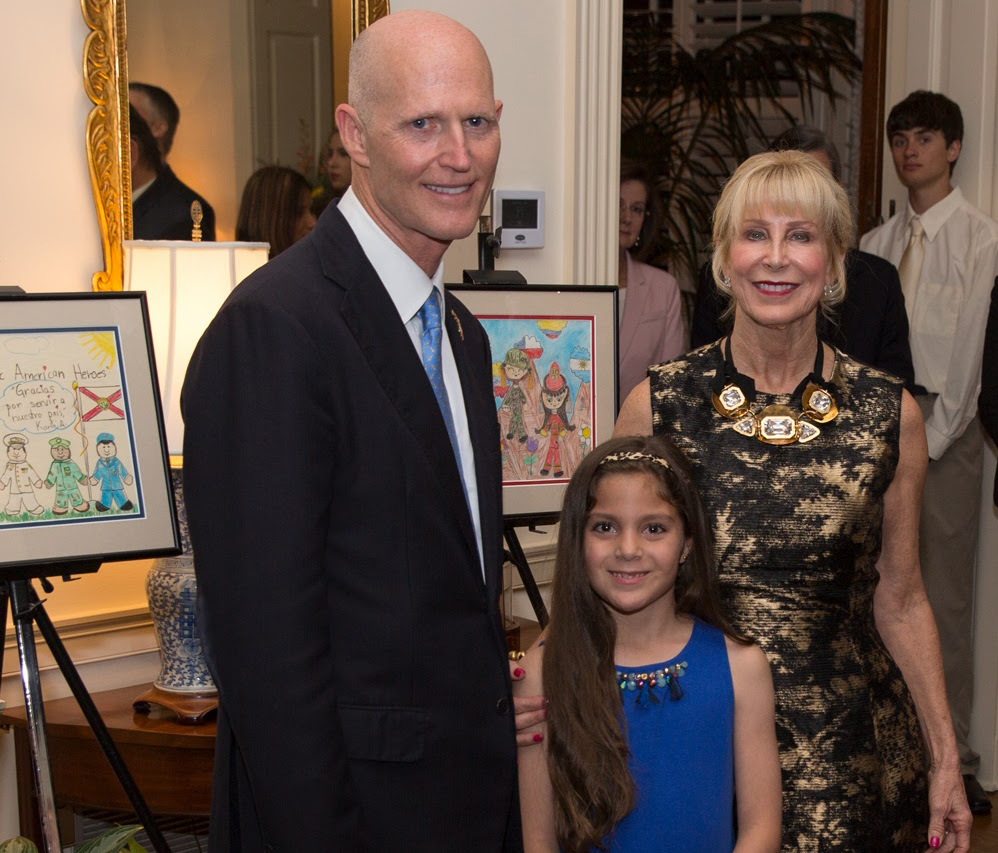 The 2016 Florida Hispanic Heritage Month theme was "Honoring Hispanic American Heroes" in recognition of those who have protected Florida's communities and families.
"My wife Ann and I were honored to join Volunteer Florida in recognizing the many great students and teachers who participated in last year's Hispanic Heritage Month contest," said Scott in a statement. "We are proud of our diverse and vibrant state and these winners and their projects represent the countless contributions Hispanic individuals and families have made to our communities."
—
The Department of Management Services wants you.
The state agency's People First team recently launched a new platform to attract talented candidates to the state workforce. The enhanced jobs site offers enhanced navigation tools and includes custom, agency branded-pages for state agencies.
"Working for the State of Florida means being responsive to the issues impacting the taxpayers of our state while using innovative approaches to create efficiencies," said DMS Secretary Chad Poppell in a statement. "The new People First recruitment site is aimed at recruiting top-tier talent from across the country to enhance Florida's workforce and to engage individuals who are committed to providing exceptional service to Floridians."
According to the agency, more than 612,000 people have visited the new job site, more than 34,600 candidate profiles have been created, and more than 49,500 applications have been submitted.
—
A quintessential Florida artist will be on display next time you're in the capital city.
The Department of State's Museum unveiled a new temporary exhibit called "Preserving Eden: Clyde Butcher's Florida Photographs" this week. The exhibit, which consists of 30 of Butcher's large form black and white photographs, is on display through May 1.
"Clyde Butcher is a Florida icon and has been called the Ansel Adams of the Everglades," said Secretary of State Ken Detzner. "I hope that everyone will come see this exhibit and learn about Florida's wetlands, hammocks, and dunes, and about one of the best landscape photographers in the world."
—
All the single ladies (and gentleman) are heading to Florida.
A new WalletHub report ranked the Sunshine State as one of the Top 10 places for singles. The personal finance website's data team compared all 50 states and the District of Columbia across 23 key indicators when it comes to dating friendliness. The data set included share of single adults, movie costs, and nightlife options per capita.
Florida ranked came in No. 10, rounding out the Top 10 list. It was ranked sixth when it comes to "dating opportunities," 26th when it comes to romance and fun, and 40th when it comes to "dating economics."
The Top 10 list included a few places you wouldn't normally think of when it comes to hotspots for singles, including Montana and South Dakota. Washington grabbed the top spot, followed by Colorado and California.
The worst place to be a single? Mississippi.
—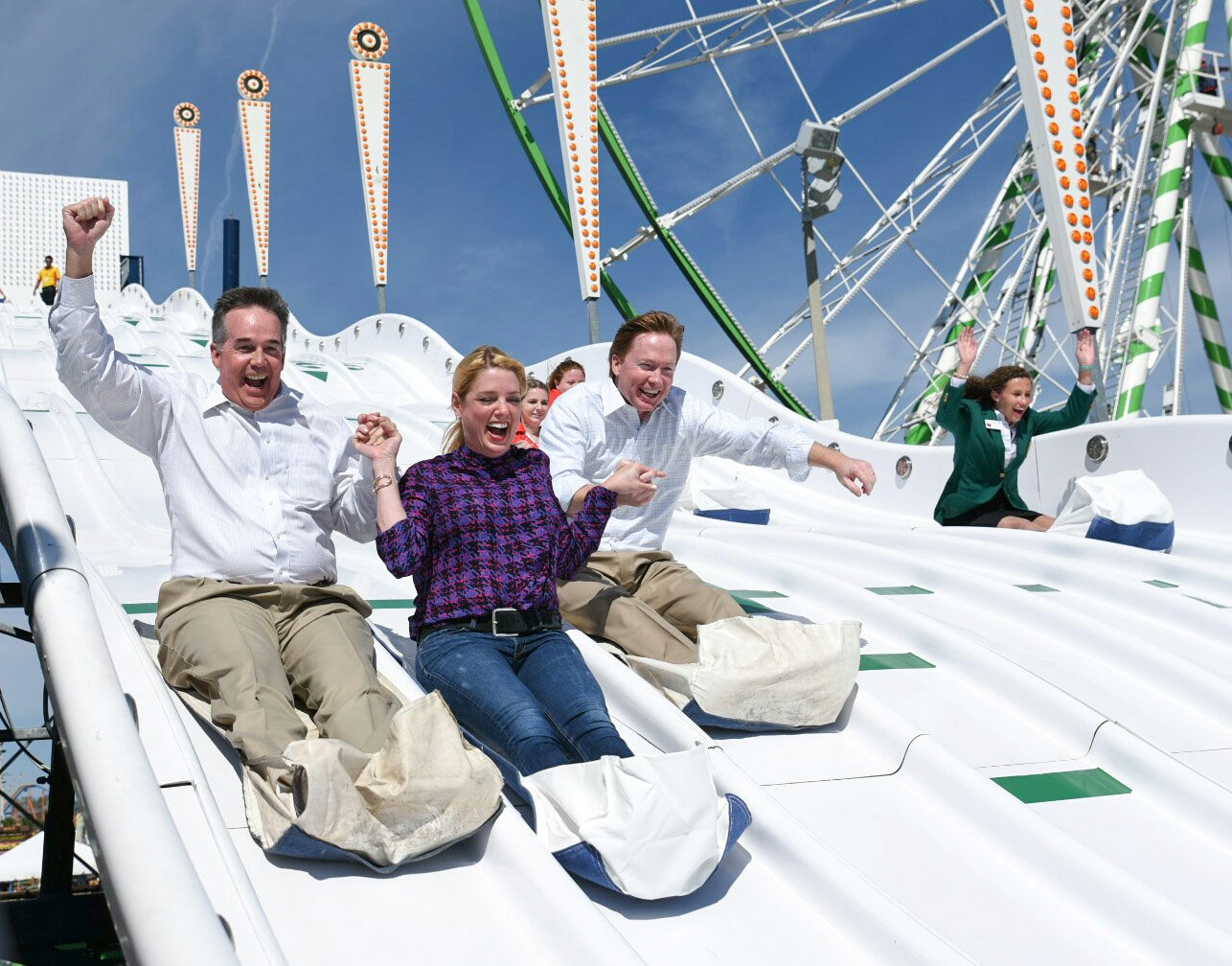 Your Florida Cabinet knows fun.
From left, state CFO Jeff Atwater, Attorney General Pam Bondi and Agriculture Commissioner Adam Putnam ride the slide at the Florida State Fair in Tampa. As Atwater tweeted Thursday, "Never a dull moment at the Florida State #Fair. Party on!"
This year marks the 113th anniversary of the Florida State Fair. First held in 1904 near Henry Plant's Tampa Bay Hotel, now the site of the University Tampa, the fair moved to its current location in 1977.
The fair showcases Florida livestock, poultry and fresh produce. More than 5,000 animals will be shown in competitions, with more than 1,500 FFA and 4-H participants. There are also several new attractions this year, including the largest traveling Ferris wheel, the Midway Sky Eye.
The fair runs through Feb. 20.
—
Congratulations, Tyler Montgomery!
Gov. Scott and the Florida Cabinet presented Montgomery with the Young Entrepreneur Award during the Cabinet meeting this week. Montgomery is the president of Mont Motorsports, a Panama City automotive company that fabricates, builds and sells aftermarket performance parts and vehicles.
"At Mont Motorsports, we work hard to create a strong relationship with our customers and provide a marketplace that offers thousands of performance parts, all in one location," said Montgomery.
Speaking of business achievements, Scott honored presented Javier Nava with the Governor's Business Ambassador Award during the Cabinet meeting this week. Nava is the president and founder of Javi's Salsa.
"I'm proud to recognize Javi's Salsa with the Business Ambassador Award," said Scott. "We work hard to cut taxes so we can make Florida a great place for small businesses like Javi's Salsa to succeed."
The spicy snack is distributed throughout the state.
—
Here's something to celebrate: A new report from Florida TaxWatch found Florida's sales tax holidays are beneficial to taxpayers and businesses.
"Not only are sales tax holidays popular, they also are valuable to Florida taxpayers and businesses," said Florida TaxWatch President and CEO Dominic M. Calabro. "Taxpayers save money when shopping during the holiday while simultaneously boosting Florida businesses. The Legislature should continue to implement these holidays."
The report found that any decrease in sales tax revenue for the state is offset by growth revenue. It notes the sales tax holidays are successful in increasing consumer spending, and also states the Back to School sales tax holiday is the second biggest shopping weekend in the state, second only to Black Friday.
"Florida's sales tax holidays have been extremely popular with taxpayers over the years and have led to millions of dollars in savings for Floridians," said Sen. Dorothy Hukill. "Extra money in the pockets of hard-working Florida families gives them additional flexibility when making monetary decisions."
—
The Florida Cabinet said "thank you" to three Broward County heroes.
Gov. Scott presented three Broward County deputies with the Governor's Medal of Heroism during the Cabinet meeting this week. The three deputies — Deputy Robert Bennet, Deputy Benjamin Fischer, and Deputy Jesse Doucette — for their actions in response to a house fire in January.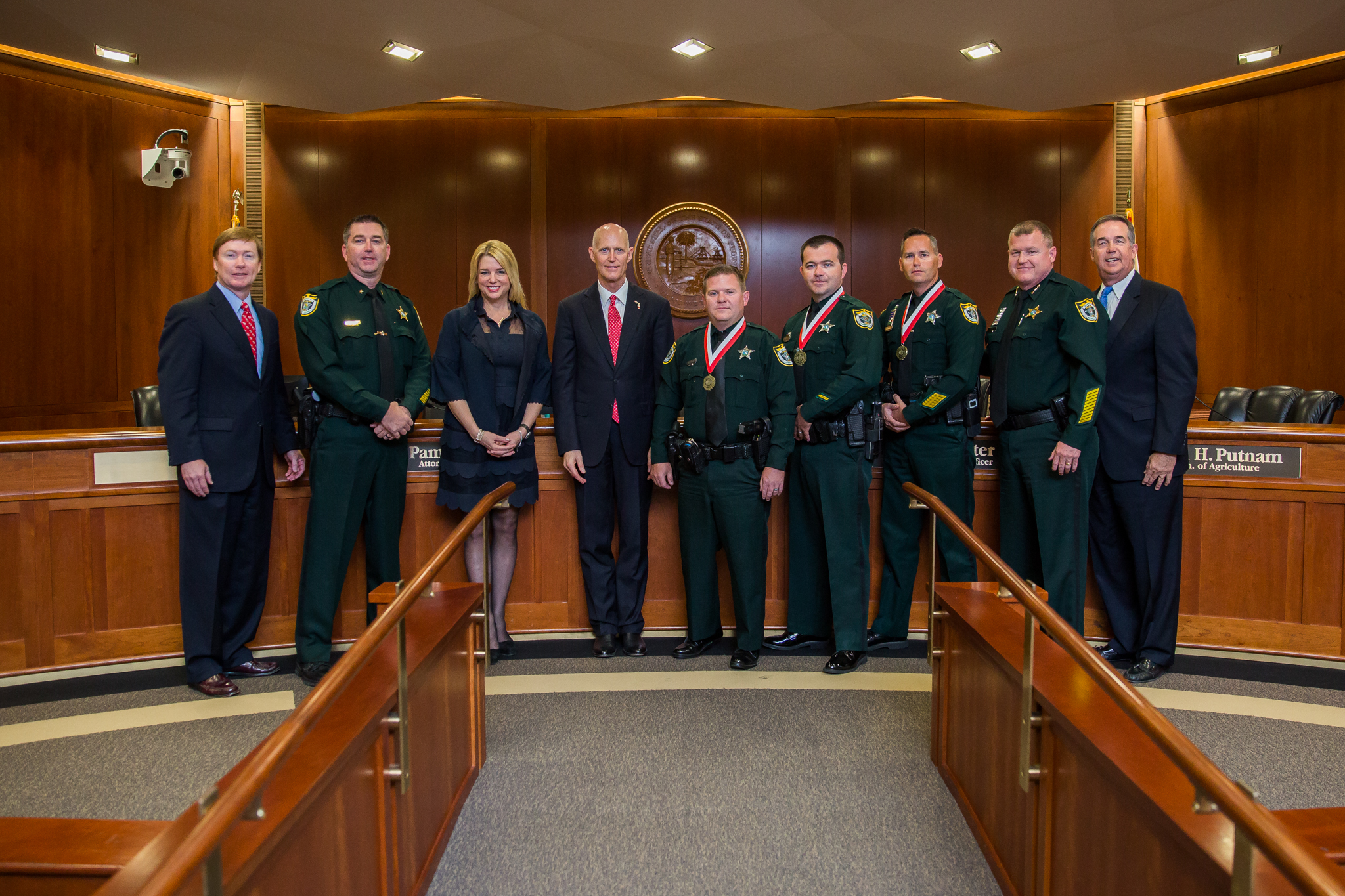 According to the Governor's Office, Doucette arrived on the scene of the house fire and entered to find a woman unconscious in a wheelchair. He carried her outside, where he and Fisher began lifesaving first aid efforts. Bennet then arrived on-scene, and entered the house to search for additional residents, where he found a dog lying in the house. He carried the unconscious dog out of the home, and used an oxygen tank to provide aid until the dog started breathing again.
"Every day, our first responders put their lives at risk to protect our communities and families," said Scott. "I'd like to thank Deputies Doucette, Fischer and Bennett for their quick response and selfless actions to rescue a woman trapped in a house fire. It's an honor to present them with the Medal of Heroism today."
—
Tip your hat to Florida's teachers.
Gov. Scott presented eight educators with the Governor's Shine Award during the Cabinet meeting his week. The award is presented to teachers and administrators in Florida who make significant contributions to the field of education.
"I am proud to present these eight educators with the Shine Award today. Great teachers help ensure our students are prepared for higher education and careers," said Scott. "I'd like to thank these teachers and educators around the state for their impact on today's students and generations of students to come."
Scott recognized Antonio Alves from Manatee County, Matthew Burton from Broward County, Khea Davis from Sarasota County, Vicki Forte from Putnam County, Wilhelmenia Jacobs from Palm Beach County, Yolanda Pittman Martin from Hillsborough County, Susan Rodriguez from Pasco County, and Benjo St. Fleur from Orange County.
—
Ginger Delegal is in charge.
The Florida Association of Counties executive committee unanimously appointed Delegal, the organization's deputy executive director and general counsel, as the interim executive director of the association. Delegal will replace Scott Shalley, who announced his resignation this week.
"Ms. Delegal's extensive experience and steady hand have played a crucial role in the Association for the last 13 years and I know she will be able to provide leadership needed at this time to safeguard a smooth transition," wrote Kathy Bryant, the president of the association.
Delegal has served as general counsel at the Florida Association of Counties since 2003. Prior to that, she was a shareholder at Nabors, Giblin & Nickerson in Tallahassee.
Shalley, according to the association, will stay on to help with the transition through March 3.
—
Mark Halperin is talking shop in West Palm Beach net week.
Halperin is scheduled to speak at the LeMieux Center for Public Policy at Palm Beach Atlantic University on Feb. 15. A well-known political reporter and the co-author of "Game Change," most recently served as the co-managing editor of Bloomberg Politics. During the 2016 election, he produced and co-starred in Showtime's The Circus: Inside the Greatest Political Show on Earth.
Established in 2012, The LeMieux Center provides students with opportunities to engage with state and national officials, journalists, authors, academics and other notable thought leaders on issues important to Florida, the United States and the world.

—
The Old Capitol went purple this week to mark the annual "Rally in Tally" Alzheimer's Association State Advocacy Day.
More than 140 delegates from across the state converged on Tallahassee to talk about the needed for increased state research funding, support services, education programs, cultural outreach, and increase respite care services. Advocates attended more than 70 meetings, and the event was expected to be one of the largest in the state.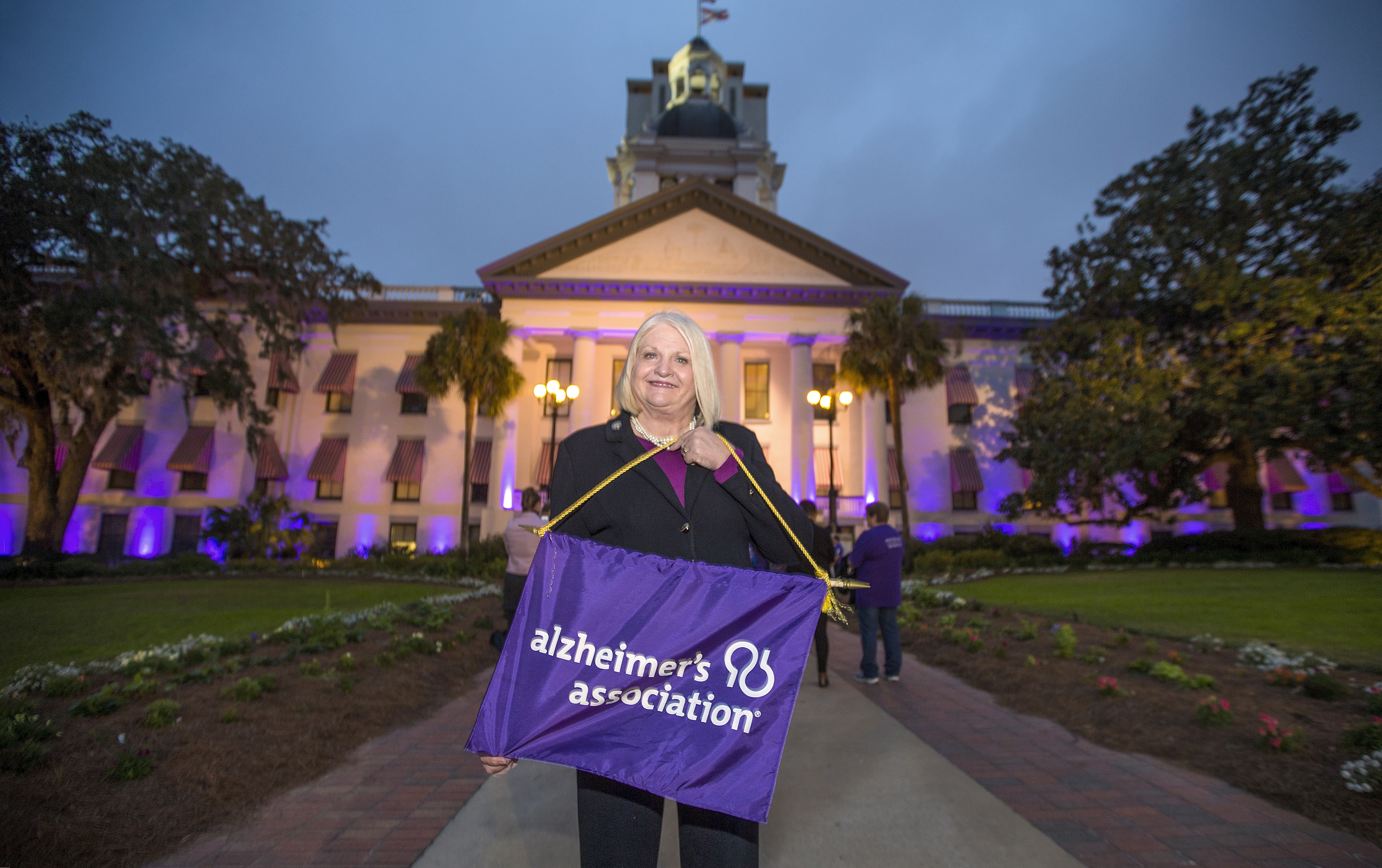 Alzheimer's disease is the sixth leading cause of death in the United States, and Florida has the second highest incidence rate in the country. An estimated 510,000 Floridians live with Alzheimer's.
—
Congratulations, Brevard Clerk of Court Scott Ellis!
The First Amendment Foundation announced this week Ellis was the winner the 2016 Pete Weitzel/Friend of the First Amendment award. Ellis was recognized for his "commitment to ensuring compliance with Florida's public records law and his tenacious struggle to obtain records from the Economic Development Commission of the Space Coast," according to the organization.
The award was created to recognize the significant contribution made by Pete Weitzel, the former managing editor of the Miami Herald, and the founder of the First Amendment Foundation. It is given annually to someone in Florida who has made a significant contribution to the cause of furthering open government.
The First Amendment Foundation also announced Curtis Lee as the winner of the 2016 James C. Adkins/Sunshine Litigation Award. He was honored for his role "continuing commitment to ensuring that Florida government remains open and accessible to its people."
"We owe Mr. Ellis and Mr. Lee special thanks for all they have done for the public," the organization said in an email to members. "They set a standard that citizens and those in government should emulate."
The awards will be presented during the annual Sunshine Recognition luncheon on March 14 at the Governor's Club in Tallahassee.
—
Playing golf this weekend? Head out to the Hollywood Beach Golf Resort.
The Hollywood golf course has been chosen as the featured golf course on the Florida Historic Golf Trail for the month of February. The first nine holes were completed and in play by 1922. The hotel and 18-hole golf course was opened in 1924.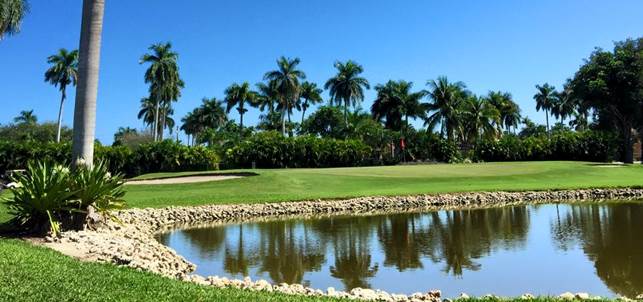 "The Hollywood Beach Golf Resort is honored to be selected as the Florida Historic Golf Trail's featured course for February 2017," said Josh McCumber, director of Golf at Hollywood Beach Golf Resort. "The golf course at Hollywood Beach Golf combines the best of old and new, where Old Florida meets the 21st century."
—
Still need a plan for Valentine's Day? Consider going to Orlando.
WalletHub recently ranked The City Beautiful as the third best place in the nation to celebrate Valentine's Day. The personal finance gurus compared 100 of the largest cities across the country across 20 different metrics, ranging from florists per capita, number of attractions, and cost of a three-course meal for two.
The city ranked No. 1 when it comes to "gift accessibility" and No. 2 when it comes to "activities." It was ranked 55th when it comes to budget and 35th when it comes to the weather forecast.
Orlando wasn't the only Florida city to earn a spot on the list. Tampa was ranked No. 11 and St. Petersburg earn a place at No. 37. Jacksonville is considered the 66th best place to celebrate Valentine's Day, while Miami was ranked No. 74 by WalletHub's number crunchers.
San Francisco earned the top spot on the list, while Hialeah was ranked as the worst city for Valentine's Day.
—
Valentine's Day might not be so sweet for Florida retailers.
A new survey by the Florida Retail Federation found consumers plan to spend about $10 less on gifts, and fewer people say they will celebrate the holiday this year — reversing a decade-long trend.
Randy Miller, FRF president and CEO, said consumers report they will spend an average of $136.57 in 2017, down from last year's record high of $146.84. Nationally, though, spending is still projected to be robust – $18.2 billion.
"This day is still expected to mean significant revenues for Florida's retailers as consumers shower their loved ones with gifts, flowers, candy, tickets to events and dinners at local restaurants," said Miller.
Consumers are expected to spend an average of $85.21 on their significant others; $26.59 on other family members, like children and parents; $6.56 on children's classmates/teachers, $6.51 on friends, $4.27 on co-workers, and $4.44 on pets.
Those shopping for Valentine's Day gifts plan to go to department stores (35 percent), discount stores (32 percent), online (27 percent), specialty stores (18 percent), florists (18 percent), and local small businesses (15 percent).
—
Here's this week's edition of Capitol Directions:

—
Save
Save
Save
Save
Save
Save
Save
Save
Save
Save
Save
Save
Save
Save