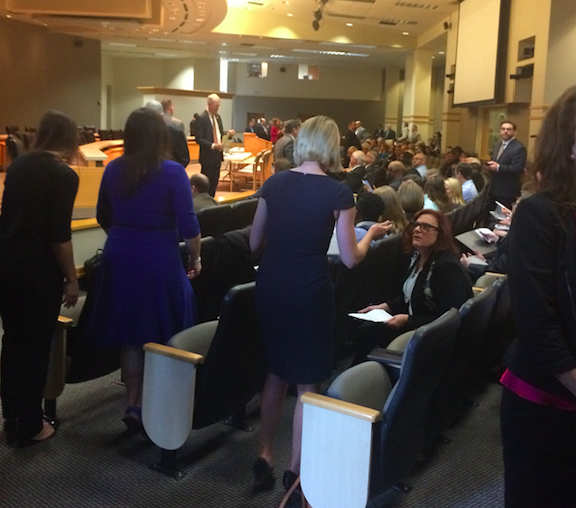 A Florida House panel Wednesday cleared a bill that would eliminate the Enterprise Florida economic development organization, the VISIT FLORIDA tourism marketing agency, and a slew of economic incentive programs.
The Careers and Competition Subcommittee OK'd the proposal (PCB CCS 17-01) by a nearly party-line vote of 10-5.
One Democrat voted for it, Miami's Roy Hardemon, and one Republican was opposed, Sarasota's Joe Gruters – an ally of Gov. Rick Scott, who believes in incentives. 
The committee room was packed with bill opponents, including those in the service and tourism industry and many from rural areas, who said economic development and tourism marketing was vital to their livelihood.
Passing the bill as is will "destroy our tourism industry," said Carol Dover, president and CEO of the Florida Restaurant and Lodging Association, speaking for the thousands of "waitstaff, cooks (and others) worried about losing their jobs."
The legislation comes in the wake of VISIT FLORIDA CEO Will Seccombe's December resignation, the last casualty of a kerfuffle over a secret contract – later revealed to be worth up to $1 million – with Miami rap superstar Pitbull to promote Florida tourism.
Moreover, Scott's continued support of incentives puts him at odds with House Speaker Richard Corcoran, who has derided Enterprise Florida as a dispenser of corporate welfare.
"Politicians in @MyFLHouse turned their back on jobs today by supporting job killing legislation," the governor tweeted after the vote.
Chris Hudson, state director of Americans for Prosperity-Florida, lauded the vote as the death knell of "bloated subsidies."
"Lawmakers were elected to serve the hardworking people of the state, not well-connected special interests that seek lucrative deals to pad their bottom line," he said.
"… We applaud the members of this committee who today stood up for fairness, for principle, and for Florida taxpayers."
But dozens more local officials and small business owners came to Tallahassee to oppose the legislation. Dairy owners joined oyster farmers, short-order cooks, and fishing captains to tell lawmakers the bill would harm them financially.  
Kelly Paige is president of Film Florida, but also owns Level Talent Group in Tampa. She said the state's previous ending of a film incentive caused her to lose 40 percent of her workforce.
"This bill actually represents a tax increase for my industry," she told the panel. "If you repeal (any more incentives), you are saying we are closed for business."
Eric Fletcher, manager of airport operations for Allegiant Air, said VISIT FLORIDA helped his airline grow 2,000 jobs in the state, bringing in 3 million visitors.
And Visit Florida board chairman William Talbert told the subcommittee "every single representative here knows … we would have a state income tax if it was not for tourism."
After the vote, state Rep. Halsey Beshears, the Monticello Republican who chairs the panel, said he was impressed by the many stories he heard during public comment.
"Obviously, there's a huge demand out there for (both organizations), but I do think we have to start from zero," he said. "Still, we'll let the Speaker know all the concerns we heard today.
"… Not everything will be zeroed out," Beshears added. "We cannot ignore all the people who traveled from all over Florida to be heard on this.
"I appreciate the dairy man who said every little bit (of marketing) helps, but then the server in Orlando (who supports the bill) told us we need to be good stewards of the people's money," he said.