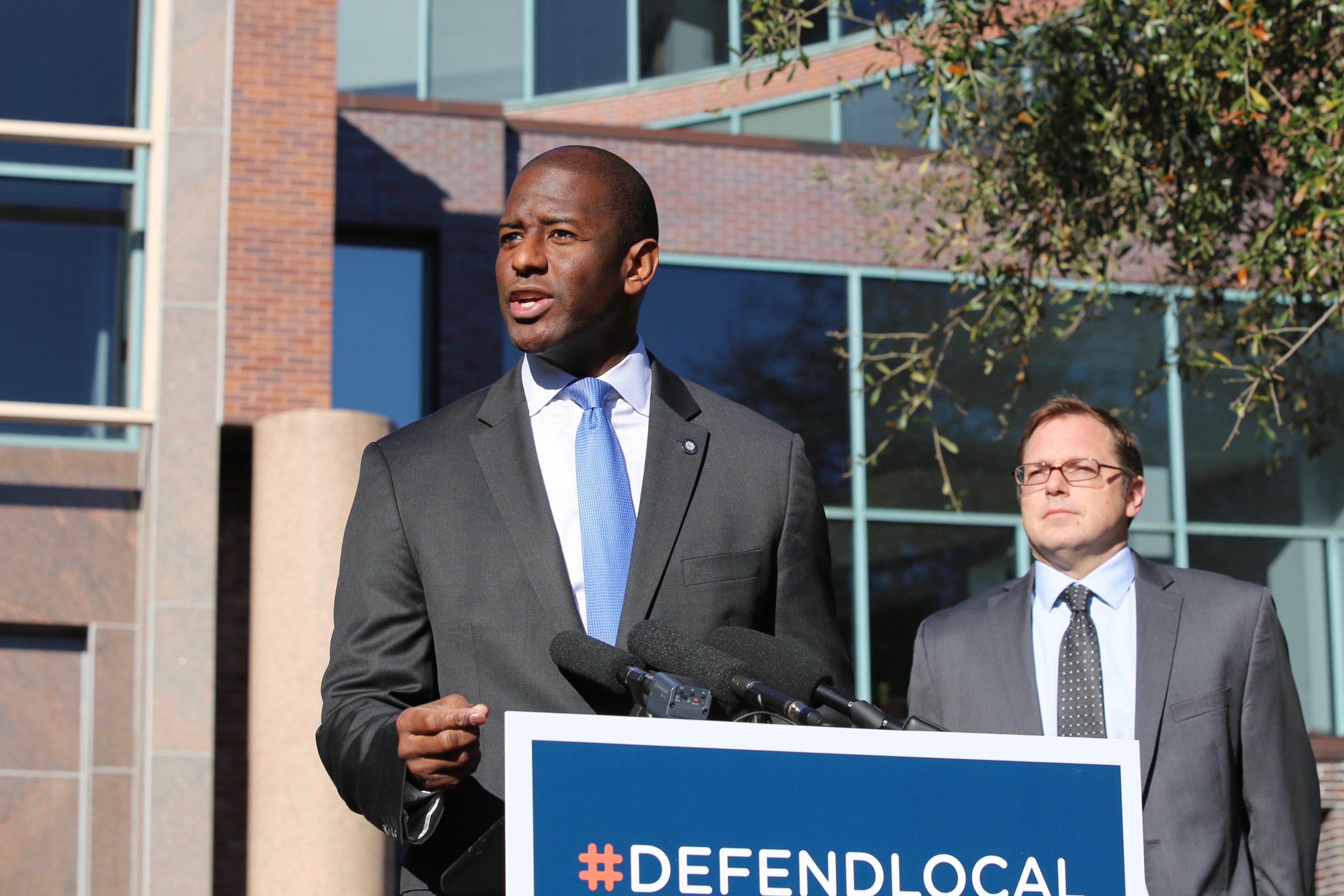 Tallahassee Mayor Andrew Gillum continued his "Campaign to Defend Local Solutions" Friday, marshaling support from consumer, environmental, and anti-poverty organizations against proposed legislation that would block local business and professional regulations absent express permission from the Legislature.
"We would like to work with our colleagues across the street in standing up for local democracy," Gillum said during a news conference outside Tallahassee City Hall, which stands catacorner from the state Capitol.
"It's consistent with the governing party's philosophy that decisions are best when they are made locally. If that is the case, then we've got to make sure that that's consistent with the laws that are adopted in this state. Otherwise, it's hypocritical."
Gillum, a Democrat and potential candidate for governor in 2018, launched the campaign in January, promising to recruit "individuals, organizations, and elected officials concerned about the erosion of local rights."
His target Friday was HB 17 by Brevard County Republican Randy Fine. It would bar cities, counties, school districts, and any other political subdivisions from imposing new regulations on businesses, professions, or occupations "unless the regulation is expressly authorized by general law."
The measure would take effect on Jan. 1, although regulations already on the books would expire on Jan. 1, 2020.
"We're talking about locals' ability to decide for themselves, and consistent with the values of their own communities, what makes sense," Gillum said. "Everything from business signage, to where businesses can be located, to environmental rules. You name it — this bill seeks to take aim at it."
Gillum has fallen on the downside of a state pre-emption law himself — he and other local officials spent two years defending a lawsuit filed by gun-rights advocates over the city's failure to repeal local gun restrictions. The state law makes local officials personally liable in challenges to gun ordinances.
The 1st District Court of Appeal ruled Feb. 3 that the city was not obliged to repeal the restrictions, as the state law had rendered them null and void and the city had not attempted to enforce them. Gillum complained that the city remained liable for up to $100,000 for the other side's legal fees.
Joining Gillum Friday were David Cullen of the Sierra Club, Karen Woodall of the Florida Center for Fiscal and Economic Policy, and Brad Ashwell of the Florida Alliance for Consumer Protection.
Cullen argued that local governments need authority to regulate lawn fertilizer because the federal Clean Water Act holds them liable for meeting water quality standards.
"If you take away the ability of these communities to regulate the use of urban turf fertilizer, you are imposing a burden on every citizen in that community," Cullen said.
Woodall noted that anti-poverty groups like hers have tried but failed to push living-wage and anti-wage theft laws through the Legislature, and are fighting attempts to prevent local governments from protecting paychecks.
"Increasingly, we are going to see more effort on local levels to enact legislation and ordinances or regulations that people in the communities want and support because of the challenges in doing so statewide," Woodall said.
"There are places where the special interests have so much influence in the capitol that it gets gummed up — it can't act," Ashwell said. "That's when local government really needs to step in and protect the public."