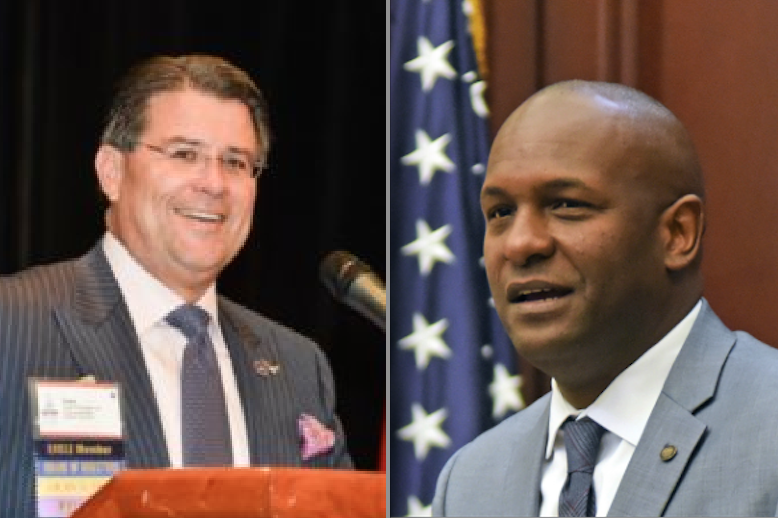 Two South Florida lawmakers are hoping to get Florida to make some amends for one of the darkest moments of the racist Jim Crow days, with bills seeking exoneration for the so called "Groveland Four," young black men and teenagers killed or imprisoned over false 1949 rape charges.
State Rep. Bobby DuBose and state Sen. Gary Farmer, both Democrats from Fort Lauderdale, introduced resolutions seeking exonerations and pardons for Charles Greenlee, Walter Irvin, Samuel Shepherd, and Ernest Thomas, and apologies to their surviving families.
The quartet's long-overlooked story was brought to national light in Gilbert King's 2012 Book "Devil In The Grove," which won the 2013 Pulitzer Prize after showing how racist injustice of late 1940s and early '50s Lake and Madison counties had ended or destroyed their lives.
"It has been so well-documented," Farmer said. "There is so much in the way of evidence that was either withheld or excluded from the legal proceedings. FBI files have been revealed now that shed light on the investigation that wasn't available back then. And it has been the subject of a lot of research and study."
Last year then state Sen. Geraldine Thompson of Orlando introduced a similar bill in the Florida Senate but it had no house companion and it went no where. Farmer said he spoke with Thompson before crafting the new resolution.
DuBose's Resolution 631, filed earlier this month, and Farmer's Senate Concurrent Resolution 920, filed Tuesday, resolve that, "we hereby acknowledge that Charles Greenlee, Walter Irvin, Samuel Shepherd, and Ernest Thomas were the victims of gross injustices and that we apologize to the families of the Groveland Four for all of the aforementioned wrongs and deem the four men formally exonerated" and that "the Legislature urges the Governor and Cabinet to review the cases of Walter Irvin and Charles Greenlee and to grant Mr. Irvin and Mr. Greenlee pardons."
Irvin and Greenlee were the only two who lived long enough to be convicted after first trial convictions were overturned.
Legendary NAACP lawyer and future U.S. Supreme Court Justice Thurgood Marshall was their attorney during appeals and second trials.
As portrayed in King's book and detailed in DuBose's and Farmer's resolutions, the four were falsely accused by a 17-year-old, white, married, teen girl and her estranged husband of raping her on a rural Lake County road outside of Groveland.
Thomas was then shot dead by a posse. Greenlee, Irvin, and Shepherd were arrested and severely beaten in custody until Greenlee and Shepherd offered false confessions. The three were tried and convicted, even though all had alibis and much of the testimony and evidence against them appeared manufactured. Greenlee, who was only 16 at the time of the crime, got a life sentence, while Irvin and Shepherd were given death sentences. Through Marshall's appeal, and the U.S. Supreme Court overturned their cases. Before the new trials, Irvin and Shepherd were shot in custody, and Shepherd died. Greenlee and Irvin were re-tried and re-convicted.

In 1955 Gov. LeRoy Collins commuted Irvin's sentence to life in prison, and he was paroled in 1968. The next year, hours after he made his first return to Lake County, for an uncle's funeral, he died under mysterious circumstances. Greenlee was paroled in 1962, and died in 2012.
"This is not about assigning any kind of blame or calling out any folks who might have been involved in the prosecution or law enforcement side," Farmer said. "It was a very different era. I'm not looking to be judgmental about that or cast blame or disparage any of the folks.
"It's just about these four men and their families, who suffered great injustice. It continues to live on," Farmer added. "The time is right to right that wrong.
According to the Tampa Bay Times, a high-budget movie is being produced of "Devil In The Grove."
Farmer said he wasn't aware of the movie. Asked about the prospect that the movie could end with a text epilogue announcing that in 2017 the Florida Legislature exonerated the men and Gov. Rick Scott pardoned them, Farmer replied,
"That would be a great ending to the movie."