House members served up a sour version of the "whiskey and Wheaties" bill Wednesday as it barely cleared its first committee.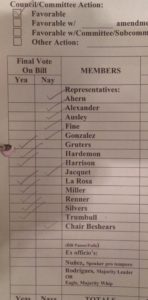 The Careers and Competition Subcommittee cleared the legislation (HB 81) by a vote of 8-7, with the panel's chair, Monticello Republican Halsey Beshears, voting against it.
This is the fourth year a version of the bill has been filed. It aims to repeal the Prohibition-era state law requiring businesses, such as grocery chains and big-box retailers, to have separate stores to sell liquor. Beer and wine already are sold in grocery aisles in Florida.
Republican state Rep. Randy Fine, who also voted against the measure, explained how he once was involved in supermarket sales consulting.
"The perspective I have is the 'dirty little secret' behind the motivation to run this bill," he said. "The reason for this is to sell a lot more hard liquor … People (now) can't make an impulse purchase of hard liquor; you have to choose to go to the liquor store. But if you bring it into Wal-mart, it's going be on the endcap," referring to displays at the ends of aisles.
"I didn't come here to have two or three times as much hard liquor be sold in the state," Fine told his colleagues. "And by the way, I'm Jewish. I made a lot of my money in the casino business. I'm OK with sin."
That was after lawmakers heard from several small liquor store operators, who feared the effect of the legislation would be to cut into or even "decimate" their business.
Alcoholic beverage retailers, such as ABC Fine Wines & Spirits and independent owners, have complained the bill is being pushed by the big retailers looking to expand their market reach. Publix Super Markets also opposes the bill, saying it's invested in the separate liquor store model.
Wal-mart, Target and others say tearing down the wall of separation between liquor and other goods is simply a "pro-consumer" move toward added convenience. Some store owners questioned whether the move really was pro-consumer.
Monty Lalwani, owner of Ocean Wine & Spirits and Ocean Liquor & Fine Wine in Broward County, told of having to learn a business in which customers don't ask for specific items but for something "peaty" or "sweet but not too sweet."
"Big companies push volume but they don't care … about the customer as much as we do," he said. "When somebody comes in with a request or a question, we make sure they walk out a satisfied customer."
Some members of the panel asked whether retailers would still be required to segregate hard liquor within the main store, a "store within the store" approach, so that booze wouldn't potentially be sold next to Barbie dolls.  
Bill sponsor Bryan Avila, a Hialeah Republican, said he would be open to changing the measure to address such concerns.
It next has to clear the Government Operations & Technology Appropriations Subcommittee and Commerce Committee before it can be considered by the full House.
Its Senate companion  (SB 106) won approval from two committees there and is ready to be considered by the full Senate after lawmakers convene for the annual Legislative Session on March 7.