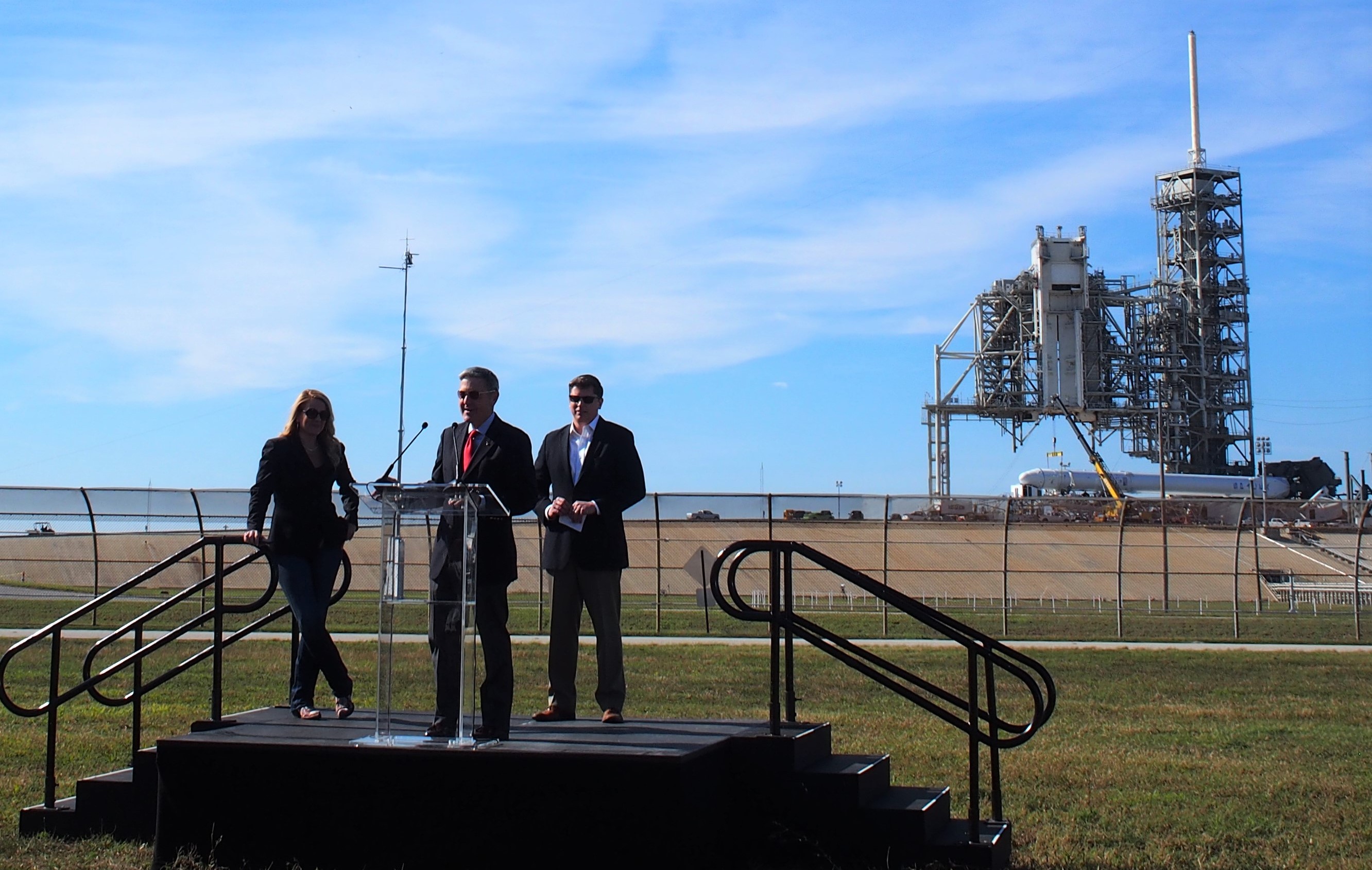 As SpaceX prepares to launch its first rocket from Kennedy Space Center's historic Launch Complex 39A Saturday – marking the first launch from Kennedy in more than five years – company president Gwynne Shotwell said she was more nervous than ever.
"I never get nervous speaking in front of a crowd and my heart is pounding," Shotwell said Friday afternoon as her company prepared to raise its Falcon 9 rocket in place on the launch pad that boosted Apollo 11  into space. "It's because I've got a vehicle on this extraordinary pad behind me."
At 10:01 a.m. Saturday SpaceX intends to launch that Falcon 9 into orbit, sending a capsule full of more than 5,000 pounds of equipment, supplies and food to the astronauts aboard the International Space Station.
But far more is at stake than the payload. This is the biggest and most iconic move NASA has made to transform Kennedy Space Center into a multi-user, public-private-military space port of the future. Three years ago SpaceX signed a 20-year lease to take over, rebuild and repurpose one of NASA's two most legendary launch pads, all for the company's own rockets.
It reflects NASA's commitment – still controversial in some political circles – to turn over all lower-Earth orbit space flying to private companies like SpaceX, Orbital ATK, Boeing and Sierra Nevada Corp.
NASA contends it is not only the proper strategy but that it never really had any other choice. Once the space shuttles were retired – the July 2011 flight of Atlantis was the last time any rocket had blasted off from Kennedy Space Center – the nation's civil space agency simply didn't have anything that flies in lower Earth orbit anymore. So the agency paid SpaceX and the other companies to develop private tucking and taxi rockets. And SpaceX was even leased the legendary launch pad.
Until now, everything has been going up in the past five years from adjacent Cape Canaveral Air Force Station, Vandenberg Air Force Base in California, or Wallops Island in Virginia.
"This pad would have just sat here and rusted away in the salt air had we not had the use agreement with SpaceX to continue to enable commercial operations for nation," Kennedy Space Center Director Bob Cabana said Friday. "This is the pad commercial crew is going to launch from, the Falcon Heavy is going to launch from, and tomorrow we're going to see cargo going to the International Space Station.
"What an awesome use for a great American asset," Cabana added.
Saturday's launch will embark the tenth commercial cargo resupply trip, commissioned by NASA, to the space station by either SpaceX or fellow space freight hauler Orbital ATK. This one is carrying 5,490 pounds of science equipment and materials, crew supplies, and space station hardware.
Two items in particular are getting the most attention.
The STP-H5 Lightning Imaging Sensor will be mounted to the outside of the space station to help Earth-bound scientists measure the amount,, rate, and energy of lightning strikes around the world.
The Stratospheric Aerosol and Gas Experiment III machine will measure aerosols, ozone, water vapor, and other gases to help scientists study levels of ozone in the Earth's atmosphere.
Launch Complex 39A is legendary. It is where about half of the Saturn V rockets carrying Apollo launches, including the Apollo 11 moon mission of Neil Armstrong, began. It is where most space shuttles launched, including the last.
SpaceX has been rebuilding it for two years though Shotwell said the company was careful to keep and refurbish many of the historic structures where Armstrong and other NASA astronauts walked. As Cabana said, it also will be used by SpaceX, probably starting in 2019, to begin ferrying astronauts into space on Falcon 9 rockets and in SpaceX's Dragon crew capsules. SpaceX also is building the Falcon Heavy rocket which will become the largest and most powerful in the world when it debuts on 39A, probably in a year or two. She declined to say when.
Launch Complex 39A has a twin, 39B, which has not been used since 2009. NASA is rebuilding that to handle its own next big rocket, the Space Launch System, which is set to debut in late 2018, though recent NASA activity suggests that might get postponed.