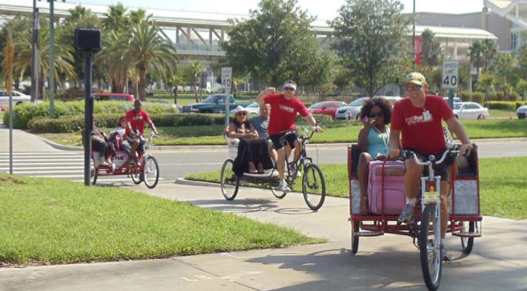 With a rapid increase of pedicabs that apparently now include many that are currently unregulated, Orange County officials laid out a proposed ordinance Tuesday to require permits, insurance, inspections, and enforcement along International Drive.
The ordinance is largely supported by a handful of pedicab companies that already are operating under a separate set of rules and permits that give them authorization to serve the Orange County Convention Center. It's also being pushed by International Drive businesses and the convention center.
Any pedicab operating outside of the convention center property is not regulated, and both county officials and a couple of pedicab company owners, notably John Forgione of 5 Star Pedicab, contended that slipshod competitors show up with unsafe cabs and unsafe driving and charge unfair fares, especially whenever there's a big convention in town.
However, disagreements are arising as county officials try to deal with both economics and technologies affecting the scores of bicycle taxis operating in the county's convention and tourism district.
Among them are questions of whether the county should cap the number of permits, much as taxi companies are limited by the number of cab medallions available, whether small electric motors – dubbed "driver assist devices" – would be banned, how fares might be defined if drivers work largely on tips, and how much leeway county and law enforcement officials might have to close streets to pedicabs either temporarily or permanently.
"International Drive is the street we're on. So if we're not allowed on International Drive for any period of time, it would put us out of business," said Catherine Ojeda, owner of Redi Pedi Cab Company, which runs up to 20 pedicabs in the area.
The proposal, as outlined Tuesday before the Orange County Board of Commissioners by County Transportation Supervisor Krista Barber, would pedicab companies and drivers to get county permits to operate anywhere in the International Drive Improvement District, which stretches from just north of Sand Lake Road to SeaWorld, and includes the convention center and numerous hotels and attractions. They would need liability insurance and meet equipment and safety requirements.
The county is proposing reducing the minimum age of drivers from 21 to 18, to allow for more college student-aged drivers. They must undergo background checks and adhere to codes of conduct and dress. The sheriff's office and the county program administrator would enforce rules and could levy fines, impound vehicles, revoke permits, and make arrests.