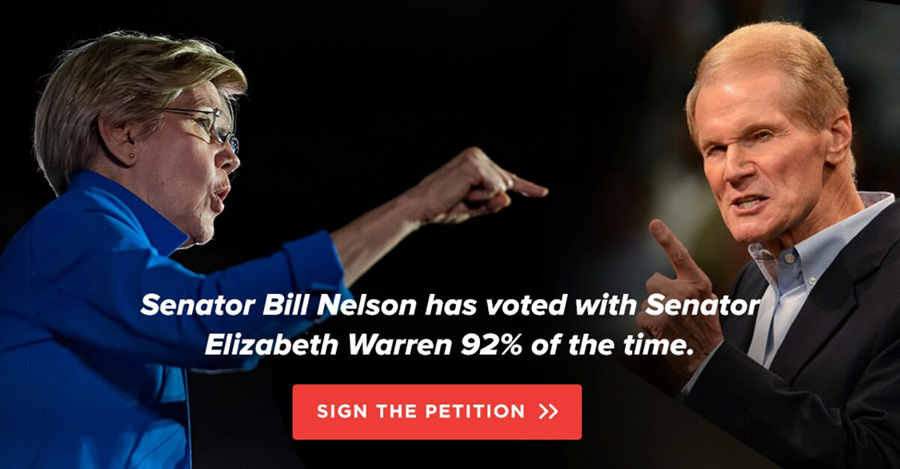 Bill Nelson isn't running for re-election for another year, but it's never too early to start the campaign against him.
That's what the National Republican Senate Committee is doing this week, unveiling a new digital ad campaign to inform Florida voters of what they call Nelson's "liberal record" in Washington, comparing his Senate voting record to Massachusetts's Elizabeth Warren.
"Bill Nelson has positioned himself squarely on the left, voting with Massachusetts Senator Elizabeth Warren 92 percent of the time," said NRSC Communications Director Katie Martin. "Bill Nelson may try to pose as a moderate as the election approaches, but his record shows that he has more in common with Washington liberals than with Florida voters."
Although progressive Democrats in Florida have occasionally criticized Nelson's voting record, he was largely in sync with Barack Obama over the past eight years on the main pieces of legislation.
He's served in the Senate for over 16 years, defeating Bill McCollum, Katherine Harris and Connie Mack IV along the way. Although there are rumors of various Republicans who will challenge him in 2018, most observers believe Governor Rick Scott is the leading contender at this point.
Nelson has said he's ready and willing for the challenge against Scott, saying: "I only know one way to run, and that's to run as hard as I can as if there's no tomorrow."
The digital ads will run on Facebook and are part of a national campaign targeting Senate Democrats representing states won by Donald Trump in November.