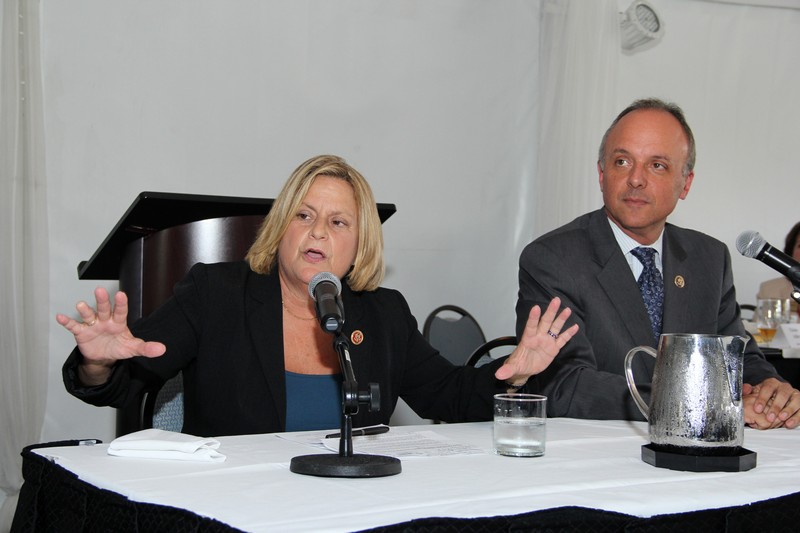 In Philadelphia, police were trying to identify the vandals who knocked over or damaged at least 100 headstones at a Jewish cemetery on Monday, while bomb threats forced the evacuations of Jewish Community Centers in New York and in 10 other states.
With the number of anti-Semitic criminal offenses increasing, a bipartisan group of eight U.S. House members have announced the re-launch of  a congressional task force that will attempt to combat the issue.
Miami Republican Ileana Ros-Lehtinen and Palm Beach County Democrat Ted Deutch are part of the group, which also includes New York Democrats Nita Lowey and Elliot Engel, New Jersey Republican Chris Smith, Texas Republican Kay Granger, Texas Democrat Marc Veasey and Illinois Republican Peter Roskam.
According to the latest available FBI statistics, the number of anti-Semitic criminal offenses rose from 635 in 2014 to 695 in 2015. Since January 2017, over 60 Jewish Community Centers (JCCs) have been targeted by telephonic bomb threats, including several more Monday morning. Over the last week, an estimated 170 Jewish graves were found toppled at a cemetery in Missouri and an estimated 100 headstones were toppled at a cemetery in Philadelphia.
As co-Chairs of the Taskforce, the Members issued the following statement:
"At home and abroad, we continue to witness anti-Semitism that is both dangerous and complex. The recent desecration of Jewish grave sites and bomb threats targeting Jewish Community Centers and Jewish day schools across the country are deplorable. And overseas, the anti-Semitic threats, vandalism, and violence aimed at Jewish schools, synagogues, kosher supermarkets, homes, and property are unacceptable. In light of recent events, it is more important than ever that Democrats and Republicans work together to root out hatred and racism in all its ugly forms. We look forward to working with our colleagues in Congress to find innovative solutions that match the 21st century face of this ancient bigotry."
Reinstated in the last Congress with over 100 Republicans and Democrats, the Taskforce "will continue to serve as a forum for educating Members on this distinct form of intolerance and to engage with the Administration, foreign leaders and civil society organizations to share best practices and collaborate on solutions to rebuff this systemic problem. It will also promote Holocaust remembrance in concert with exploring innovative ways to teach tolerance and confront hate."