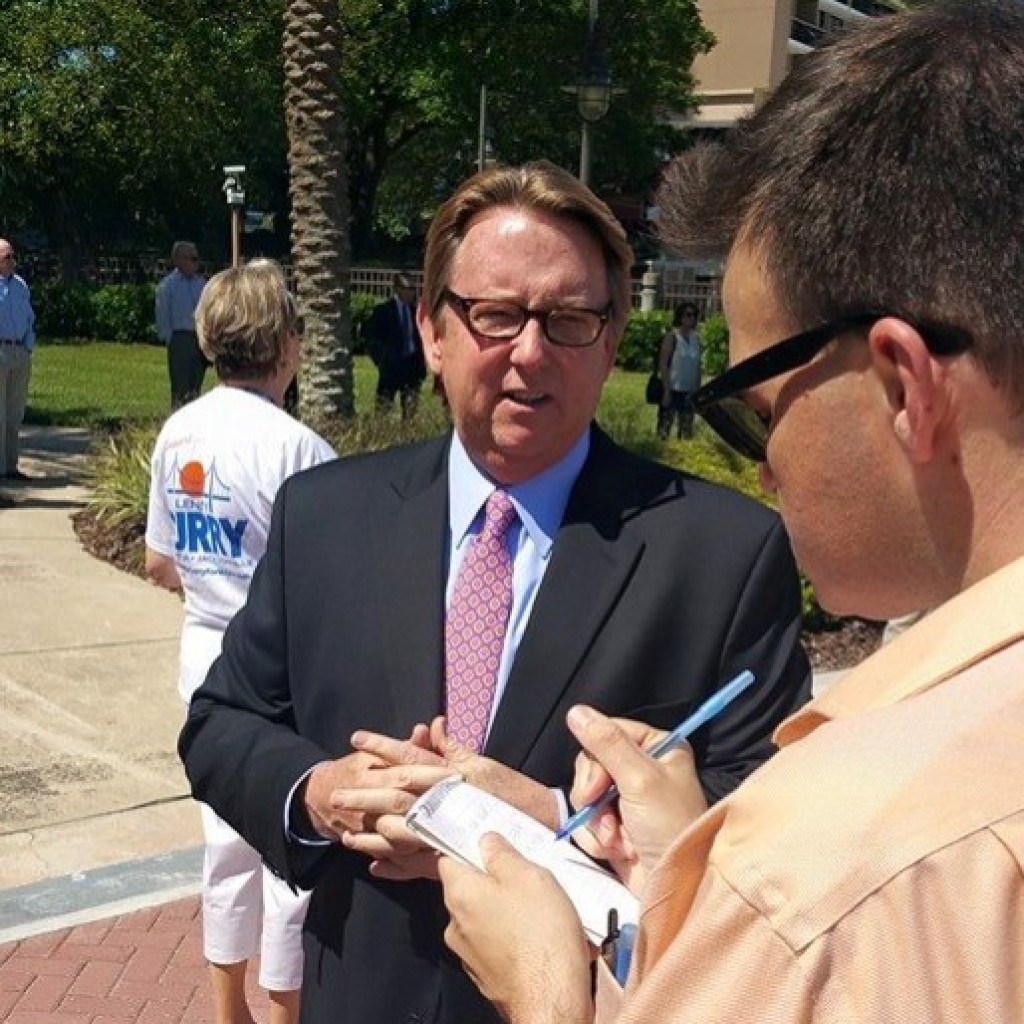 University of North Florida President John Delaney announced Monday that he is leaving UNF at the end of his contract — May 30, 2018.
"The UNF Board of Trustees has requested that I extend my contract," Delaney wrote, "but I feel it is time for the campus to look to someone new with fresh perspectives."
Delaney, who will have spent 15 years at UNF by the end of his contract, spent longer at UNF than at the courthouse or at Jacksonville's city hall — where he was general counsel and mayor.
Next steps, Delaney writes, could include public office.
"I do not plan to retire from working, only from the UNF presidency."
Delaney notes that he could "perhaps run for public office," a prospect which "excites" him.
Notable: Delaney had considered running for governor in 2018, with a focus on higher education policy. However, he gave that some thought over winter break at the end of 2016, and decided against it, even though he still gets asked that a lot around campus.
"I concluded that I didn't want to do it," Delaney said. "But never say never."
Delaney had mulled, briefly, running for U.S. House in 2016. He passed, however.
"I have one or two more elections in me," Delaney added, "but not for Washington. I just don't want to leave Florida. I plan on honoring my UNF contract."
He reiterated that animus to D.C. to us Monday, saying bluntly that he doesn't want to live there.
—-
Though Delaney enjoys high name recognition and donor class support still, there is a reality.
Namely, given that he last served in public office in 2003, local media — especially the TV side — doesn't have a sense of history, of his role in the town.
Delaney, a realist, notices that.
With that in mind, other options may be in play.
One such option: a run for State Senate.
Delaney remembers when Jacksonville was prominent in leadership — the Jim King era — and he'd like to see that again.
However, he would never run against Aaron Bean. And that would push any run out to 2022, and a bid for leadership out toward 2028 … which would be a heavy lift.
One office that he mentioned seems like a good, if low-impact, fit: Mayor of Neptune Beach, where the former Jacksonville mayor makes his home.
That run would be after the current mayor, Elaine Brown, wraps up her time in office.
Delaney also hasn't ruled out lobbying, a natural fit given his connections.
—-
If Delaney were to run for office, he could count Jacksonville Mayor Lenny Curry as an "ally," the current mayor said Monday about his predecessor.
Curry was "surprised" by Delaney's decision, saying "his record speaks for itself" and that Delaney will be missed at UNF.
"He's not riding off into retirement just yet," Curry noted.
"I know he's said he's open to any opportunities. John helped me in my election," Curry said. "I'm happy to sit down. If he wants to pursue something, I'd be an ally."
—-
Meanwhile, there are some whispers around city hall that Delaney wasn't leaving UNF of his own volition.
He discounts these rumors, saying that the trustees — six of whom are recent appointees from Gov. Rick Scott — did not communicate any such charge from the governor.
"They wanted me to extend my contract. They want me to stay," Delaney said, adding that the process of replacing a university president typically takes 12-18 months, thus explaining the timeframe of his announcement.
However, those critics point to recent negative news items to make their case.
One such news item: a bond downgrade last year, which Delaney called a "blip … a technical thing."
Another such news item: a bottom ranking in the 2016 performance incentives.
Delaney noted that he's "not on the same page" with the revised metrics, saying that the original conception was more favorable to UNF.