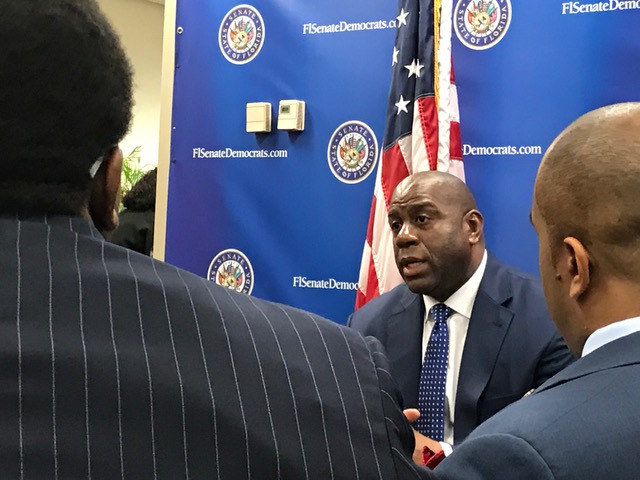 Magic Johnson visited with Senate Democrats Monday to praise Medicaid managed care programs that are using town hall meetings and church outreach to steer HIV, dental, geriatric, and other health care to poor people in 60 Florida counties.
The programs have served 9,500 people with HIV during the past four years, Johnson said.
Moreover, "our providers and our doctors look like the patients they serve. That's very important, because they can serve them better, understand their needs," Johnson said, providing "the best health care they've ever received."
Johnson, who recently rejoined the Los Angeles Lakers as president for basketball operations, later dropped in on Senate President Joe Negron, and was scheduled to meet with Senate Republicans later in the day.
He and Negron talked about health care and baseball — Johnson is a co-owner of the Los Angeles Dodgers; Negron is a notorious Atlanta Braves fan.

Lourdes Rivas, president and CEO of Simply Health Care and Amerigroup Florida, which are administering the managed care program under a contract with the state, said Florida has greatly improved access to dental care — now covering nearly half of its residents, up from a low of 28 percent.
The contract is up for renewal, Rivas said.
Johnson, a "brand ambassador" for the programs, said the importance of dental care cannot be understated. He referred to reports that a child in Washington, D.C., died of a dental abscess.
"We've been doing a lot of great things. I just hope that all of you are proud of the work that we've been doing. If we are awarded this contract again, we look forward to partnering with all of you and try to do more," Johnson said.
Caucus members expressed skepticism of GOP plans to block grant Medicaid and cut funding for health care programs, including HIV research.
Sen. Kevin Rader suggested that when Johnson met with Senate Republicans later in the day, he tell them: "Please put it back in."
Johnson offered no comment on the Republican plans, beyond observing that he has worked with the University of Miami on HIV issues.
There was a lot of picture taking. Lauren Book introduced Johnson to her new twins. Sen. Randolph Bracy produced a basketball for Johnson to sign.
"I told him I wanted to get a game of one-on-one," said Bracy, who played basketball at the College William & Mary.
"We won't have enough time today," Johnson joked.