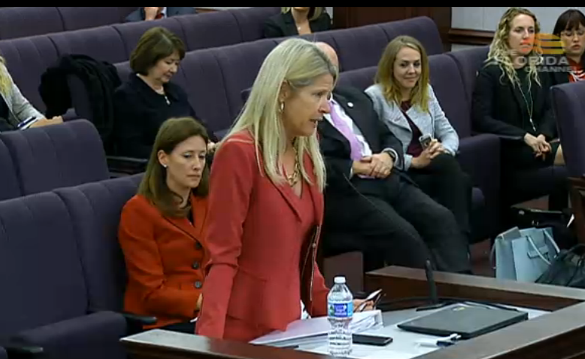 A bill aimed at regulating private high-speed passenger train service in Florida that is effectively targeting the Brightline train planned for the east coast rolled through the Senate Transportation Committee Tuesday.
Sponsor Republican state Sen. Debbie Mayfield of Melbourne insisted that Senate Bill 425 is aimed at the general future of passenger rail in Florida.
"It sets the framework for how all future high-speed rail passenger systems are to be operated in the state of Florida, and it ensures that the proper protections for our citizens are in place," Mayfield said.
But Rusty Roberts, vice president for All Aboard Florida, which is running Brightline, argued that railroad safety is exclusively covered by federal law, that Brightline was meeting the highest standards – the first railroad in the country to do so, he said – and that the bill's only intention was to create the framework for litigation to slow down or stop the train.
Brightline intends to begin service with a 79 mph train connecting West Palm Beach, Fort Lauderdale and Miami this summer. Longterm, the company plans to connect West Palm with Orlando with a train going up to 120 mph. And even longer term, Roberts said, the company envisions routes to Tampa and Jacksonville as well.
But much of the political base between West Palm and Orlando is rallying in opposition over concerns about safety of high-speed trains crossing scores of at-grade intersections and numerous waterways. Mayfield's bill offers requirements for fencing, upgraded intersection crossings and other safety measures, as well as spelling out civil liability.
"We believe, if passed, this bill will jeopardize Florida's opportunity to connect major metropolitan centers with an express intercity passenger system. Its onerous regulations threaten our ability to complete the planned connection to Orlando, and as a consequence, will affect future expansion to Tampa Bay, and a northern expansion to Jacksonville," Robert said. "This is the true goal of this piece of legislation: to keep this private enterprise from bringing a much needed transportation option to our growing state."
"This is not about a particular high-rail passenger train. This is about about setting the framework for Florida so that we may have these," Mayfield said.
The committee approved the bill unanimously.
That drew praise from one of Brightline's biggest critics, a Treasure Coast-based group called Citizens Against Rail Expansion in Florida.
"The unanimous support the bill received in committee today highlights the importance of ensuring that all Floridians are protected from accidents and injuries at dangerous high speed rail crossings across the state," said CARE FL Chairman Brent Hanlon in a statement. "This is not just about our community which will be negatively impacted. This legislation will address public safety concerns in any community across the state."