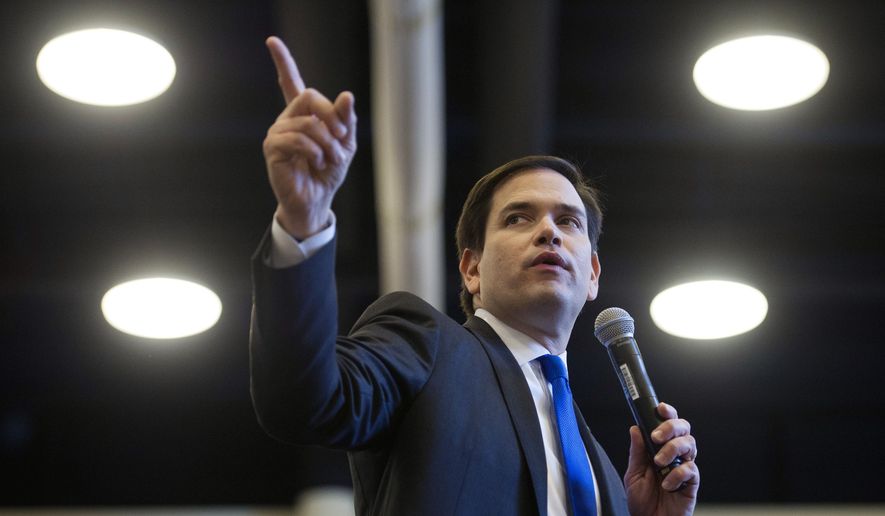 After a hearing on a humanitarian crisis with millions of lives at stake in northeast Africa, U.S. Rep. Marco Rubio joined a bipartisan group of senators Thursday asking Secretary of State Rex Tillerson to intervene by leading an "urgent and comprehensive" diplomatic effort.
Rubio and eight other senators signed a letter Thursday to President Donald Trump's secretary of state saying that political obstacles in northeastern Nigeria, Somalia, South Sudan, and Yemen are significantly to blame for humanitarian aid from getting in, and consequently millions of people now are starving to death.
"The scale and complexity of these crises might lead some to say the situation is hopeless," states the senators' letter to Tillerson. "We reject such a response as U.S. leadership can make an enormous difference, and we believe the Department of State can and should lead a diplomatic effort now to reduce the political barriers that are hindering the delivery of food to millions of starving people. The U.S. government has a strategic and moral imperative to do nothing less."
Rubio was joined by Republicans Todd Young of Indiana, Cory Gardner of Colorado, and Jeff Flake of Arizona; and Democrats Ben Cardin of Maryland, Ed Markey of Massachusetts, Jeanne Shaheen of New Hampshire, Chris Murphy of Connecticut, Cory Booker of New Jersey, and Chris Coons of Delaware.
All of them including Rubio serve on the Senate Foreign Relations Committee, which held a hearing on the situation Wednesday. Rubio stated that he also received a briefing on the crisis from billionaire philanthropist Bill Gates earlier this week.
The senators' letter suggests up to 20 million people are at risk of starving to death.
"The testimony of the witnesses underscored the urgent need for a 'diplomatic surge' in the next couple weeks to prevent millions of people from dying unnecessarily from starvation," the letter opens. "Consistent with the national security interests of the United States and the compassion of the American people, we write to ask that the Department of State implement an urgent and comprehensive diplomatic effort to address political obstacles in each of these regions that are preventing humanitarian aid from being delivered to people who desperately need it.
"Mr. Yves Daccord, the director-general of the International Committee of the Red Cross, yesterday called the crisis 'one of the most critical humanitarian issues to face mankind since the end of the Second World War.' He warned that 'we are at the brink of a humanitarian mega-crisis unprecedented in recent history,'" the letter states.
The senators' letter details how governmental or nongovernmental actors in each of the regions have blocked or hindered humanitarian access, depriving people of food. But it suggests the U.S. Department of State can potentially address the man-made obstacles and spells out steps that should be taken to convince each country to open the flows of food.