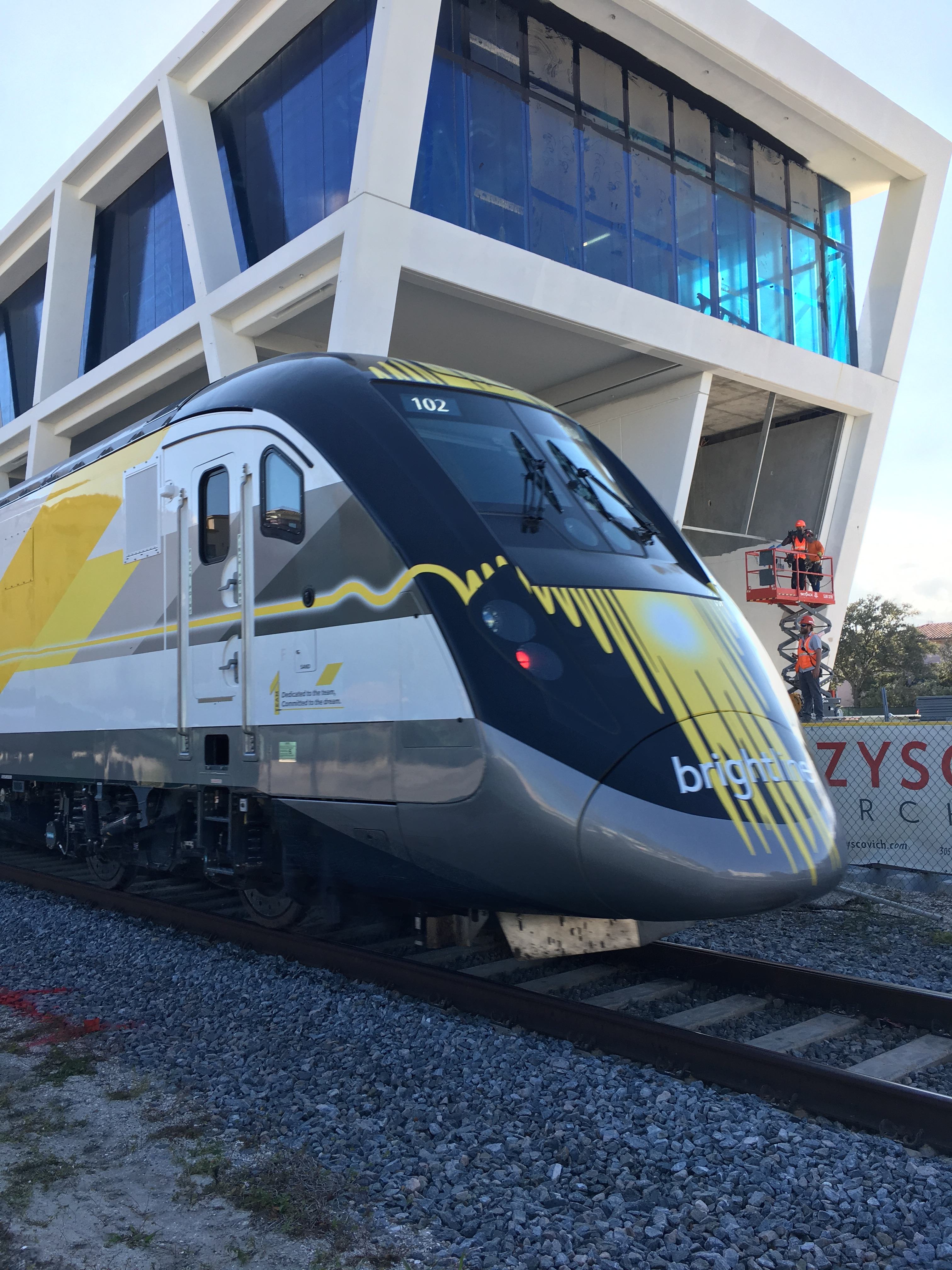 A bill aimed at putting some brakes on the Brightline private passenger train from West Palm Beach to Orlando died Tuesday when it was pulled from the agenda of a Florida House committee.
House Bill 269, dubbed the Florida High-Speed Passenger Rail Safety Act, was set to be heard by the House Transportation & Infrastructure Subcommittee Tuesday but was pulled from the agenda at the end of the meeting without comment. Since that committee then adjourned for the remainder of the session, the bill is going no where.
That means the company behind Brightline, formerly known as All Aboard Florida, has dodged a big impediment in its tracks to develop privately-owned passenger  trains that could go as fast as 120 mph in connecting West Palm and the Orlando International Airport. The bill, and a companion bill, Senate Bill 386, would have sought to establish state guidelines on construction and safety that Brightline officials argued were intended to thwart the service in the Treasure Coast counties where the train faces considerable political and public opposition.
"The fact that the bill was pulled from the committee agenda today means the overwhelming input from groups such as the Florida Chamber and Florida TaxWatch, elected officials from key cities and newspaper editorial boards is making an impact," Rusty Roberts, Brightline's vice president for government affairs, said in a written statement. "We have been saying this bill is not about safety but an attack against private property rights and is targeting our company. Legislators are comprehending these facts, and we are appreciative."
The company also has maintained that it is going beyond normal federal safety requirements and would become the first train line in the country to adopt the Federal Railroad Administration's highest standards.
Neither of the bill's two principal sponsors, Republican state Reps. MaryLynn Magar of Hobe Sound or Erin Grall of Vero Beach, was immediately available to comment Tuesday morning.
However, a leading opposition group, Citizens Against Rail Expansion in Florida, released the following statement from its chairman, Brent Hanlon:
"All Aboard Florida is taking a victory lap today in its public statements, but its latest actions are nothing more than a special interest group flexing its political muscle in a desperate attempt to protect its profits which are reliant on taxpayer subsidies.  AAF continues to put the communities of South Florida on the hook for millions in upgrades to enhance safety measures and make a grab for taxpayer subsidies. We will continue to advocate for legislation that puts public safety first and we know that our elected leaders want the same. This is nothing more than an ill-conceived rail project by a private company that wants to shift costs to the taxpayers."
Brightline intends to begin operation of its passenger trains this summer linking West Palm, Fort Lauderdale and Miami. But those trains will travel entirely urban tracks and be limited to a maximum speed of 79 mph. The company's big expectations are for its next move, rebuilding tracks between West Palm and Cocoa, and then building entirely new tracks from Cocoa to Orlando International Airport. The rebuilt tracks could accommodate trains going 110 mph, and the new tracks, 120 mph. That would create passenger train service linking Florida's two biggest tourist Meccas.
But the northern leg is fraught with legal and financial difficulties, and Brightline, and its parent company, Florida East Coast Railroad, face challenges even without HB 269. Some of the communities and counties between West Palm and Orlando, locales that would be only ride-over territory, are objecting. They've been principally citing safety issues because the high-speed trains would travel through a number of cities and scores of at-grade street and road crossings. Indian River and Martin counties are suing, seeking to reverse federal decisions supporting the project, and Brightline is looking at options to finance the $1 billion construction. Brightline is now seeking $600 million in tax-exempt private activity bonds to develop the southern rail line.
For now, Brightline has revised its timetables to to-be-determined for construction and operation.
HB 269 and SB 386 may have had poison pills in them anyway. A Florida legislative staff analysis of SB 386, sponsored by Republican state Sen. Debbie Mayfield of Melbourne, included the observation that Florida likely would be preempted by federal law from enacting any regulations of the train.
"A number of federal laws control railroad operations, but three commonly found to preempt state and local attempts to regulate railroad activities are the Interstate Commerce Commission Termination Act of 1995, the Federal Railroad Safety Act of 1970, and the Noise Control Act of 1972," that bill analysis states.