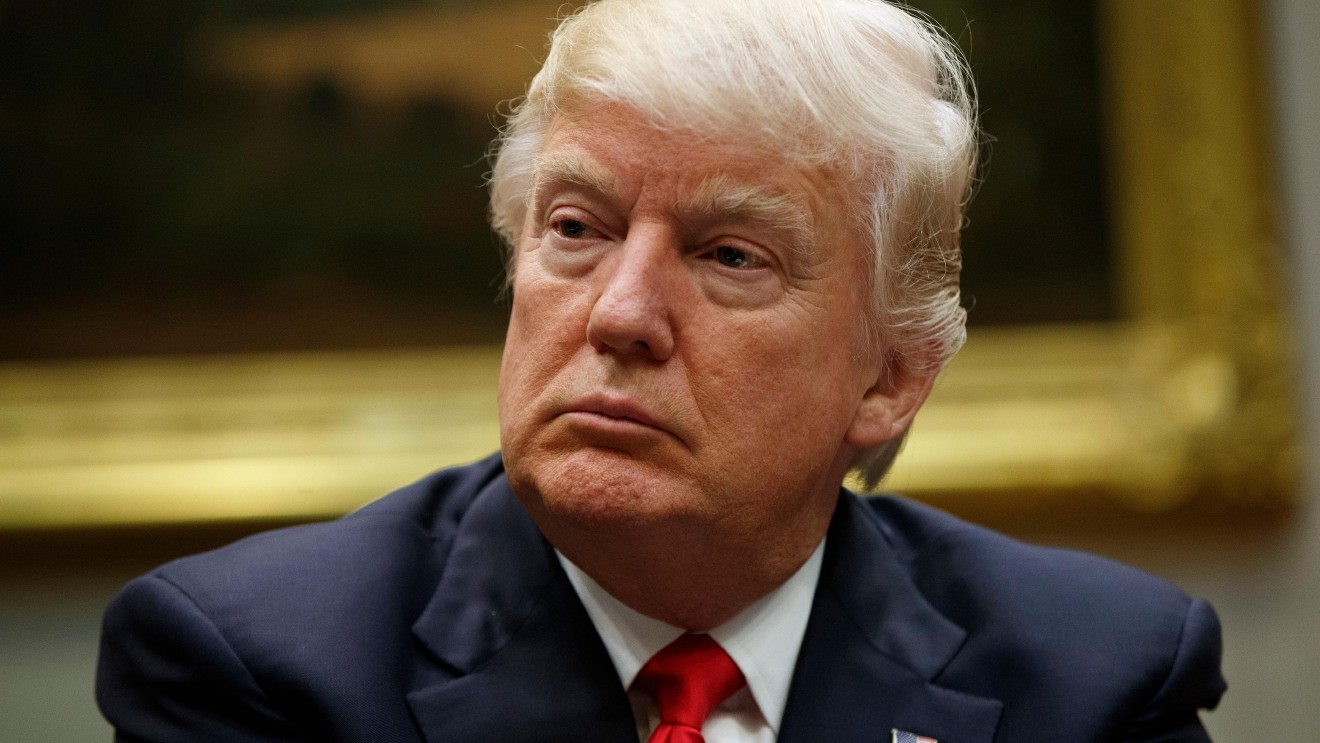 After weeks on the defensive, President Donald Trump has stepped up his efforts to dispute, downplay and distract from revelations stemming from the investigations into the Kremlin's interference in last year's election and possible Russian ties to his campaign associates.
The White House says the real story is not about Russia — it's about how Obama administration officials allegedly leaked and mishandled classified material about Americans. Trump and his aides have accused former officials of inappropriately disclosing — or "unmasking" — the names of Trump associates whose conversations were picked up by U.S. intelligences agencies.
"Such amazing reporting on unmasking and the crooked scheme against us by @foxandfriends," Trump tweeted Monday. 'Spied on before nomination.' The real story."
The White House has not pointed to any hard evidence to support such allegations, and instead has relied on media reports from some of the same publications Trump derides as "fake news."
The truth is buried somewhere in classified material that is illegal to disclose. Here's a look at what the White House believes is the real story.
__
THE FLYNN AFFAIR
Trump fired national security adviser Michael Flynn following news reports that Flynn misled the White House about his contacts with Russia's ambassador to the U.S. But the White House says the problem is that Flynn's conversations were in the news at all.
"The real story here is why are there so many illegal leaks coming out of Washington?" Trump tweeted after firing Flynn in February.
The White House has called for investigations into the disclosure of multiple intercepted conversations that Flynn had with Ambassador Sergey Kislyak before the inauguration. The government routinely monitors the communications of foreign officials in the U.S. It's illegal to publicly disclose such classified information.
Officially, the White House said Flynn was forced to resign because he had given inaccurate descriptions of the discussions to Vice President Mike Pence and others in the White House. But Trump has continued to defend Flynn, suggesting he was only fired because information about his contacts came out in the media.
"Michael Flynn, Gen. Flynn is a wonderful man," Trump said. "I think he's been treated very, very unfairly by the media."
___
THE OBAMA ADMINISTRATION
White House officials say some Obama holdovers are part of a so-called deep state out to tear Trump down.
Last week, the White House latched onto a month-old television interview from an Obama administration official who said she encouraged congressional aides to gather as much information on Russia as possible before the inauguration.
Evelyn Farkas, the former deputy assistant secretary of defense, said she feared that information "would disappear" after President Barack Obama left office. She was no longer in government at the time, having left the Pentagon about a year before the election.
White House spokesman Sean Spicer called Farkas' comments "devastating" and said they "raised serious concerns on whether or not there was an organized and widespread effort by the Obama administration to use and leak highly sensitive intelligence information for political purposes."
On Monday, Spicer suggested there should be more interest in a Bloomberg report in which anonymous U.S. officials said that Susan Rice, Obama's national security adviser, asked for the identities of people related to Trump's campaign and transition dozens of times.
Spicer remarked that he was "somewhat intrigued by the lack of interest" in the Rice revelations. But he added: "I do think that it's interesting, the level, or lack thereof, of interest in this subject."
As national security adviser, Rice would have regularly received intelligence reports and been able to request the identities of Americans whose communications were intercepted.
___
THE HILL WEIGHS IN
The White House has embraced a top Republican's assertion that information about Trump associates were improperly spread around the government in the final days of the Obama administration. It appears the White House played a role in helping House intelligence committee Chairman Devin Nunes, R-Calif., acquire some of that information.
Nunes announced last week that he had seen intelligence reports showing that Trump aides' communications were picked up through routine surveillance. But he said their identities may have been improperly revealed. The California congressman later said he viewed the reports at the White House.
The White House contends that Nunes' information — which has not been made public — validates Trump's explosive claim that his predecessor wiretapped his New York skyscraper. Nunes has disputed that but still says he found the reports "troubling."
The White House's apparent involvement in helping Nunes access the information has overshadowed what Trump officials contend are real concerns about how much information about Americans is disseminated in intelligence reports. Trump has asked the House and Senate intelligence committees to include the matter in their Russia investigations.
___
CAMPAIGN MODE
Trump won the election, but thinks it's his vanquished opponent whose ties to Russia should be investigated.
Some of the White House's allegations against Clinton stem from her four years as secretary of state, a role that gave her ample reasons to have frequent contacts with Russia.
To deflect questions about Trump's friendly rhetoric toward Russia, the White House points to the fact that Clinton was a central figure in the Obama administration's attempt to "reset" relations with Moscow — an effort that crumbled after Vladimir Putin took back the presidency.
"When you compare the two sides in terms of who's actually engaging with Russia, trying to strengthen them, trying to act with them, trying to interact with them, it is night and day between our actions and her actions," Spicer said.
Rex Tillerson, Trump's secretary of state, has deep ties to Russia from his time running ExxonMobil and cutting oil deals with Moscow.
The White House has also tried to link Clinton to Russia's purchase of a controlling stake in a mining company with operations in the U.S., arguing that she was responsible for "selling off one-fifth of our country's uranium."
The Clinton-led State Department was among nine U.S. government agencies that had to approve the purchase of Uranium One. According to Politifact, some investors in the company had relationships with former President Bill Clinton and donated to the Clinton Foundation. However, the fact checking site says most of those donations occurred well before Clinton became secretary of state and was in position to have a say in the agreement.
Republished with permission of The Associated Press.