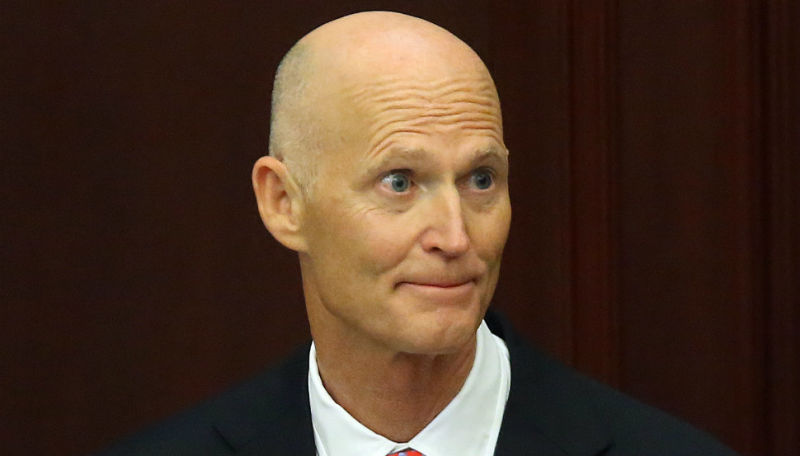 When Congressional Republicans last month attempted to repeal and replace the Affordable Care Act, they heard from several GOP governors, who warned them not to go ahead with a plan to cut more than $800 billion from Medicaid, saying it would have a deleterious effect on voters.
Now, with new polling indicating that Medicaid has never been more popular, Florida Congressional Democrats are finding the inspiration to ask Gov. Rick Scott to again consider expanding Medicaid.
"A number of states that had not previously expanded Medicaid are now considering expansion and we strongly urge you and the Florida Legislature to do so too," begins the letter penned by Sen. Bill Nelson, and Congress members Charlie Crist, Kathy Castor, Ted Deutch, Alcee Hastings, Debbie Wasserman Schultz, Lois Frankel, Fredericka Wilson, Al Lawson, Stephanie Murphy and Darren Soto.
The letter comes on the same that a new poll conducted by the University of Miami shows that two-thirds of Floridians, or 67 percent, say they favor Medicaid expansion.
Infamously, Scott said in 2013 that he initially supported expanding Medicaid in Florida, but then quickly reversed course and every year since has steadfastly maintained his opposition, despite the business community rallying behind such a move.
In 2015, the Florida Senate approved a hybrid version of Medicaid expansion; the House overwhelmingly rejected the proposal.
State officials said that plan would have covered as many as 650,000 residents.
Here's the text of the letter sent to Scott:
Dear Governor Scott:
A number of states that had not previously expanded Medicaid are now considering expansion and we strongly urge you and the Florida Legislature to do so too. Thirty-one states and the District of Columbia already have expanded Medicaid to provide affordable health care to working families and students. Floridians should not be placed at a disadvantage compared to other states. Indeed, a survey published today by the University of Maryland's Program for Public Consultation found that 67 percent of Floridians support moving forward with expansion to bring $66 billion in federal funding between the years of 2013-2022 to our state. Medicaid expansion will boost jobs and enable Florida to move to a more efficient health care delivery model. In fact, it is estimated that the state would have seen $8.9 billion in increased economic activity and more than 71,000 new jobs in 2016 alone. It not too late to chart a better course for the State of Florida.
Now that Speaker Ryan has declared, "[the Affordable Care Act] is the law of the land," we should all be doing our part to expand coverage to the uninsured, improve the quality of health plans, and lower costs for everyone. Expanding eligibility to all Floridians with annual income below 138 percent of the federal poverty level–less than $30,000 per year for a family of three–is the fiscally-responsible thing to do not only for a huge number of Floridians, but also for consumers who use Healthcare.gov, for businesses who provide coverage to their employees, and for hospitals who are charged with providing care without regard to a patient's coverage status. Insurance premiums for Americans who have private insurance are generally lower in states that have expanded Medicaid. Private insurance costs are higher in states that did not expand Medicaid because of costs of sick and uninsured are transferred to the private insurance pool according to the U.S. Department of Health and Human Services (HHS). Coverage is key, rather than costly and inefficient emergency room care and delayed treatment.
With years of Medicaid expansion already underway in other parts of the country, we have seen that other hard working Americans have benefited from improvements in health care quality and affordability through expansion. Medicaid expansion in Florida would provide over 800,000 of our fellow Floridians with access to primary care. Preventive services like screening for HIV, cancer, and heart disease will save lives, help keep our state's residents healthier, and improve management of their chronic conditions. Providing access to Medicaid will also improve risk pools in the private market, a shift that has saved consumers in expansion states seven percent on their monthly premiums. Floridians deserve these benefits just like any other American.
Medicaid expansion also will reduce the unpaid medical bills owed to hospitals that put pressure on the state budget and our safety net hospitals funded with taxpayer dollars. Refusing to cover working Floridians through Medicaid expansion does not reduce our state's health care costs, it just passes them on through rising premiums and tax hikes. With a third of our state's resources already devoted to health care, the influx of $50 billion in federal funding would safeguard services from the draconian cuts currently under consideration by the state legislature. Medicaid expansion would help the state avoid the rising costs brought by Zika, the opioid crisis and mental health needs.
Throughout your time as the chief executive of our state, the U.S. Department of Health and Human Services has shown a willingness to work with you to find a path forward that will expand coverage to hard-working, able-bodied adults in our state. States with conservative governors around the nation have arrived at solutions that expanded Medicaid while upholding their conservative principles. If you miss this opportunity, you will chart a fiscally-irresponsible path that will cost our state billions, cost our state jobs and sacrifice the health and well-being of all Floridians.
Thankfully, Republicans in Congress abandoned their recent proposal to rip coverage away from millions of Americans including children, the disabled, and our neighbors with Alzheimer's in skilled nursing. Like most Floridians, we realized that this was not an honest attempt at improving health care in America. Rather than continuing political games over the Affordable Care Act, we ask that you move to develop a plan for Medicaid expansion in our state to benefit the health, financial security, and well-being of all Floridians.
Sincerely,
###