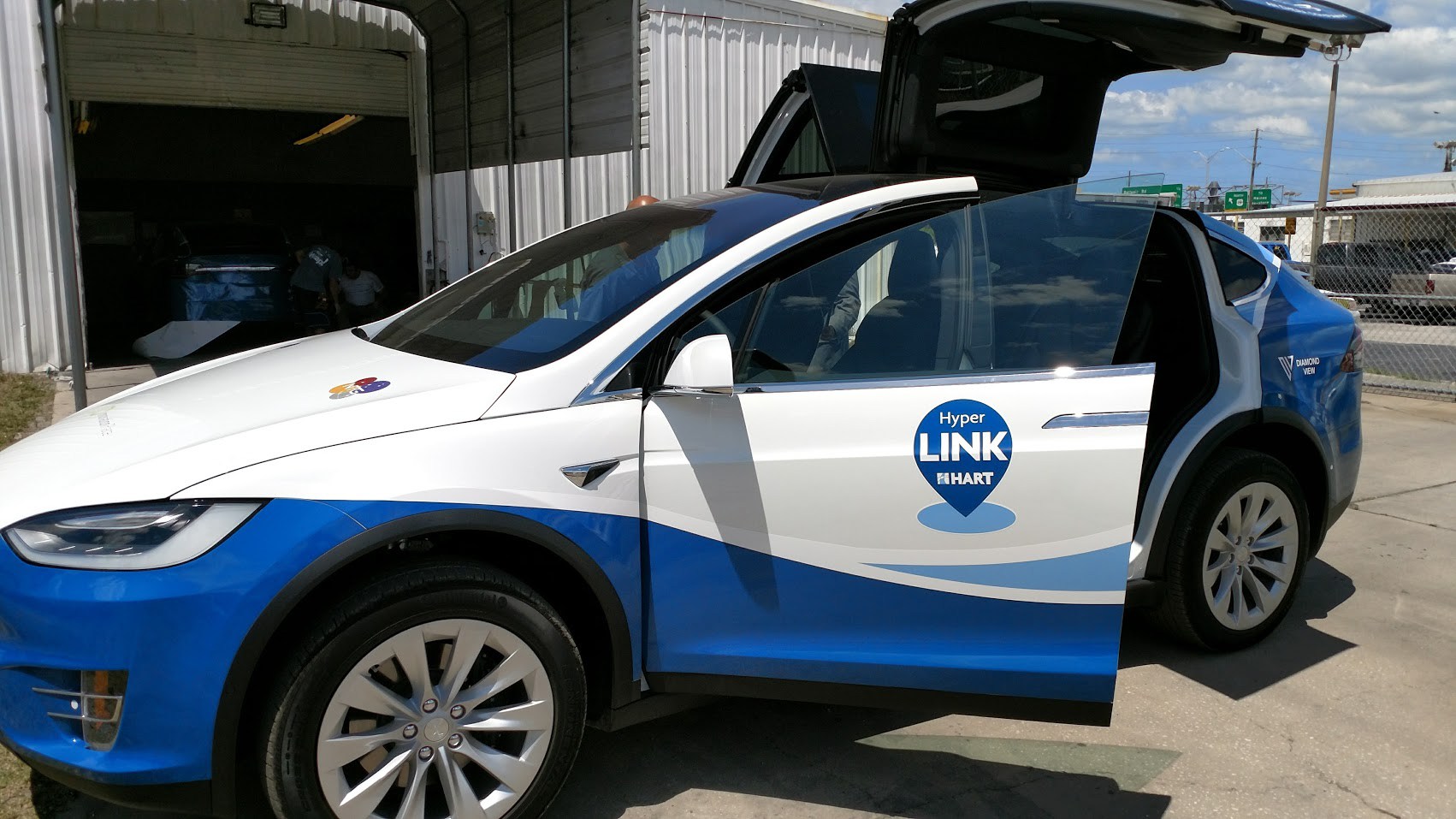 The Hillsborough Area Regional Transit Authority (HART) will announce next week a partnership with the Tampa Innovation Alliance to enhance transportation options in the USF area. The plan is to introduce a small fleet of cutting-edge Tesla vehicles into the local market.
Since its implementation last year, HART's HyperLink program has allowed riders to book a ride through a smartphone app to and from bus stops in three designated areas: North Tampa, Brandon, and Carrollwood. It's designed to solve the "first mile/last mile" issue by picking people up from home or work and taking them directly to their nearest bus stop.
The Innovation Alliance will now be the fourth area to get the HyperLink program. The Innovation Alliance is the region anchored by USF, University Mall, Florida Hospital, Busch Gardens and the Moffit Cancer Center.
"If you're on (the USF) campus and you want to get somewhere off campus somewhere in that radius, you'll be able to book a trip, and it will take you there," says Cesar Hernandez, government relations specialist for HART.
Hernandez says the pickup spot on the USF campus will probably be at the Marshall Center. The service connects riders within a 3-mile zone, which at USF would be close enough to take passengers to HART's University Area Transit Center on 131st Avenue, where students (or anyone else) could then take a HART Metro Rapid bus into downtown or elsewhere.
The new fleet of cars that will take them there will consist of four Tesla Model X's and one MV-1 model that seats seven and can be used to accommodate the disabled. The five cars will be utilized exclusively in the Innovation District surrounding the campus and will by operated by TransDev, the private-sector operator that is working with HART on the HyperLink program.
Hernandez says if there's a need, TransDev will have other vehicles ready to roll out.
The Tampa Innovation Alliance is the public-private agency charged with redeveloping the University area of North Tampa that was formed in January of 2015 and is led by former County Commissioner Mark Sharpe.
"HART HyperLink is incredibly important to the Tampa Innovation Alliance, and we are proud to be the first place in the United States where this kind of partnership between rideshare and public transit is taking place," Sharpe said. "We are tackling real challenges for the people in our community and technology and innovation."
Sharpe and Hernandez raised funds to deploy the Teslas in the district. He calls their partnership "serendipitous," and praises Hernandez as having a "facet for innovation."
Along with former Tampa Mayor Pam Iorio, Sharpe was the leading politico championing the Moving Hillsborough Forward transit tax initiative that went down to an ignominious defeat in 2010. He continued to fight for transit during his years serving on the HART board, but grew frustrated with the direction of the agency when it was led by Philip Hale, at one time accusing the former CEO of "uninspired, unimaginative leadership." But he has nothing but praise for Hernandez and Hale's successor, Katharine Eagan.
"When I was leaving (the agency) she came to the fore and took over and really kind of transformed HART into the agency that I wanted to work with, so it's great what they're doing," he says.
Meanwhile, St. Petersburg Republican Sen. Jeff Brandes has a made $500,000 appropriations request in the Florida Senate's budget for an expansion of the HyperLink program into downtown Tampa.
Brandes' advocacy led to the Department of Transportation giving HART the $1.2 million in startup capital for HyperLink, which was then bid out to TransDev.
Hernandez says if and when autonomous vehicles come online, "We're set in place to be able to adopt to that technology because those vehicles will have the capacity to do so."
Among those helping sponsor the program is Tampa Electric Company, Northern Technologies Group, Nitro Solutions, Diamond View Studios, entrepreneur Roberto Torres with the Blind Tiger Cafe and former county commission candidate Tim Schock's firm, Lightning Capital Consulting.