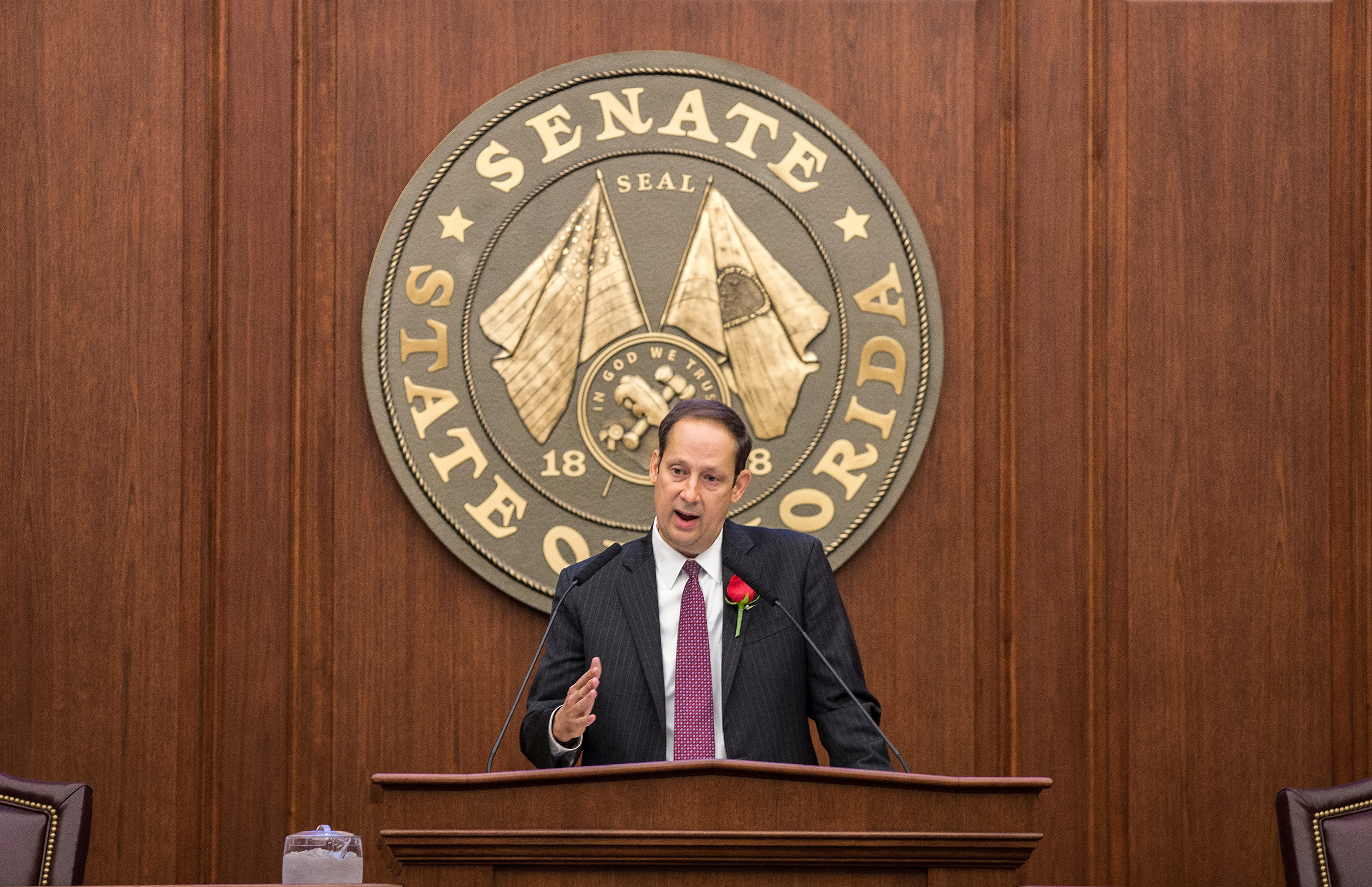 Senate President Joe Negron has rejected a House proposal to settle some $4 billion in state budget disagreements with a "continuation budget."
Negron said in a memo to senators Monday that House negotiators made the proposal over the weekend.
"Despite serving as the Appropriations chair in both the House and Senate, I had never encountered this term in state government until it began to appear in these negotiations," Negron wrote.
"I understand the concept of a 'continuation budget' to be a Washington creation where Congress is habitually unable to pass a budget and then simply carries forward the current budget for years at a time, with additional spending.
"I have no interest in adopting this ineffectual practice.  Our constituents deserve and expect more."
This year's state budget amounts to $82.3 billion.
The move left budget negotiations stalled, at least for the time being, as the Legislative Session entered its final two weeks. House and Senate leaders indicated last week that conference committee members would have to know by early this week how much money they'd get to spend.
By law, any compromise would have to be available for scrutiny for three days before any final vote.
Asked how things were going in his office Monday afternoon, Senate Appropriations Chairman Jack Latvala said: "No comment."
A continuation budget would be just fine with Broward Democrat Evan Jenne.
"Last year's budget was widely respected by both chambers and both parties. Grand total, there was 149 yeas and one nay, when you combine the two chambers," Jenne said.
"Granted, a lot of that means that individual member projects would go by the wayside. But we're not here for individual member projects. We're here to get the budget done."
A Senate aide argued that would not provide for Senate priorities.
"I think it points to the fact that we're not going to get done on time," said Jenne, who's been following progress through member-to-member contact with Republicans knowledgeable about the talks.
"I hope we do, but I don't have warm feelings about that happening, just given the lack of communication and lack of time at this point. I mean, we're down to it now."
Florida TaxWatch president and CEO Dominick Calabro was gloomy, too. The House and Senate aren't quibbling over dollars, he said, but over fundamental policy disputes.
"It's highly unlikely they'll get done on time," Calabro said.
The House has passed an $81.2 proposed budget for the fiscal year that begins on July 1. It sets aside $200 million to create a "schools of hope" program that would shift students from failing schools to charter schools; includes $22.8 million for pay increases for corrections officers; includes $25 million for Visit Florida; and funds 46 new counter-terrorism positions.
The House proposal, however, doesn't fund Enterprise Florida or a host of economic incentive programs associated with the public-private economic development agency, and does not include across the board pay raises for state employees. The Senate's $85 billion proposal includes both, plus first-year funding for Negron's $1.5 billion Lake Okeechobee plan.
House and Senate negotiators last week "exchanged meaningful and productive offers on proposed budget allocations and significant policy issues," Negron wrote in his memo.
"I value the extraordinary amount of creative energy members of the Florida House and Senate have contributed to build their respective budgets over the last six months. I do not wish to set aside that work product and instead settle for last year's base budget," he continued.
"I will insist on a budget work product that reflects public testimony from our fellow citizens, input from the constituents we represent and the thousands of informed decisions – big and small – elected legislators have made since November 2016.
"Accordingly, I stand ready, willing, and able to respond to a budget and policy counteroffer from the House, with both the House and Senate negotiating in a principled way to agree on allocations and policy for the upcoming fiscal year.  Before the appearance of the "continuation budget" from the House, many budget and policy issues had been amicably resolved.