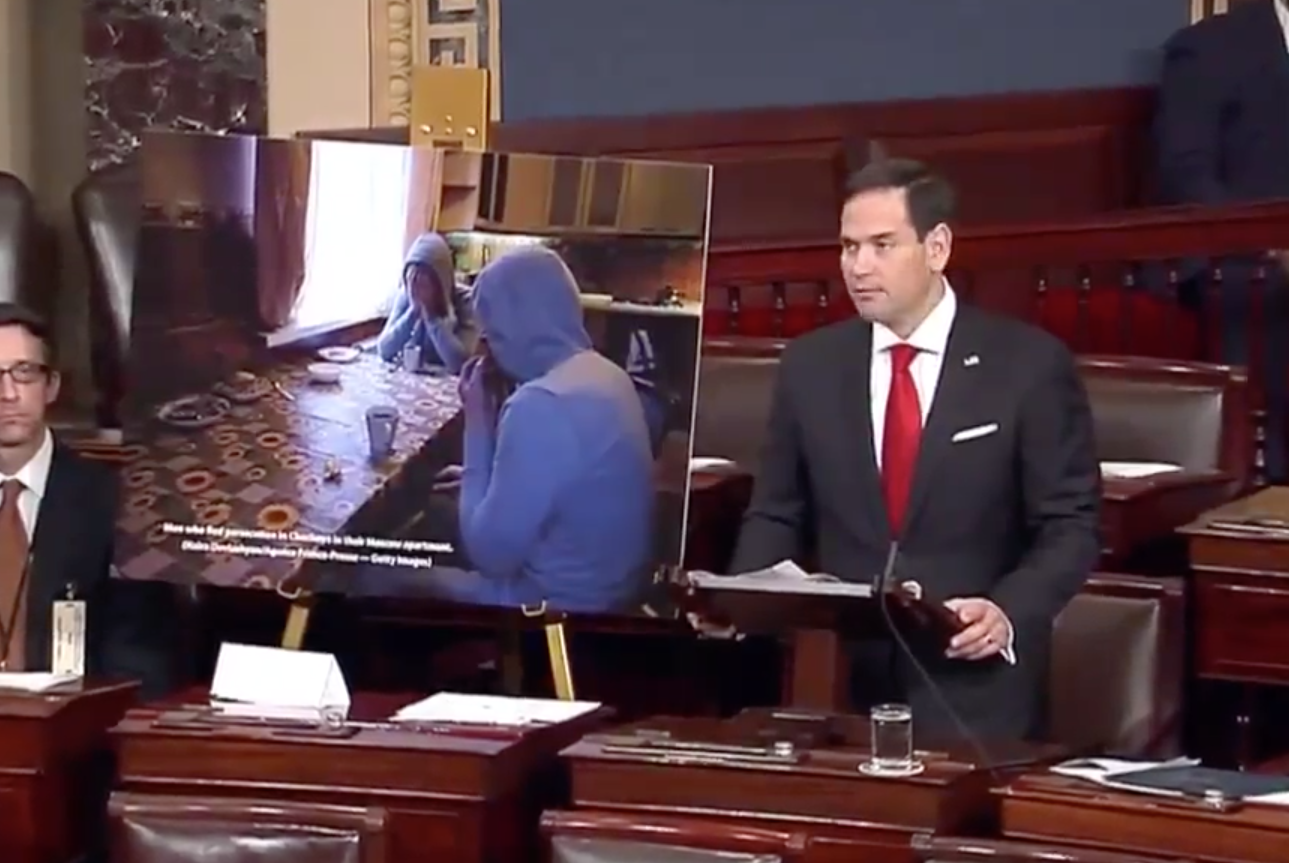 Republican U.S. Sen. Marco Rubio continued his campaign against worldwide human rights abuses by foreign dictators last night by speaking out against the Chechen terror campaign against gays, and tying it to Russian President Vladimir Putin.
On the floor of the U.S. Senate Monday night, Rubio relayed reports of mass arrests, at least three killings of LGBT people and a campaign of sexual identity cleansing in Chechnya, the Russian-controlled satellite nation near the Caspian sea. He called Chechnya's leader Ramzan Kadyrov ruthless and a brutal tyrant and accused Russian President Putin of allowing and encouraging it.
He also said Kadyrov's regime is encouraging families of gays to commit "honor killings" of LGBT people so that the state does not have to deal with gays.
"We should never, ever tolerate human rights violations against any person for their political views, their religious beliefs, their sexual orientation," Rubio declared.
It's a dicy topic for Rubio, whose attempts to show support, solidarity and protection of American gays last year blew up politically due in part to his past record on LGBT issues, and in part to mixed signals he gave following last June's horrific slaughter by madman Omar Mateen at Orlando's popular gay Pulse nightclub.
Last summer many in Florida's LGBT community, and most Democrats, accused Rubio of being coldly exploitive when he announced his bid for re-election came in part because of his horror over that massacre, which killed 49 and wounded at least 53.
Rubio did not help his image in the LGBT community when, like many Republicans, he chose to largely frame the mass shooting as an Islamic-extremist terrorist act – Mateen pledged his support of ISIS – rather than as a hate crime against gays – Mateen was openly hateful of gays and targeted that club.
Rubio's insistence that he was being wrongly portrayed by the gay community continued to backfire when he spoke in August at the American Renewal Project's conservative Christians conference in Orlando, a few miles from Pulse. That conference drew other speakers who angrily vilify gays, and Rubio's presence drew protests from Florida's LGBT community, accusing him of validating the gay-haters by speaking side-by-side with them.
Yet Rubio gave a speech that day urging the Christian conservatives' acceptance of gays, declaring, "Abandoning judgment and loving our LGBT neighbors is not a betrayal of what the Bible teaches; it is a fulfillment of it." Still, the speech drew Rubio little support from the LGBT community.
His Chechnya address denouncing human rights abuses against gays in Chechnya Monday night was more in line with his ongoing campaign against dictators abusing all types of human rights worldwide, particularly Putin.
"Unfortunately, this is not a new reality for those living under the brutal tyranny of the Chechen leader, who by the way happens to be a loyal ally of Vladimir Putin," Rubio told the Senate. "There have been reports in the past of similar abuses, although these reports seem to be the most brutal and should provoke anger in all of us."
He said the Russian response to the reported atrocities in Chechnya has been denial.
"Well the actual complaints are all around us. They've been well-documented in publications throughout the world. But instead, Vladimir Putin is choosing to prop up Kadyrov, the Chechen brutal dictator, and prop up his brutal regime instead of holding them accountable," Rubio said.
"The United States and other responsible nations should do more to ensure that all people are protected and those who harm them are held responsible," he concluded. "We should use our voice on the global stage to call attention to these horrifying acts and to ensure they are condemned in the appropriate way, and ultimately in the hopes that they will be stopped."