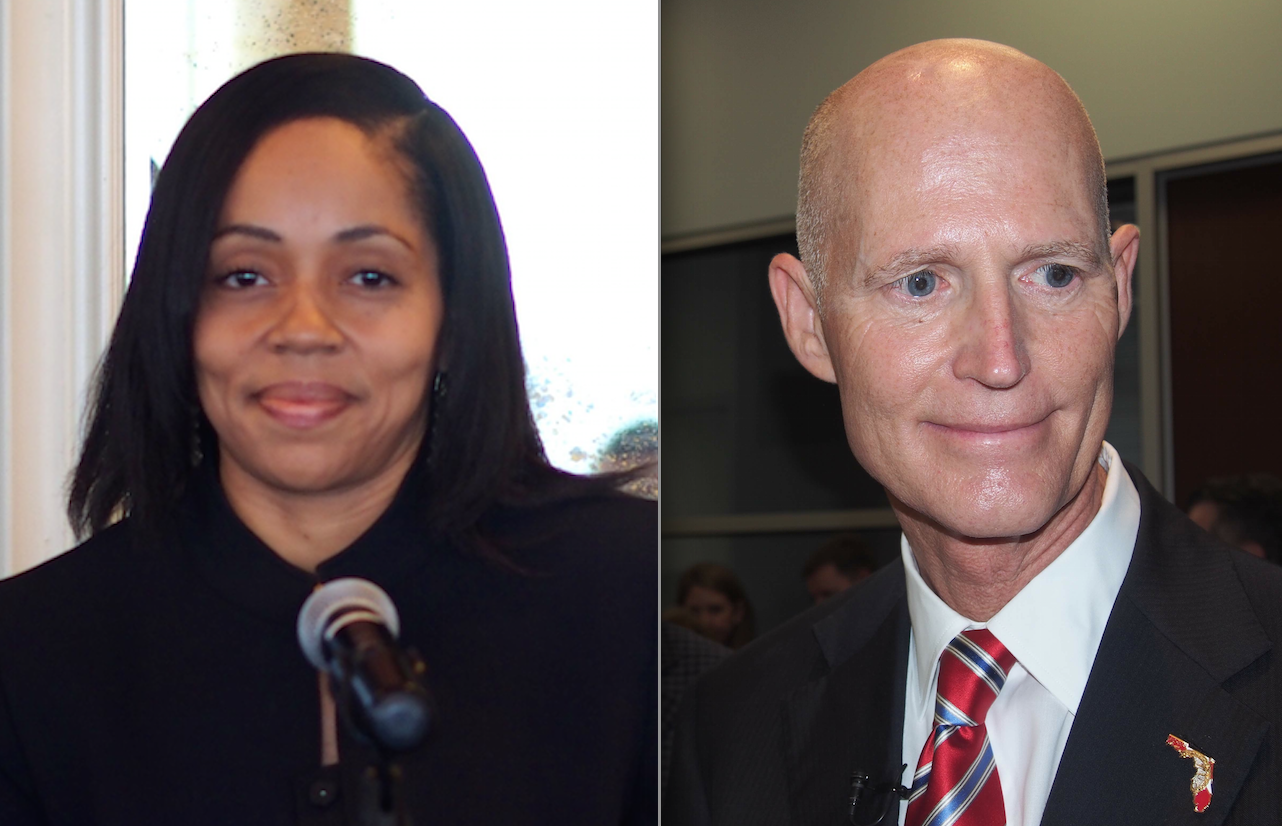 "Unlike every other amici in this litigation, the Family Members' right to be heard is not hypothetical, it is not philosophical, it is not past – it is real and present." Thus opens a friend of the court brief filed Wednesday by the families of victims of seven homicides in the balance of the Florida Supreme Court case pitting the powers of Orlando's State Attorney Aramis Ayala and Gov. Rick Scott.
The families brief, guaranteed by Florida law "and fundamental standards of decency in a modern society," the brief states, was one of two filed Wednesday by friends siding with Scott, supporting his actions to strip first-degree murder cases from Ayala and reassign them after she pledged she would not seek death penalties.
The families' brief connotes emotion and loss along with legal arguments. The Florida Prosecuting Attorneys Association, also does not mince words, arguing that Ayala tried to "abolish" the death penalty in her 9th Judicial Circuit, and that Scott responded prudently.
Both entered briefs in a case in which Ayala is challenging Scott's power to issue 23 executive orders stripping away her cases and reassigning them to State Attorney Brad King of Ocala.
The family members are families of 9th Judicial Circuit homicide victims Orlando Police Lt. Debra Clayton, Sadie Dixon, Darrell Avant Jr., Jasmine Samuel, Elena Ortega, Alexandria Fransa Chery, and Teresa Ann Green.
The family members maintain they are not pressing an argument for or against capital punishment. Rather, they argue the families' have the right and need to be heard out by prosecutors – for "meaningful participation" – before a decision is made whether to pursue a death penalty prosecution. Ayala, they argue, negated that right with her blanket declaration in March.
"The Petitioner's preemptive strike against secondary victim input for capital punishment silences those with a substantial right to be heard. Petitioner's declaration that she will not seek the death penalty in cases handled by her office is not a proper exercise of discretion; rather, it is an exercise of bias," the argue. "For these Family Members, there is ample 'good and sufficient reason,'" – the legal standard to support Scott's executive orders.
And the families added that "because each homicide presents different victims, different secondary victims, and different circumstances, consequential participation and partnership is an indisputable force for better mental health outcomes in secondary victims. Shutting out, preempting, and disrespecting individual survivors' views on capital punishment– pro or con – in their cases is an indisputable violation of the Family Members' constitutional rights and inflicts unnecessary, compounded pain."
The Florida Prosecuting Attorneys Association represents Florida's 20 elected state attorneys [including Ayala and King] and more than 2,000 assistant state attorneys who work for them.
Their brief reads at times like a prosecutor's opening statement in a murder trial, even declaring the guilt of the suspect whose case started Ayala's tribulations and led to a firestorm of backlash: that of Markeith Loyd, which has not gone to trial, so he has not been convicted of the homicides for which he has been charged, Clayton, Dixon and Dixon's unborn fetus.
"On March 16, 2017, State Attorney for Florida's Ninth Judicial Circuit, Aramis Ayala ["Ms. Ayala"], announced she would not seek the death penalty against Markeith Loyd ["Mr. Loyd"], who not only murdered his pregnant ex- girlfriend, but also was caught on camera shooting and wounding a police officer, then as she laid on the ground wounded, fighting for her life, he walked up and executed her," the prosecutors argue. "Despite the vicious and heinous murders of the two victims, Ms. Ayala decided that she would not seek the death penalty in not only these two cases, but not in any case during her time in office."
Florida statutes and Florida Supreme Court presidents show Scott has the authority to reassign the potential capital cases for any "good and sufficient reason in order to see that the laws of Florida are faithfully executed," the prosecutors argue.
"Additionally, this Brief illustrates Ms. Ayala's lack of discretion and authority to disregard consideration of the death penalty in all cases. Specifically, Ms. Ayala effectively abolished the death penalty in the Ninth Circuit by implementing a hard-and-fast rule that removes her decision-making on a case-by-case basis, which is beyond the scope of her prosecutorial independence and discretion," the prosecutors argued.