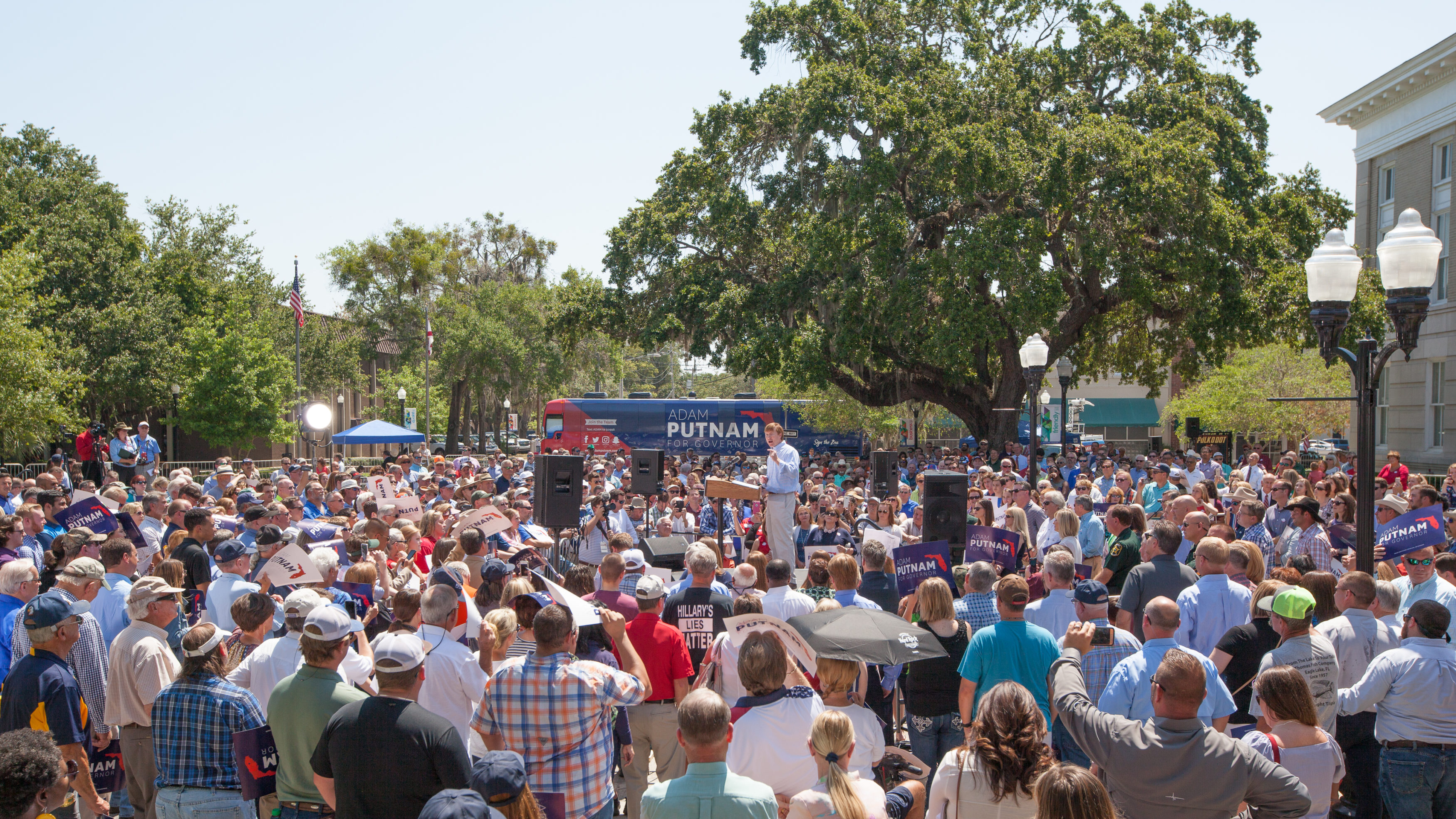 With a setting out of a Norman Rockwell painting, Florida Agriculture Commissioner and fifth generation Floridian Adam Putnam formally announced his candidacy for governor on Wednesday morning before hundreds of adoring friends and supporters in his home town of Bartow in Polk County.
Harkening back to an earlier era, Putnam said "some people say that this doesn't happen anymore – flags flying, high school bands playing, prayer on the court house steps, World War II veterans and children shoulder to shoulder, generations coming together in common cause, people from all backgrounds in every corner of this place, united behind this movement."
"The American Dream is alive and well and happening right here this morning," he exclaimed. "I can't imagine a better place to announce that I am running for governor of the state of Florida!"
Based on his extensive public service in Tallahassee and Washington D.C. at the still young age of 42, Putnam has been considered by the Florida Political Establishment for years as the likely next man to succeed Rick Scott in the governor's mansion.
"He certainly is the front runner, and part of the reason is that he is  very well known in the local areas and by local county party people," says USF political science professor Susan McManus. "One thing we've learned from the last couple of elections is that support from the grassroots party organizations can be critical to winning a primary, and he's well known in those circles."
After serving for a decade in the House of Representative representing Polk County, Putnam quit Washington D.C. (even while he had moved up in party leadership) in 2010 and returned back home to run and ultimately win the Agriculture Commissioner's race at the age of 36. Immediately afterwards, he was immediately placed on the short list of viable 2018 gubernatorial nominees, and so far everything is playing to script in a so-called "Purple State" that hasn't elected a Democrat governor in more than two decades.
For years, Putnam has described his home state as a "reward for a life well lived," a reference to the number of seniors and others from the Northeast, Midwest and other places around the country who end up making Florida their home.  But that phrase is far too passive for a candidate who is hoping to inspire Floridians about the future, resulting in a variant of that expression on Wednesday, where he repeatedly said that the state can be be "the launch pad for the American dream."
"A state that is the fishing capitol of the world, can also be the state that builds the moats and trains the craftsmen, the state that has trained millions of soldiers and sailors and airmen can retrain our own citizens,with the skills they need to compete in a rapidly changing world and win," he said. "The state that put a man on the moon can develop the next generation of tools for the next giant leap of mankind. Florida can be the launch pad for the american dream."
Putnam invoked that signature phrase no less than five times in his sixteen minute address.
While Putnam's speeches have always had a ring of "Florida exceptionalism," he literally used that statement on Wednesday as well, saying it's very real, and said it described "the grocery clerk in Lakeland who revolutionized the supermarket industry, or the cashier on I-Drive who now owns the souvenir shop… It's the truck driver hauling fruit who saved up to buy an orange grove, and then another… It's the hotel maid who now runs her own bed and breakfast."
"Hard-working folks like these have been able to achieve their American Dream right here in Florida," he said. "I want every single Floridian to be able to tell a similar story. I want people around the country to know this is where it happens."
Having served in politics for nearly half of his still young life, some critics have said that could be a negative going into the next election cycle, but those in attendance to observe his speech dismissed such thoughts.
"Individual candidates are what makes up an election," said Hillsborough County resident Nyla Thompson. "It's not a trend, its whether you have experience or don't have experience, I think it's the individual who is the candidate, they are the ones who tell their message or don't."
Jim Elliott, a City Commissioner in Wildwood (based in the Villages), made the trek to Bartow to observe Putnam's speech. He says that while the tag of "career politician" could be a drag on some candidates, he doesn't think it will stick to Putnam.
"I think  he's got excellent knowledge of the state of Florida and what their needs are, and I think he's smart enough to figure out what the solution is and I know that he can work with the people necessary to get the job done," Elliott enthused.
Sarasota County State Committeeman Christian Ziegler says it's too early to predict who the 2018 GOP nominee will be, but says that Putnam's announcement last year that local residents can apply for or renew state concealed weapon licenses at their local tax collector offices was a bit hit with Second Amendment enthusiasts, and will help him in a Republican primary.
"I had to drive an hour and a half south, and now it makes it a little bit more accessible," said Ziegler.
Putnam is the first major Republican to get out of the gate and announce his candidacy. House Speaker Richard Corcoran and Clearwater state Senator Jack Latvala are also considering their own runs for office.
One Florida Republican not impressed with Putnam is Latvala's son, Chris, a state representative in Pinellas County. After Putnam's speech, Latvala tweeted, "The guy who wants to build the American Dream in FL is the same guy who oversaw the largest decline in agriculture in FL history."
The guy who wants to build the American Dream in FL is the same guy who oversaw the largest decline in agriculture in FL history #sayfie

— Chris Latvala (@ChrisLatvala) May 10, 2017
Putnam will immediately hit the campaign trail, with a 22-city, 10 day tour scheduled to begin on Thursday.
Photo credit Kim DeFalco.