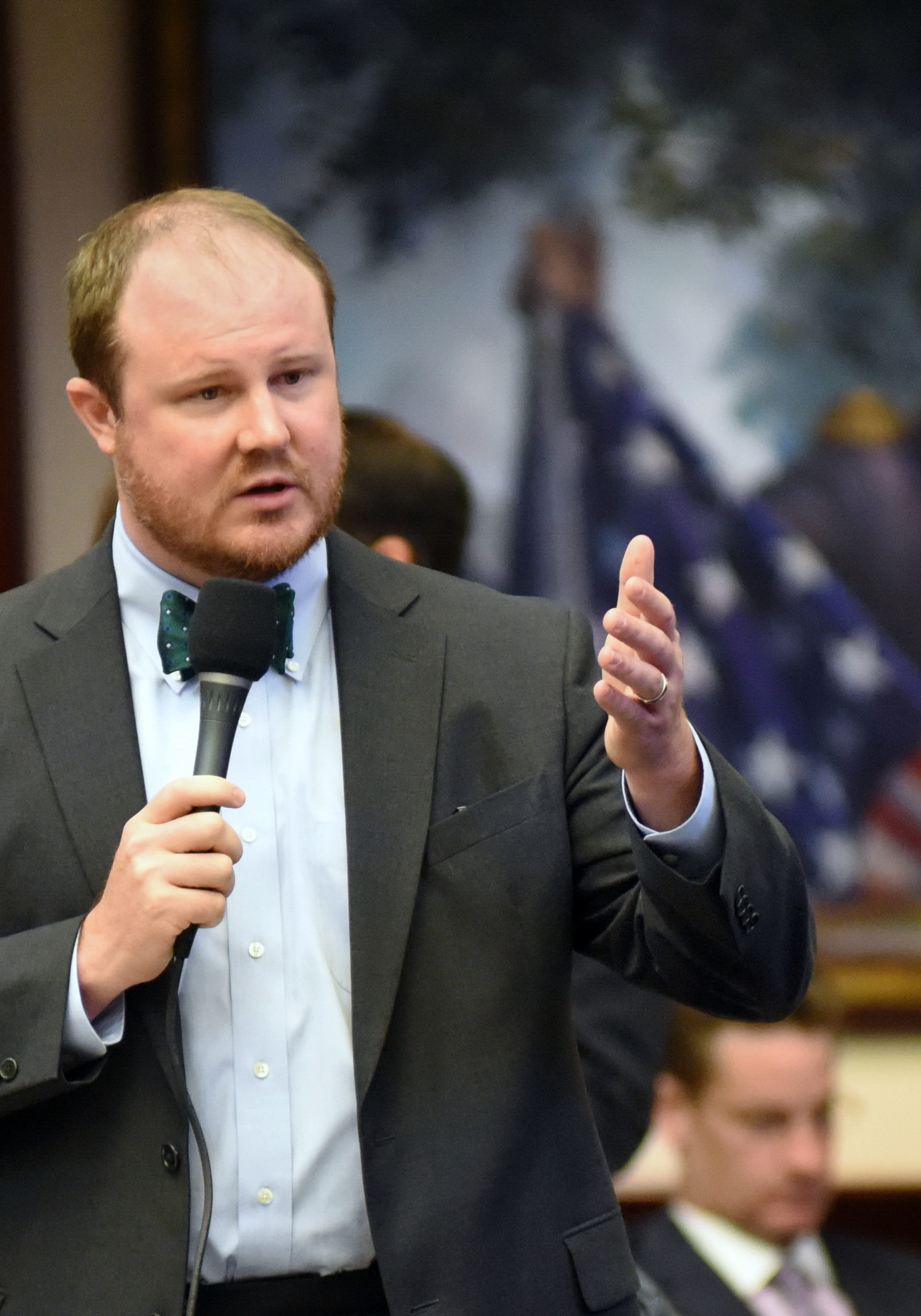 Updated 12 noon — State Rep. Matt Caldwell formally announced his candidacy for Agriculture Commissioner on Monday morning, in an event that was livestreamed on his Facebook page.
"I'm thrilled to kick off my campaign with all of you in my hometown," he told the crowd at Sun Harvest Citrus in Fort Myers. "Growing up, I never made grand plans to run for office … But I decided early on I could sit and shake my fist at the television screen or I could get out there."
Caldwell burnished his conservative bona fides, which he said "puts a bull's eye on your back every single day," mentioning his support of term limits, tax cuts, but also "the needs of our environment and our farmers."
He also talked about the importance of gun rights and Cabinet duties: The Department of Agriculture and Consumer Services oversees the issuance of concealed weapon licenses, and the commissioner sits on the Florida Cabinet with the state's governor, attorney general and CFO.
"With your help, and God's blessing, we will come out ahead next year," Caldwell said.
He was introduced by his friend, House Republican Leader Ray Rodrigues, who said there was "no one more prepared to go to Tallahassee and be the next commissioner."
"It's not unusual for someone to go to Tallahassee and change, become a different person," added Rodrigues, an Estero Republican who said he had known Caldwell "half his life."
"What is rare is when someone is the same person at the end of their seventh year as they were when they got there," he said. "But the Matt Caldwell you see here today … has not changed when you get to the root of his character."
An earlier version of this story is below:
---
For the past seven years, Rep. Matt Caldwell has traveled back-and-forth to Tallahassee from his Lee County home, often choosing highways taking him through the state's small towns instead of the interstate.
Those countless two-lane journeys over the years will likely come in handy as the North Fort Myers Republican embarks on his next campaign. Unable to run for re-election because of term limits, Caldwell threw his hat in the race to replace Agriculture Commissioner Adam Putnam in 2018. He is set to formally launch his campaign at 11:15 a.m. at Sun Harvest Citrus, a citrus retail store in Fort Myers.
"Here's an opportunity, from my perspective, to keep pursuing the issues that I think are important, the ones I've had a chance to focus on and shape the policy outcomes," he said in a recent interview. "That's what I'm always going to be looking to do, to be effective."
First elected in 2010, Caldwell has spent much of his career in the Legislature focused on environmental and agricultural issues.
As chairman of the Agriculture and Natural Resources Subcommittee in 2013, he backed a plan to help pay for Everglades restoration. The bill (HB 7065), which was signed into law by Gov. Rick Scott, called on the state to spend $32 million a year for 10 years to reduce the amount of phosphorous that enters the Everglades. As chairman of the State Affairs Committee, he carried legislation (HB 1075), which the governor also signed into law, in 2016 that addressed how state lands are used.
This year, Caldwell, now the chairman of the Government Accountability Committee, proposed legislation that would have restructured Florida Forever's funding formula and guaranteed funding for the next 20 years. Filed late in the 2017 Session, the bill (HB 7119) passed the House, but did not get a hearing in the Senate.
"You look at the things I've been able to work on over the last … seven years in the process, and I think it demonstrates the ability to work on challenging issues, to work with a bipartisan coalition of folks, to work with folks across the aisle, to come together on some pretty tough things," he said.
Caldwell said he plans to focus on issues that are front-and-center to the agriculture community. The state's continued growth creates challenges for farmers, but is also a challenge for the state as it looks preserve critically important water resources and conservation areas.
Caldwell understands that growth first hand. A seventh-generation Floridian, Caldwell's parents met while college, despite both living in Fort Myers. They got married after undergrad, and moved back to Fort Myers a few years later with one-year-old Matt in tow.
The 35-year-old said Fort Myers was a "fantastic place" for a kid to live.
"I grew up fishing all the back mangroves, windsurfing on the Sanibel Causeway," he said. "For a kid growing up, there was always something to do. It was a great way to grow up."
His commitment to public service, he said, comes from his parents. His mom is an educator; his father was in the ministry. He would go with them to vote every election, getting a map of the United States during presidential election years and color in the states and election results as returns came in.
He was recruited by Republicans in 2008 to run for the cross-state Senate seat held by then-Sen. Dave Aronberg. The seat included parts of Lee and Palm Beach counties, and was a near 50-50 seat, with a slight Democratic registration advantage. Caldwell lost, 40 percent to Aronberg's 60 percent, but said he learned valuable lessons along the way.
"It had urbanized downtowns, it had cattle ranches and citrus groves, it covered part of Lake Okeechobee, it had the ocean on each side. It was quite literally a snapshot of every kind of venue you'll encounter in the state of Florida," he said. "You had to learn to campaign in the different environments. You always want to remain true to who you are and what your values are and what your goals are, but you do have to make sure you communicate and people where they're at, and with such a diverse district, it was one of those educational lessons for sure."
Two years later, he ran for the seat being vacated by Rep. Nick Thompson, and this time won. But Caldwell said said he was "definitely not the favorite to win that race" either.
Caldwell is once again gearing up for another tough run. With about 15 months until the August 2018 primary, three Republicans — Caldwell, Sen. Denise Grimsley, and Paul Paulson — have already announced they are running for Agriculture Commissioner.
Caldwell has raised $752,594 for his political committee, Friends of Matt Caldwell, since Aug. 2016. According to state records, he raised $702,825 of that since January. The committee ended April with $630,914 cash on hand.
While Caldwell will face the same challenge— getting his name and message out to millions of potential voters — that any statewide candidate will face, the most difficult part of the campaign is much more personal: Being away from his family. Caldwell said he plans to be on the road campaigning five days a week, which means more days and nights away from his wife, Yvonne, and daughter, Ava.
"What I can commit to and offer is that I have a deep-rooted investment in the state of Florida. This is not about a title or to put something on my resume," he said. "I honestly don't care if my gravestone says anything more than 'husband and father,' that's the only real job that I worry about being successful in my legacy. But this is really, to me, a chance to serve."
Tallahassee correspondent Jim Rosica contributed to this post.