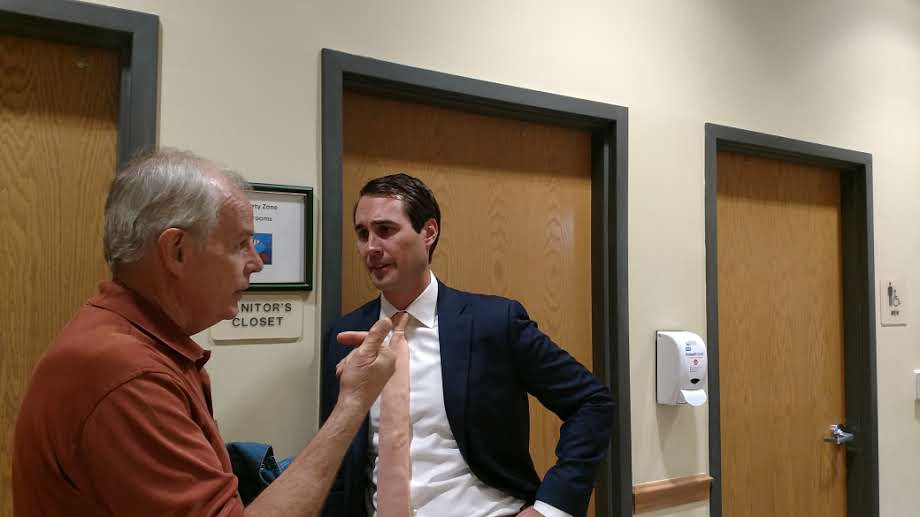 Unlike the other four Democrats who have either entered the race for governor or are seriously flirting with the possibility, Winter Park businessman Chris King is somewhat of a blank slate for the majority of party members in Florida.
That's why appearances at events like Monday night's Hillsborough County Democratic Executive Committee are taking on added significance.
"We have an affordable housing crisis all over the state," King addressed Democrats gathered at the Children's Board of Hillsborough County in Ybor City. "It is felt deeply here in Hillsborough County. There are 2.6 Floridians who don't have access to a doctor who knows their name. Forty-five percent of our jobs pay less than $15 an hour, we have partisan gerrymandering, we've been fighting for years, we have toxic algae blooms we  can see from space, 90 percent of our students are in public school, and 90 percent of the conversation coming out of Tally is about."
He paused as the crowd quietly announced: "Charters."
During his 22-minute speech, the 38-year-old King talked policy and biography. He followed that with another 15 minutes of question-and-answer with DEC members.
King is CEO of Elevation Financial group, the Winter Park company he began over a decade ago with his brother, which invests in affordable and senior housing in the Southeast. While he hits the familiar Democratic talking points — education, health care and the environment — King also makes an issue out of the lack of affordable housing in the state, an issue which many other Democrats only give lip service.
"It's not fair that we have huge tax cuts to the biggest corporations in America while were raiding the affordable housing trust fund to the tune of $1.7 billion over the last 15 years, which has been an all-out attack on seniors, on law enforcement, on recent college graduates, anyone who wants to make a life here in Florida" he said, referring to the fact that for the 10th year in a row, state lawmakers are proposing to sweep money from the affordable housing trust funds into the general revenue fund to spend on other purposes.
Echoing Bernie Sanders, King says the biggest problem in Florida is an economy which isn't working for enough working families.
"Our economy is going in one direction — down," he says, casting a different version of Florida than the one depicted last week by the only Republican to declare his candidacy for governor, Agriculture Secretary Adam Putnam.
"The story that is not told — and we haven't done a good job as Democrats, unfortunately of telling it over the last several decades — is that the party that stands up and says they're the party of economic opportunity, they're the party of growth and business and jobs, jobs, jobs, jobs, actually in the last 15 years in Florida we've been on a steady decline. It's not talked about, but it's felt by working families all over Florida."
King says that Florida's per capita GDP is nearly identical today to where it was in 2000, and says that blame for that economic stagnation is completely on Republicans, who have controlled all levers of state government for nearly two decades.
"Florida is not growing, and it's hurting families and our ability to do really anything that you and I care about," King continued. He said if elected he would implement a "jump start fund" to make capital accessible to small business people.
King is one of three Democrats to have officially entered the 2018 sweepstakes for governor. Tallahassee Mayor Andrew Gillum was the first candidate out of the gate, and was followed by former Tallahassee area Congresswoman Gwen Graham two weeks ago.
Orlando attorney/entrepreneur John Morgan says he's no rush to declare if he's running (or not), while Miami Beach Mayor Philip Levine is in a "testing the waters" phase. Levine will speak at the Tampa Tiger Bay Club this Friday.