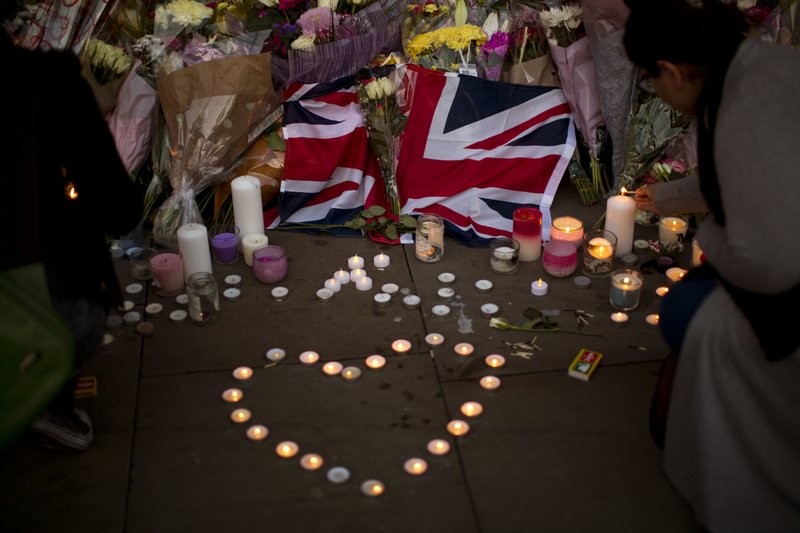 Sunburn – The morning read of what's hot in Florida politics.
By Peter Schorsch, Phil Ammann, Jenna Buzzacco-Foerster, Mitch Perry and Jim Rosica.
The deep bellow of the fog horn cried out every five minutes during the Disney Magic's late-night approach into Dover, England. The shining white cliffs are still not visible from even the top deck.
In the wake of Monday evening's bombing, Prime Minister Theresa May has placed Britain on the highest level of alert, deploying troops throughout the country. The impact was immediately apparent as we sailed into port. A near-flotilla of light military vessels protected our entrance, as if Mickey Mouse were a visiting head of state. The tension was palpable as we disembarked, with one security officer saying yesterday was the hardest day he's ever had at work.
But England prevails. That's the takeaway after visiting Stonehenge, that inexplicable, ancient ring of standing stones. On this day, perhaps like few others, Stonehenge was more than just a mystical tourist attraction. It was a powerful reminder that this land — this country — has been here and will be here for millennia. The deplorable actions of an evil few cannot change that.
I'll be honest — and this isn't to make a global event about our little family — we're a little worried about visiting London next week, especially after the PM warned that another terrorist attack is "imminent." Yet, there may not be a more important time recently to be here.
— MORE ON MANCHESTER —
"Donald Trump calls terrorists 'evil losers'" via F. Brinley Bruton and Amy Perrett of NBC News —President Donald Trump branded those responsible for the deadly suicide bombing at an Ariana Grande concert and other terrorist attacks "evil losers" on Tuesday. "So many young, beautiful, innocent people living and enjoying their lives, murdered by evil losers," he said in Bethlehem while standing next to Palestinian leader Mahmoud Abbas. "I won't call them monsters because they would like that term, they would think that is a great name." He added: "I will call them, from now on, losers because that's what they are: losers."
"Ariana Grande concert explosion: Singer checks in with Boca friend" via Leslie Gray Streeter of the Palm Beach Post — Dennis Lambert, songwriter of "We Built This City" and other songs, has known Grande since she was a little girl growing up in Boca Raton. Grande and Lambert's daughter Misha are close friends. "No sooner had I heard the first reports when my daughter Misha called to say she was in touch with Ari and all of her people are safe and unhurt," Lambert said. "They really don't know yet exactly what happened and the news reports remain unclear. We're all relieved the Ariana and her troupe are fine. On the other hand it's another reminder of the perils that we are all exposed to in this crazy world we live in."
— "Ariana Grande back home in Boca Raton after concert bombing" via the Palm Beach Post
"FSU: Students at London Study Centre safe following Manchester bombing" via Byron Dobson of the Tallahassee Democrat — Students studying this summer at Florida State's London Study Centre are safe following Monday night's explosion in Manchester at the end of a concert by Ariana Grande. Manchester is a little more than 160 miles from London where the FSU students are based. "All International Programs participants based at the London Study Centre have been accounted for and encouraged to confirm their safety with their loved ones," FSU spokesman Dennis Schnittker said. "Florida State University does not have any International Programs located in Manchester, nor do we have any reports of any students traveling independently to Manchester at the time of yesterday's horrific incident at the Manchester Arena. Our condolences go out to those affected by this tragedy."
Florida leaders react to the Manchester bombing:
— Gov. Rick Scott: "(First Lady Ann Scott) and I continue to pray for the 22 innocent lives lost in the senseless act of hate and terror in Manchester (Monday) night. Florida stands with the British people."
— Sen. Marco Rubio: "Our prayers are with the people of Manchester."
— Rep. Charlie Crist: "My thoughts and prayers are with Britain and the families impacted by this horrific act in Manchester."
— Rep. Carlos Curbelo: "Praying for the people of Manchester."
— Rep. Val Demings: "Standing with and praying for Manchester today.  Another cowardly attack against innocent people."
— Rep. Ted Deutch: "Tonight in #Manchester, enormous amounts of horror, grief, and pain. From America and beyond, we join you in sympathy, outrage and resolve."
— Rep. Neal Dunn: "Leah and I send our sincere condolences to the British people as they respond to another heinous act of terrorism. The events in Manchester remind us again that these vicious killers will consider any target, even a crowd of teenagers and children at a music concert. We stand with resolve alongside our British friends in the face of this threat."
— Rep. Alcee Hastings: "I offer my deepest sympathies to the families of the victims of yesterday's terror attack in Manchester. As England's law enforcement continues working to establish the full details of this horrific attack against innocent children and families, the American people stand side-by-side in grief, anger, and resolve. My thoughts and prayers continue to be with the city of Manchester and all of England as they come to terms with this terrible atrocity."
— Rep. Al Lawson: "Our thoughts and prayers are with #Manchester and the United Kingdom for all the victims of tonight's attack. Such sad news."
— Rep. Debbie Wasserman Schultz: "As I am writing yet another statement expressing horror and condolences after another inexplicable terror attack, I feel the angst and anger of a mother who has sent my children off to a concert just like last night's in Manchester. The terror attack that apparently targeted innocent young people was a truly despicable act committed by cowards. As Americans, we are heartbroken and horrified by this mass murder of young adults and even children, but make no mistake: our resolve to make our world a safer one for our children is only strengthened, and our commitment to working with our British ally in pursuit of that goal remains unshakeable. Our thoughts are now with the victims, their families and all the people of Manchester. And while many facts are still unknown, Americans will not waver in seeking justice and standing up against the hate that motivates such heinous crimes. And we will never let these pretenders who hold themselves out as the only true defenders of Islam to be recognized as anything more than what they are: murderers."
— Lt. Gov. Carlos Lopez-Cantera: "Horrible and senseless. We mourn those lost and pray for swift justice."
— Agriculture Commissioner Adam Putnam: "Terrorists who take the lives of innocent people are nothing but cowards & they must be brought to justice. My prayers to Manchester."
— Democrat Gwen Graham: "As a mom, my heart breaks. Praying for the children and families, parents and grandparents in Manchester."
— Democrat Andrew Gillum: "Deeply saddened by #Manchester tonight. Prayers to the families affected & the UK."
— House Speaker Richard Corcoran: "My deepest sympathies and prayers for strength go out to the victims, parents, & families of the terror attack in the U.K."
— Sen. Lizbeth Benacquisto: "My heart goes out to those in Manchester, especially to the families and first responders. Our prayers are with you and the United States of America will always stand by you."
— Sen. Debbie Mayfield: "My heart goes out to those in Manchester, especially to the families and first responders. Our prayers are with you and the United States of America will always stand by you."
— Rep. Chris Sprowls: "Our hearts are with the families of those killed in #ManchesterArena last night. May we unite together to eliminate terror."
— Tampa Mayor Bob Buckhorn: "My prayers go out to those in Manchester, as a Father of 2 little girls, I can't imagine what these families are going through."
— Jacksonville Mayor Lenny Curry: "Outrage!!–Manchester terrorist attack. Tears & prayers for the victims and families."
***Today's SUNBURN is brought to you by Spectrum Reach, the marketing platform of choice, connecting you to your target audience on TV, digital and mobile. With access to our powerful data and insights, solutions for every screen, and the best programming content on the top 50+ networks, we'll help you reach the right customers for your business. SpectrumReach.com #NeverStopReaching***
— TURKEY TIME — 
Florida TaxWatch is offering its annual serving of "budget turkeys" 11 a.m. Friday at the group's downtown headquarters on Bronough Street.
These turkeys are not Thanksgiving staples, but "individual appropriations that circumvent a thoughtful and thorough budget process," says the group's website.
"The organization identifies budget turkeys to promote transparency in public budgeting, encourage meaningful legislative review of all appropriations and facilitate checks and balances within the budget process," the nonprofit group declared in a news release.
Being called a turkey "does not signify a judgment of a project's worthiness. Instead, the review focuses on the Florida budget process, … to ensure that all appropriations using tax dollars are subject to scrutiny."
In 2013, one such "turkey" was $4 million budgeted for Pinellas County to help pay for a sequel to "Winter's Tale" – the movie about the Clearwater Aquarium's star attraction, Winter the Dolphin, which has a prosthetic tail.  
Another example of the biggest turkey was identified in the following year's state budget: $12 million earmarked for the Port of Tampa Bay's gantry crane project.
Florida TaxWatch Vice President of Research (and resident budgetary turkey expert) Kurt Wenner will serve as master of ceremony for the Friday event.
More information on budget turkeys can be found here.
— CAPITOL INSIGHT —
Labor unions call on Rick Scott to veto education bill — Fight for Florida, a coalition of labor, faith and community organizations, has released a new ad calling on the governor to veto a massive education bill (HB 7069), calling the measure "bad for taxpayers and bad for Florida families." The 30-second spot will be distributed digitally and is expected to run extensively in Tallahassee during the bill signing and veto period. "Our public school children, teachers and education staff professionals are already severely underfunded," said Rich Templin, representing the coalition, in a statement. "This so-called 'Schools of Hope' bill will further starve public schools of much-needed resources. It's plain wrong. It's wrong for students, teachers and our public schools and wrong for Florida." The bill not yet been set to Scott, but has been met with criticism from public school supporters in recent weeks. Click on the image below to watch the ad.
— Senate President Joe Negron said Tuesday he stands by HB 7069: "I support the bill. I support efforts for the state to give more parental choice in public education. I support the initiatives that are in that bill," the Stuart Republican told POLITICO Florida on Tuesday.
— "Fate of program for disabled children rests with Gov. Scott" via Gary Fineout of the Associated Press 
"Time growing short for Scott to decide 'whisky & Wheaties' bill's fate" via Florida Politics — A history of alcoholism in Gov. Scott's family will inform his decision about whether to sign the "whiskey & Wheaties" bill, which would tear down the wall of separation between hard liquor and other goods. … "I've had family members who have had the challenge of alcoholism. It concerns me. As I review the bill — I think I have to be finished sometime tomorrow on it — I take all those things into consideration." Scott said he was scheduled to talk to representatives of Wal-Mart Stores Inc. — one of the big-box stores supporting the bill — and ABC Fine Wines & Spirits — which is opposed. Scott still wasn't prepared to say whether he would veto the state budget approved by the Legislature during an extended session this month. "I'm going to review my options," he said.
Assignment editors: Gov. Scott will highlight job growth 3:15 p.m. at the Honeycomb Company of America, 1950 Limbus Ave. in Sarasota.
"Scott, Cabinet OK $8.5M for land conservation in Okeechobee, Highland counties" – Scott and Cabinet members agreed to an $8.5 million deal to conserve land owned by ranchers in Okeechobee and Highlands counties. The purchase is through the Florida Rural and Family Lands Protection Program. About 4,200 acres in Okeechobee County and just over 1,000 acres in Highlands County will go to improve the quality of water flowing to Lake Okeechobee from the north through the purchase of easements, stopping future development while allowing existing landowners to continue using the property for agriculture and ranching. Part of the acquisition is Okeechobee County's Triple S Ranch, just west of Fort Pierce and part of the Kissimmee River basin. Triple S has been owned by the Scott family since 1948. The Highland County parcel has been owned by the Hartt family since 1939. Water from that land empties into Arbuckle Creek and into Lake Okeechobee. After the deals, about $11 million will still be available in the current fiscal year, which ends June 1. In the upcoming 2017-2018 budget, lawmakers funded the Rural and Family Lands Protection Program at $10 million.
"Pam Bondi on Sunshine exemption sealing criminal records: what about sex offenders?" via Kristen Clark of the Miami Herald – Approved unanimously by lawmakers last month, SB 118 would require clerks to seal more than 2.7 million criminal records and hundreds of thousands of arrest records for individuals who were found not guilty, acquitted at trial, had charges against them dropped or dismissed, or weren't charged after being arrested. That would effectively prevent people from knowing whether someone was arrested or charged with a crime when they ultimately aren't convicted in a court of law. "What concerns me about this — just as a career prosecutor: Sex offenders," Bondi told reporters. "I think some of those cases are very important, to be able to know about the past and the history. That does concern me … We all know how difficult it is to convict a sex offender, and if they have a case again in the future, I think it's important for people to be able to know about that. Those are the ones that concern me the most."
Old news: "Atwater exit awaits budget action" via the News Service of Florida on Tuesday; Michael Moline of Florida Politics wrote "Jeff Atwater sticking around as CFO until state budget is nailed down" on May 10.
— NOTES FROM THE CAMPAIGN TRAIL —
"Why's Bondi raising money? Not to run for office, she says" via Michael Auslen of the Times/Herald — Term-limited Florida Attorney General Pam Bondi may have restarted her political fundraising, but she says she's not considering a run for another public office. In early April, Bondi's fundraising engine started back up, bringing in more than $82,000 to her political committee, called Justice for All. It raised questions about the aspirations of a Republican attorney general who can't seek reelection and who has already declared she would not run for governor in 2018. Asked Tuesday if she was gearing up for another public office, Bondi said, "No. No, I'm not. Not right now, I'm not." … "The newest rumor I heard today is that I want to be sheriff of Hillsborough County," she said to reporters. "I do not want to be sheriff of Hillsborough County, seriously. We'll see, but I need a political committee to continue when you all have political questions to ask me."
"Adam Putnam plays down aides' departure from his campaign for Governor" via Michael Moline of Florida Politics — Commissioner of Agriculture Adam Putnam suggested that the departure of two key aides from his campaign for governor was no big deal. "You're always adjusting and modifying as you move forward," Putnam said, adding that he wished both ex-staffers well. … "This is a grassroots movement, and I'm very excited about the team that we have, and I wish the team members who have moved on to other things the very best." Campaign manager Kristin Davison was relieved of her duties Monday. Political director Jared Small also exited the campaign.
Andrew Gillum campaign launches "Doctors for Gillum" — The grassroots coalition started by Florida healthcare professionals to help Floridians understand the stakes healthcare and the Obamacare will play in the election, according to Andrew Gillum's campaign. The group is made up of Dr. Michael Katin, the medical advisor to the American Cancer Society unites of both Lee and Charlotte counties and the president of the AFROC (Association of Freestanding Radiation Oncology Centers); Dr. Annette Pelaez, a Tampa native who has been practicing obstetrics and gynecology in the Miami area since 1989; Dr. Jean-Philippe "J.P." Austin, the former medical director at Christie Clinic Association in  Champaign, Illinois now with 21st Century Oncology; Dr. Larry Pierre, the president and CEO of the Greater Miami Health and Education Training Center; and Dr. Lisa Wildcatt, a pediatrician and the lead physician of the Riverview office at Pediatric Associates of Tampa Bay. "As doctors, we have dedicated our lives to providing patients with quality healthcare, and under his proposal, more Floridians will have the security of access to the care they need to survive," the coalition said in a joint statement provided by the Gillum campaign. "We look forward to working with Mayor Gillum and Florida's policymakers to help make these protections the law in Florida."
"Three Tampa Bay lawmakers line up behind Gwen Graham for Governor" via Mitch Perry of SaintPetersBlog — St. Petersburg-based state Sen. Darryl Rouson, St. Petersburg City Council Chair Darden Rice and Tampa City Councilman Mike Suarez are endorsing the former congresswoman, the Graham campaign announced Tuesday. "I'm honored to have the support of these Tampa and St. Petersburg leaders who are working every day on issues Floridians care about," she said in a statement. "As governor, I will work with them to protect our environment, create opportunities for all, and reform Florida's criminal justice system." Rouson said in a statement that Graham "understands criminal justice reform, protecting voting rights and creating jobs are paramount issues to our community" and has the "passion, experience, and fortitude to make our streets safer, reform our criminal justice system and restore voting rights to the 1.5 million Floridians currently disenfranchised."
Ryan Torrens files to run for Attorney General — The Hillsborough County Democrat opened a campaign account Monday, and is the first Democrat to throw his hat in the race to replace Attorney General Pam Bondi, who can't run for re-election because of term limits, in 2018. Torrens is the owner of the Torrens Law Group, and focuses on foreclosure defense and consumer protection litigation. Before striking out on his own in 2012, he worked as an independent consultant on the federally-mandated Independent Foreclosure Review Project. A fifth-generation Tampa native, Torrens received his bachelor of arts in government and world affairs from the University of Tampa. He graduated from George Washington University Law School. Jacksonville Republican Jay Fant has also filed to run for Attorney General.
"Raquel Regalado joins race to fill Ros-Lehtinen's congressional seat" via David Smiley of the Miami Herald — The former Miami-Dade School Board member told the Miami Herald on Tuesday that she's "all in" after spending the last several weeks meeting with political committees and Republican leaders in Washington. The 42-year-old mother of two and self-described "compassionate Republican" believes she's the type of moderate candidate capable of holding the Democratic-leaning 27th district for the GOP next year. "Even though the Democrats are saying this seat has to go to a Democrat because independents will lean to a 'D,' I disagree," she said. "I think the majority of people believe it will be better to have a Republican in the room than a Democrat out in the hall."
More legislative hopefuls file to run in 2018 —  LobbyTools' Legislative IQ reports several candidates filed to run for House and Senate in 2018. Democrat Tyran Basil has filed to run for House District 27. The 26-year-old has an associate degree in accounting from Seminole State College of Florida and works in technical support for Frontier Communications. He'll face the winner of the Republican primary between Rep. David Santiago and William McBride. Democrat Lee Mangold is vying to replace Rep. Jason Brodeur in House District 28. Mangold earned his doctorate in computer and information security from Northcentral University, and owns a Central Florida-based cybersecurity company called Goldsky Security. He will face Republican David Smith. Brodeur can't run for re-election because of term limits. Three Republicans — Cocoa Beach Mayor Tim Tumulty, Tyler Sirois, and Pat O'Neil — have filed to run run in House District 51. Tumulty ran in 2016, but lost to Rep. Tom Goodson. He currently works as a math and physics teacher at Cocoa Beach Jr./Sr. High School. Sirois is the executive director of the 18th Judicial Circuit State Attorney's Office, and has worked with the Brevard County Supervisor of Elections Office in the past. Goodson can't run for re-election because of term limits. Shawn Mathis Gilliam is challenging Rep. Dan Raulerson in House District 58. Gilliam is running as a member of the Green Party. Republican Andrew Vargas has switched his candidacy to House District 114. He will now face Republican Jose Pazos, a Marine veteran who owns a management firm. Both men are hoping to unseat Democratic Rep. Daisy Baez. Vargas had previously filed to run in House District 119.
— STATEWIDE — 
"John Morgan ready to bet big on medical pot" via the Tampa Bay Times – In a series of emails with the Miami Herald, Morgan said he intends to plunge up to $100 million into "the right opportunities." He also acknowledged that he's interested in owning a stake in a state-licensed dispensing organization, though he said he's not yet invested in any cannabis companies. "I am prepared to invest significant monies in this industry and I plan to," he wrote. "I have learned a great deal about the miracles of marijuana over the last five years. And what better person than me to be involved?" But are Morgan's financial interests influencing his public positions? Was his political investment a down payment on a bigger business plan? Absolutely not, says Morgan. But speculation has swirled for years.
— It's important to note that this story about Morgan's financial interests popped ONLY AFTER FloridaPolitics.com on Monday raised pointed questions about the trial lawyer's financial ambitions.
"Administrative judge says 2 farms should get medical pot licenses" via The Associated Press – Division of Administrative Hearings Judge John Van Landingham ruled on Tuesday that Plants of Ruskin and Tornello Landscape/3 Boys Farm are equally qualified to receive licenses, but if the state's Department of Health would approve only one, then it should go to Tornello/3 Boys. Department of Health spokesman Brad Dalton said they are reviewing the order and in the process of determining their next steps. There are currently seven distributing organizations. This was the last of the administrative challenges since the five original licenses were decided in December of 2015. Two additional were awarded last year due to either settlements or an administrative ruling.
First on #FlaPol – "Tom Delacenserie taking over Kentucky Lottery" via Florida Politics – Delacenserie, the outgoing secretary of the Florida Lottery, is getting a pay raise to become the new president and CEO of the Kentucky Lottery. Delacenserie, who submitted his resignation to Gov. Rick Scott last week, will be paid $204,000 a year. His current Florida state salary as agency head is $141,000. He was confirmed by the Kentucky Lottery's board of directors on Tuesday, according to a press release. His first day is June 5. "I'm very much looking forward to joining one of the premier lotteries in the country," Delacenserie said in a statement.
"Florida Hurricane Cat Fund ready for storm season" via The Associated Press – Estimates prepared by Raymond James show the Florida Hurricane Catastrophe Fund will have $17.6 billion available this year. This marks the second year in a row that the fund has more money than it would need to pay out if storms racked the state. The financial health of the fund is important because the state can impose a surcharge on most insurance policies to replenish it if the money runs out. Some critics have called the surcharge a "hurricane tax." The fund has grown because Florida has avoided major hurricanes since 2005.
"Joe Henderson: FDOT's Tampa Bay transit plan has new name, but really needs new ideas" via Florida Politics – The Florida Department of Transportation wanted to attack the problem with a plan called Tampa Bay Express, or TBX. I'll simplify: It called for building more roads, including 90 miles of highway people would have to pay tolls to use. A lot of people hated that idea and they raised such a ruckus that FDOT finally punted and came up with Plan B. It still leaves open the idea of more toll roads, including express lanes across a rebuilt Howard Frankland Bridge. So, what's different about this plan? Er, um … it has a new name! Tampa Bay Next. Other than that, it seems like basically the same ol' sow's ear, which is upsetting for FDOT officials to hear.
"Leon County approves historic Airbnb tax agreement" – Airbnb announced the passage of a tax agreement with Leon County that will allow the platform to collect and remit taxes on behalf of its local hosts. With the tax agreement in place, the County will be able to fully capitalize on more people visiting and staying longer through home sharing. Effective July 1, Airbnb will automatically collect and remit local taxes for all Airbnb bookings in the county, making the process seamless and easy for both Airbnb hosts and local government. "The agreement represents an investment in the long-term success of Leon County's tourism and economic development efforts," Leon County Commission Chairman John E. Dailey said … Leon County now represents the 39th Florida county where Airbnb will collect and remit local tourist development taxes (otherwise known as the bed tax).
"OR Conversations: Belvin Perry Jr. discusses his law career" via Terry Roen of Orlando Rising – "I had spent nearly 25 years as a judge and 11 years as an assistant state attorney. That is total 36 years of public service. I believe in the Jim Brown school of thought; that is to go out on top and on your own terms … I enjoyed every moment I was a judge, so moments more than others. I gave everything that I had in being a judge and I left nothing on the table. I treasured the trust that the citizens of this great community gave me when they elected me judge. I don't miss being a judge, but I sometimes miss the public service."
***Smith, Bryan & Myers is an all-inclusive governmental relations firm located in Tallahassee. For more than three decades, SBM has been working with our clients to deliver their priorities through strategic and effective government relations consulting that has led us to become one of Tallahassee's premier governmental relations firms today.***
— ALOE —
What Bob Buckhorn is reading – "Tampa to host 2021 Super Bowl" via ESPN – NFL owners, responding to inclement weather that has delayed the opening of a new stadium in Los Angeles, voted unanimously Tuesday to instead award Tampa the Super Bowl in 2021. Los Angeles will host the Super Bowl one year later, in 2022. The Buccaneers' Raymond James Stadium will host Super Bowl LV, which was originally scheduled to be played at the $2.6 billion facility in Inglewood, California, that will be shared by the Rams and Chargers.
"Loggerhead sea turtle returns home on World Turtle Day" via Terry Roen of Orlando Rising – Local rescue teams released a loggerhead sea turtle to Sebastian Inlet … The sea turtle was found floating in the Indian River Lagoon near Fort Pierce in January. It was missing its left front flipper and covered in barnacles with damage on its shell. The turtle weighed 218 pounds and had eaten several sand dollars, which were creating blockages in its intestines. The turtle was given medication and fluid therapy and the blockage was removed at SeaWorld Orlando. The loggerhead weighed in at 230 pounds when it was returned to its ocean home by SeaWorld's Rescue Team and Florida Fish and Wildlife Conservation Commission (FWC).
Happy birthday to one of the best people in The Process, Ashley Ross.