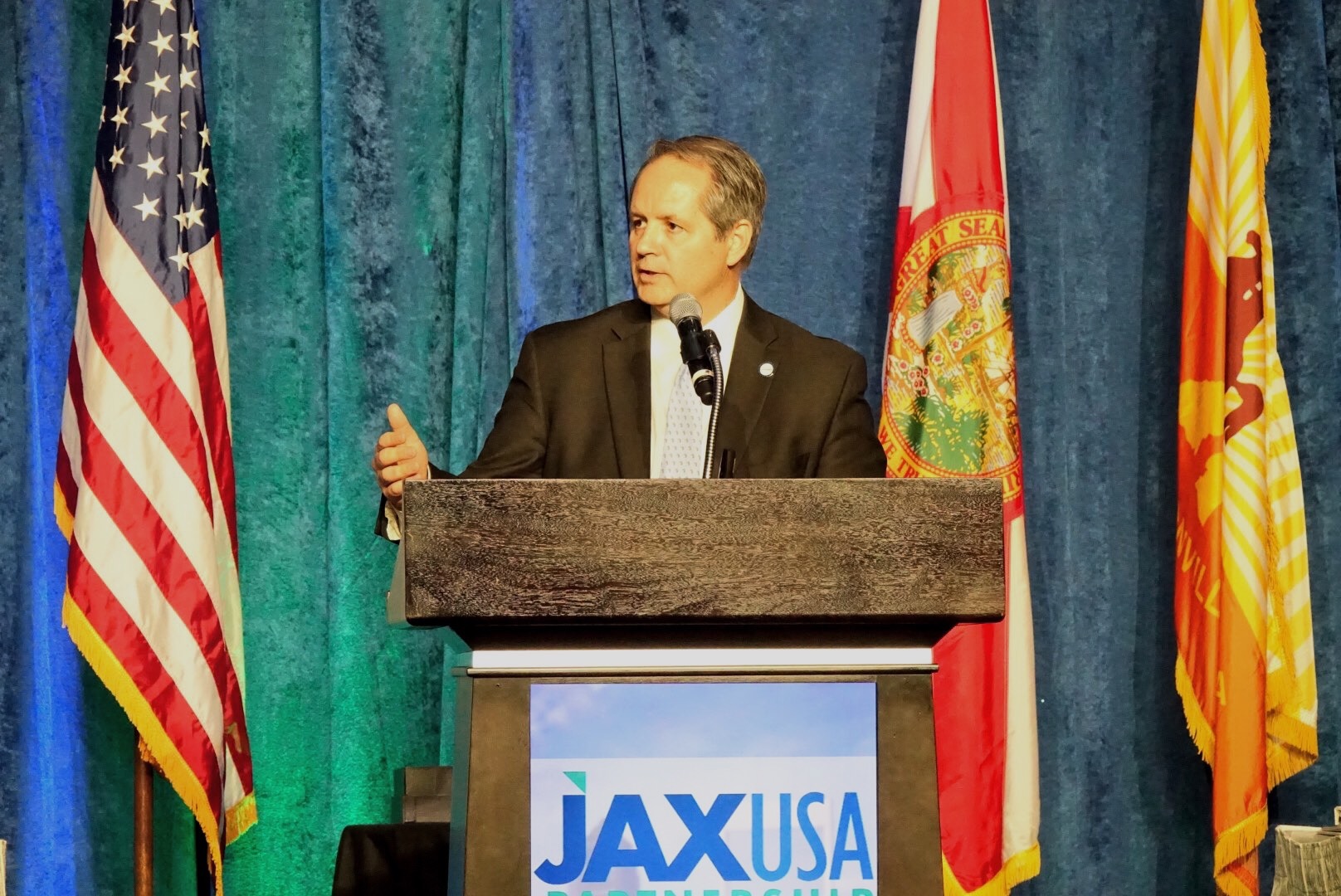 In Jacksonville Wednesday for the JAXUSA quarterly luncheon, Florida Chamber CEO Mark Wilson described the 2017 Legislative Session as a "mixed bag."
"Things in Tallahassee are fairly predictable," Wilson said, though "frustrating."
Urging those on hand to "have faith in the long-term," Wilson said that while there's a "period of time we need to band together to get through," soon enough, business-friendly forces will be "on the offense again."
How long before that happens?
"In two years, four years, six years," Wilson said, there "may be a better way," once current leadership is termed out.
"If we can get through '17 and '18," Wilson added, "we can actually get on offense again."
Wilson's remarks stayed as positive as possible.
"Economic development is far more than incentives," Wilson said more than once — a notable message given that a leit motif of the Legislative Session involved House Speaker Richard Corcoran leading the charge to effectively wound the incentive programs on which Gov. Rick Scott has predicated his economic development strategy.
Even with those incentive programs thriving until recently, Wilson noted that a mere 46.3 percent of Florida counties gained jobs in the last decade.
With the economy slowing, both in the state and nationally, Wilson remarked that one big loss that will be felt via cuts in Enterprise Florida is "economic diversification."
"Targeted incentives" and an "improved educational system" were things that caught the eyes of site selectors in recent years, Wilson said.
Wilson also noted the impact of "Republicans fighting Republicans," observing that Speaker Corcoran compared Florida Senate leadership to Nancy Pelosi and Bernie Sanders.
"That's not a sign of getting along," Wilson said, adding that the decline of both major parties in the state has led to "people with means," such as the Koch Brothers, pushing their agendas at the expense of Chamber priorities.
Indeed, the subtext of much of Wilson's remarks involved Speaker Corcoran frustrating the Chamber/Scott axis on incentives, despite polls showing that over 80 percent of Republicans and similar majorities of Democrats and Independents back incentive
"We probably didn't do a good enough job of making you aware of Republicans fighting Republicans," Wilson said.
And the end result of that? "An immediate and chilling effect on the [economic development] pipeline," one that won't be noticed for some time to come, Wilson said, as "lagging indicators" of positive developments in tourism and jobs will be framed by some as proof that incentive dollars weren't needed to begin with.
The saving grace? "Enterprise Florida still exists."
Wilson was "very concerned", meanwhile, about cuts to Visit Florida, which "went all the way back to $25M" from $76M.
"Where do we get that tax revenue from," Wilson asked, noting that $12B of tax revenue comes in as a result of tourism spending.
His answer: the business community would bear the burden.
Local leaders leaving the room were not exactly encouraged by Wilson's remarks.
JAXUSA VP Aaron Bowman, who takes over the Jacksonville City Council VP role next month, said he didn't know how to feel after those remarks.
And U.S. Rep. John Rutherford noted that Florida is "competing with 49 other states," and that he wasn't sure "what just came from the Legislature" is going to help Florida be competitive.