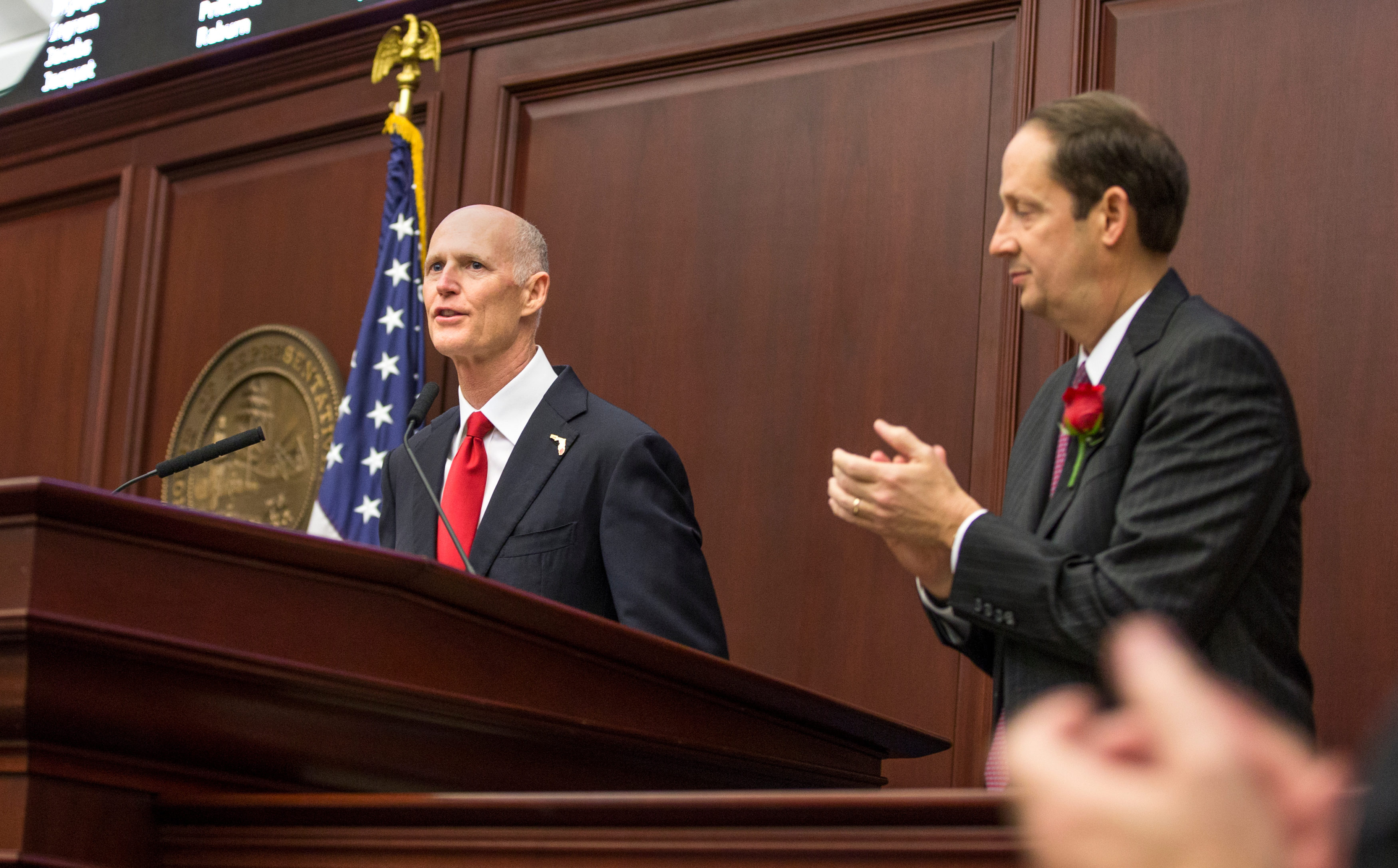 The budget is on the governor's desk.
Senate President Joe Negron sent 13 bills, including the 2017-18 spending plan, to Gov. Rick Scott on Wednesday. Scott now has until June 15 to act on the $82.4 billion spending plan, but exactly how he plans to proceed remains unclear.
The Naples Republican has been tight-lipped on his plans for the budget, telling reporters in Fort Myers on Tuesday he can veto the entire budget, a portion of the budget, or veto a line in the budget.
"I'm going to do what I do every year," he said. "I'll look through the budget and make sure the dollars are allocated in a manner that I think is good for the state."
Scott has spent the past few weeks traveling the state criticizing lawmakers for their decision to cut funding for Visit Florida and Enterprise Florida. The fiscal 2017-18 budget includes $25 million in it for Visit Florida, the state's tourism marketing agency. The budget includes some funding for Enterprise Florida operations, but does not include the money Scott requested for business development incentives
The governor did not receive as large of a tax cut he had requested; and state lawmakers didn't include money in the budget for the Herbert Hoover Dike, a late-in-the-game request made by Scott.
Scott has criticized lawmakers for the lack of transparency, saying Floridians didn't know what was in the budget until the last minute.
"This is my seventh budget and every year, I have a team that works with me," he said Tuesday. "But what's different or frustrating is we knew nothing about the budget until right at the end, because it was done all behind closed doors."
Scott vetoed more than $256.1 million in spending lawmakers presented him with the 2016-17 budget last year. According to data compiled by LobbyTools, the governor has vetoed more than $1.9 billion during his first six years in office.
There are currently 108 bills on the governor's desk. He must act on more than a dozen of those bills by the end of the day today.