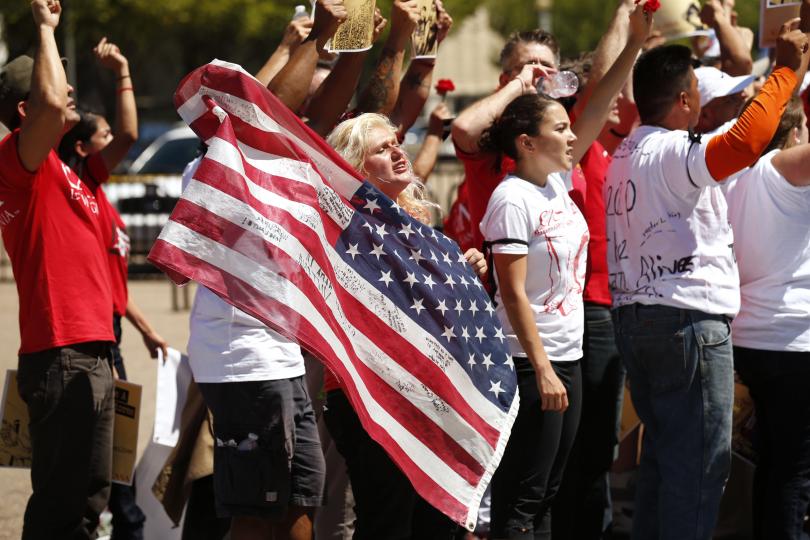 A coalition of labor, faith and immigrant rights groups will be rallying in Orlando Saturday to push for an ordinance that would codify what city police already is doing – denying federal requests to hold immigrants in police custody beyond what normally is allowed.
The coalition has been working with Orlando City Commissioner Tony Ortiz on a possible ordinance that organizers say will send a clear and welcoming signal to immigrants, that city police will not hold crime suspects beyond the time normally required just so federal authorities might have a chance to intervene on potential immigration status issues.
Ortiz was not available Friday afternoon to say whether he would introduce such an ordinance, and his office would not say. However, the coalition, dubbing itself the Orlando. TRUST Coalition, indicated he would attend their rally. They call the ordinance the "TRUST Act"
"The point we're trying to make is the trust act removes fear from folks to actually work with local agencies out of fear that they might be discriminated against, or racially profiled," said Jonathan Alingu of Central Florida Jobs For Justice, one of the organizers of the rally.
At issue is a dictate put out by the administration of President Donald Trump earlier this year that it wants local law enforcement to hold people arrested long enough for federal authorities to arrive and build a potential immigration status case against them, if the U.S. Department of Homeland Security or Immigration and Customs Enforcement issues detainer requests for the individuals.
Last month Orange County Sheriff Jerry Demings led a press conference as president of the Florida Sheriff's Association to decry the dictate. Demings and other Florida sheriffs at the press conference said federal authorities essentially are asking local law enforcement agencies to break the law and deny a suspect's civil rights with illegal detentions, and that they would not do it. They also denounced the Trump Administration's reaction to pushback: the U.S. Department of Homeland Security began posting on its website a weekly "Declined Detainer Outcome Report," which lists law enforcement agencies throughout the country that decline to cooperate with detainer requests each week.
Alingu said Orlando Police Chief John Mina shares Demings policy opposing such extended detentions from detainer requests.
Alingu said the organizers want to see those policies put into law in Orlando, to reassure immigrants and others.
More than 30 groups are taking part in the rally, at Orlando City Hall at 11 a.m. Among them, Alingu said, are Mi Familia Vota, the Central Florida AFL/CIO, the Farm Workers Association of Central Florida, the UNITE HERE Locals 737 and 262, the National Farm Workers Ministries, and Hope Community Center.
Alingu said the detentions have the potential to affect anyone, but certainly Hispanics, Haitian immigrants, Arab-Americans, and Muslim Americans. They all will be represented at the rally, with many telling their personal stories, he said.
"Our intention is to bring together all the communities in Orlando that are affected by it," he said.