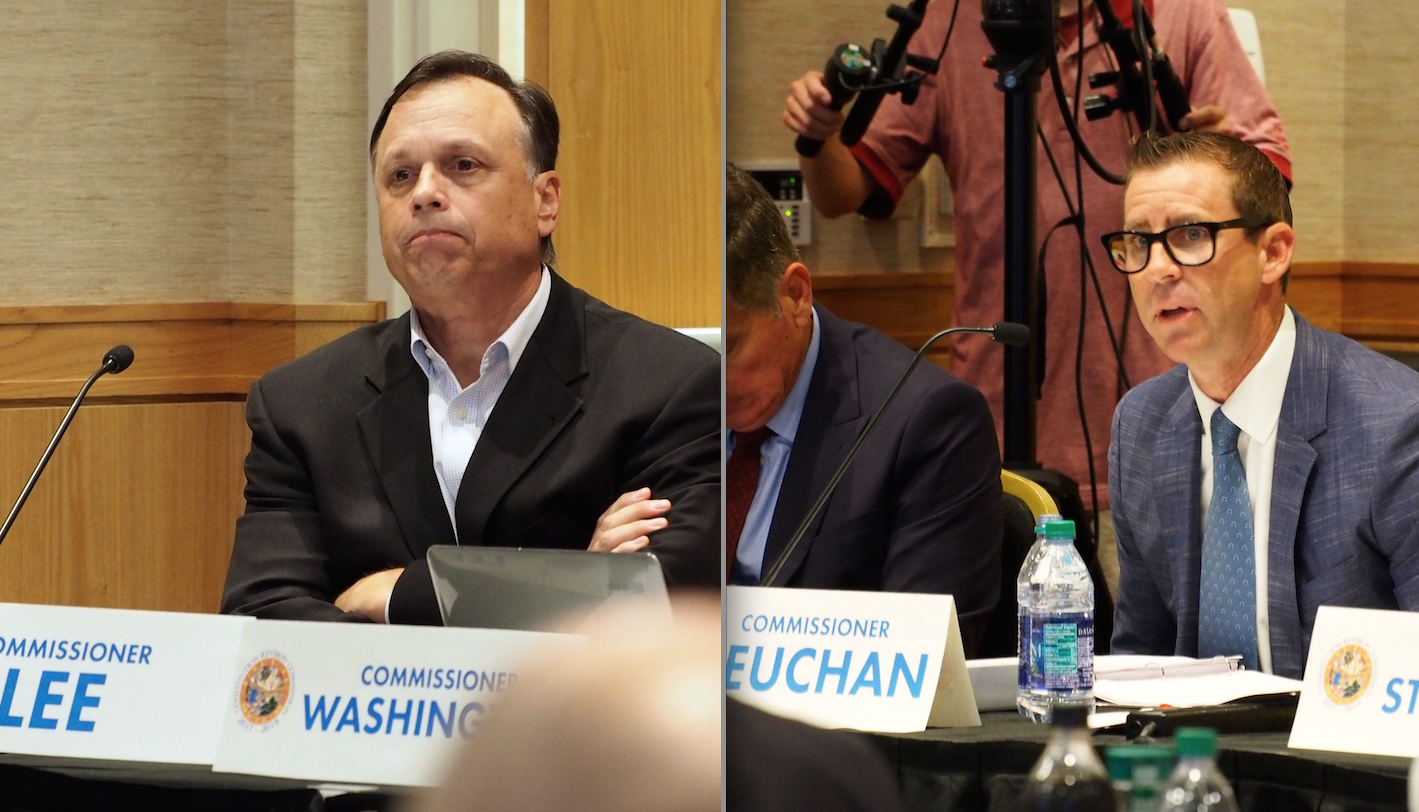 The Florida Constitution Revision Commission now has a set of rules for how it might go about writing major changes to Florida's Constitution.
Those rules — addressing such matters as who will appoint committees, how proposals will move through committees, whether Florida's Sunshine laws will cover everything — emerged from a sometimes chaotic debate in Orlando Tuesday morning at a meeting that Chair Carlos Beruff adjourned suddenly after he got what he apparently wanted.
By a 20-11 vote, the commission adopted a proposal from Gov. Rick Scott-appointee Brecht Heuchan that largely adopts, as a base, the rules used by the previous state Constitution Revision Commission in 1997-98, with a few changes Heuchan said were the desires of a rules work group that had met.
With that, Beruff closed down discussion or consideration of dozens of other proposals, including some amendments, and then adjourned the meeting. He promised that the other suggestions would be taken up at later meetings, but made contradictory statements about whether they would be considered by the full commission, or by a rules committee, which he would be able to appoint and control.
But the rules package adopted Tuesday didn't address everything that everyone wanted, and opponents mounted challenges. Particular among them were assertions that the package did not create a "clawback" promise that Heuchan and others promised, which would allow committee majorities to force proposals to be considered. Nor did it offer explicit language to open meetings enough to satisfy the strongest proponents of open meetings for the commission's business.

The victory came on the strength of Scott's appointees: among them, including his hand-picked chairman Beruff, the package won 13-0, while the non-gubernatorial appointees, including Attorney General Pam Bondi, added seven yes votes and 11 no votes.
Left on the outside, state Sen. Tom Lee had been waiting for discussion and consideration of his own proposal, also based on the 1997-'98 rules, plus several proposed amendments waiting to be offered. He, and former state Sens. Don Gaetz and Arthenia Joyner among others had argued strenuously against Heuchan's plan.
Their arguments included Gaetz point-of-order call early on, in which he charged that Heuchan's proposal had been offered and submitted improperly, and couldn't even be considered by the commission the way it was being handled.
Beruff struck down Gaetz' objection as the kind of procedural question he was trying to avoid, and with a statement about rules that cut to the heart of concerns about a commission operating before it had adopted its own rules.
"There are no rules here. It is my understanding that without rules, there is no Germanic standard," Beruff said. "And of course there always is: if you don't like the amendment, you don't have to vote for it."
The matter came up again as Lee challenged the vote Beruff called on the rules package, arguing that the vote was being called improperly. When Beruff dismissed that charge, Bob Solari spoke out.
"We have rules when some people like them, but we don't have rules when some people don't like them," Solari declared. "If I was watching this, the public, I would be incredibly depressed and dismayed. Because seeing the game here is played, the rules of this game today changed five or six times."
Heuchan, however, tried hard to defend his package of rules against its critics' points of concern about the package itself, arguing that it was a compromise, that he recognized that it wouldn't please everyone, but that it was good enough for a start. And if he turns out to be wrong in his reassurances that clawback and Sunshine law provisions were strong, those could be addressed later. He promised he would lead the charge to make those changes.
"The amendment that was adopted does address those," he said later. "I realize it may not be in the way that everybody wanted them but there was obvious support for the broader compromise."
He also took issue with Lee's contention that the adoption of rules was the most important thing the commission would do, because it would go a long ways to deciding which constitutional amendments would get through the commission, and which ones don't.
"I meant what I said: when the emotion and the anxiety of the moment passes, which it will, it always does, people will not remember this day as being the day of disagreement," Heuchan said. "They will remember this day as a day that charted us on a course for planning for the next 20 years for the state and its future and how we can do better by people. I believe that."
All of which was complicated when Beruff first said all such proposed changes would be taken up by the rules committee. That confirmed the fears that Joyner and others had raised. But then Beruff later said such changes would be taken up by the full commission. That confirmed what supporters such as Heuchan and Frank Kruppenbacher, said they wanted.
Kruppenbacher, who actually introduced Heuchan's package in a resolution, insisted later that he would demand that proposed rules amendments that had been on the table Tuesday be heard by the full committee. That was what his resolution had called for, and he said he would make sure it was followed.