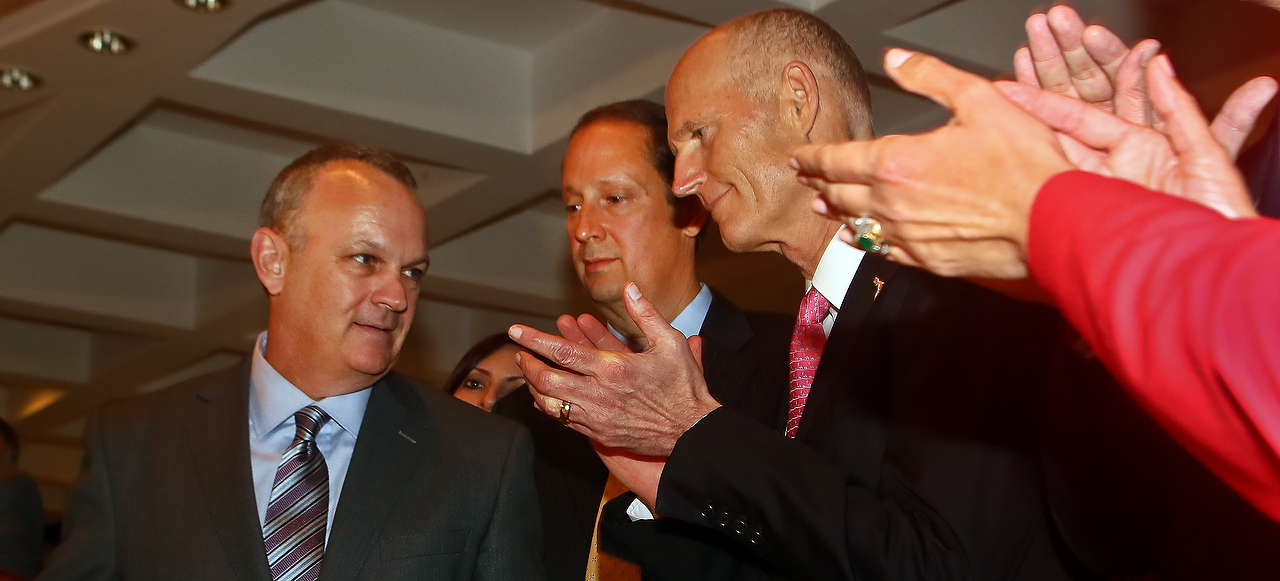 The Legislature concluded its special session with about an hour and 20 minutes to spare Friday, after voting to improve funding for public schools, colleges, and universities, and revamping the way the state encourages economic growth.
While they were at it, the lawmakers passed an implementing bill for the medical marijuana constitutional amendment the voters approved last year.
House Speaker Richard Corcoran and Senate President Joe Negron gaveled their chambers into adjournment at around 4:40 p.m. — well in advance of their 6 p.m. deadline. Clashing priorities at times had seemed to threaten a timely sine die.
"This is a very good day for Florida families," Gov. Rick Scott said during a joint post-adjournment news conference with Corcoran and Negron in the Fourth Floor rotunda.
Scott had called the special session because he was unhappy with the state budget for schools and economic development the Legislature sent him last month.
On Friday, he credited Corcoran for coming up with the idea of helping to finance repairs to the Herbert Hoover Dike, around Lake Okeechobee, and Negron for pressing for the boost to higher education.
"I'm excited to travel the state and brag about what got accomplished in the special session," Scott said.
Negron viewed the dike project as in keeping with SB 10, his big Lake Okeechobee and Everglades restoration project, approved during the regular session. He promised additional attention to the matter during the next regular session.
As for higher education, "our universities and our state colleges are an integral part of economic development and vitality in the state of Florida," Negron said.
"If you put them all together — the special session and the regular session — it's a landmark year," Corcoran said.
He welcomed the increased investment in schools and the new economic development model that stresses broad infrastructure and training investments rather than grants to particular businesses.
"It looks like one of the first infrastructure projects might be repairing the dike at Lake O. So that's an exciting thing, too, that happened today," Corcoran said.
In subsequent remarks to reporters, Scott zeroed in on the schools right off the bat.
"We had to put more money into K-12 education, and I want to thank the House and Senate for making that happen," he said.
He and Corcoran had bickered over the future of Enterprise Florida and Visit Florida during the regular session. On Friday, he allowed that the speaker "made us think about how we can do economic development better."
Scott wants the dike project completed by 2022, he said — and thanked President Donald Trump for promising federal money for the project. He said the state money would allow the work to get started.
Does Scott plan to sign the medical marijuana implementing bill?
"Absolutely," he said. He raised no objection to language reserving treatment center licenses for defunct citrus processing businesses.
He's still reviewing HB 7069, the House's Schools of Hope charter initiative from the regular session. Asked whether there was a deal linking that bill to his priorities during the special session, Scott said: "I'm still reviewing the bills."
Of the higher ed projects the Senate held out for, Scott said: "I have reviewed those projects and I plan on approving them."