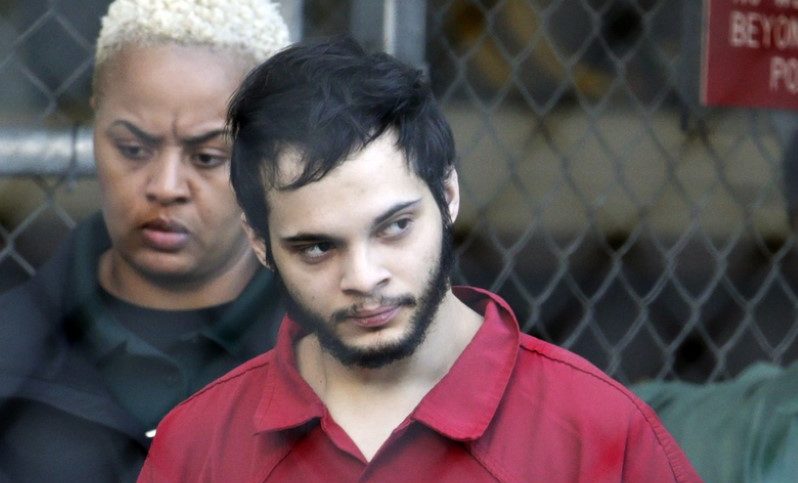 Trial will be delayed until at least January for an Alaska man charged with killing five people and wounding six in a Florida airport mass shooting, a federal judge said Friday.
U.S. District Judge Beth Bloom set a new Jan. 22 trial date for Esteban Santiago of Anchorage, Alaska, whose trial initially was scheduled for October.
Bloom noted at a hearing that extra time is needed for the Justice Department to decide whether to seek the death penalty, including arguments from Santiago's attorneys about why prosecutors should not seek capital punishment. Bloom ordered the defense to submit what's called a "mitigation packet" outlining those arguments by Nov. 3.
"That certainly is sufficient time," she said.
Addressing Santiago directly, the judge asked if he had any objection to the trial delay.
"No, your honor," he replied.
Santiago, a 27-year-old Iraq war veteran, pleaded not guilty to a 22-count indictment in the Jan. 6 shooting at Fort Lauderdale-Hollywood International Airport. Santiago has been diagnosed as schizophrenic but his lawyers say he is competent for trial and is continuing to take prescribed anti-psychotic medications.
"I have no concern at all about his competence," said public defender Eric Cohen.
After the shooting, the FBI says Santiago told agents he acted under government mind control, then claimed inspiration by the Islamic State extremist group. No terrorism links have been found.
According to the indictment, Santiago flew from Alaska to Fort Lauderdale with a 9mm handgun in a box he put in checked luggage. After landing he retrieved the weapon, loaded it in a bathroom and came out firing randomly in a crowded baggage claim area until he exhausted his ammunition.
The FBI says several video cameras captured the shooting and that Santiago himself admitted committing the shootings in recorded interviews with agents after his arrest.
Santiago was treated at an Anchorage psychiatric hospital last year after he showed up at the local FBI office saying he was under CIA mind control and was hearing voices. He was released after a brief stay. His gun, which had been confiscated during that time, was returned to him. It was later used in the Florida shooting.
Cohen said the defense needs months to go through the video evidence and obtain Santiago's medical records, including his service in the Army National Guard. He questioned whether the January trial date was realistic for a potential death penalty case.
"We believe this is premature. We will certainly do our best," he said. "We need to be particularly careful that we do everything we're obligated to do."
Republished with permission of The Associated Press.