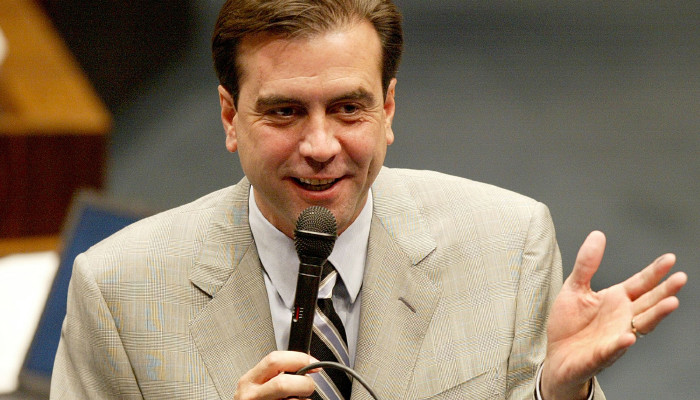 Alex Diaz de la Portilla's legislative record could be coming back to haunt him.
A new mailer calling Diaz de la Portilla a "tax & spend liberal" is hitting the mailboxes of voters living in Senate District 40. The mailer, paid for Making a Better Tomorrow, highlights Diaz de la Portilla's time in the Legislature, and urges voters to call the Miami-Dade Republican and tell him "he doesn't deserve another chance."
"For 16 long years, career politician Alex Diaz de la Portilla has raised our taxes and wrecked our economy," reads the mailer.
The mail piece says Diaz de la Portilla increased taxes on garbage, hunting permits, and driver's licenses by $2.2 billion; imposed "a 300 percent job-killing tax increase on small businesses;" and grew the size of government by $20 billion since 1995.
"Career politician Alex Diaz de la Portilla's higher taxes have killed jobs and hurt seniors," it reads. "Alex Diaz de la Portilla isn't really a conservative. His 16-year voting record proves he is just another tax & spend liberal."
Diaz de la Portilla served in the Florida House from 1994 until 2000, when he was elected to serve in the Florida Senate. He served in the Senate until 2010, serving stints as the Majority Leader and Senate President Pro Tempore.
He faces Rep. Jose Felix Diaz in the special election to replace Sen. Frank Artiles, who resigned earlier this year amid scandal, in Senate District 40. The race for the GOP nomination is expected to be a bitter and expensive battle, with outside groups pouring thousands upon thousands of dollars into the race.
Making a Better Tomorrow, a Venice-based political committee, has raised more than $289,331 million since 2014, according to state records. The group hasn't received any donations since February 2017, when it received a single $4,000 contribution.
State records show it ended May with $41,923 cash on hand.
The special primary election in Senate District 40 is July 25, with the general election set for Sept. 26.