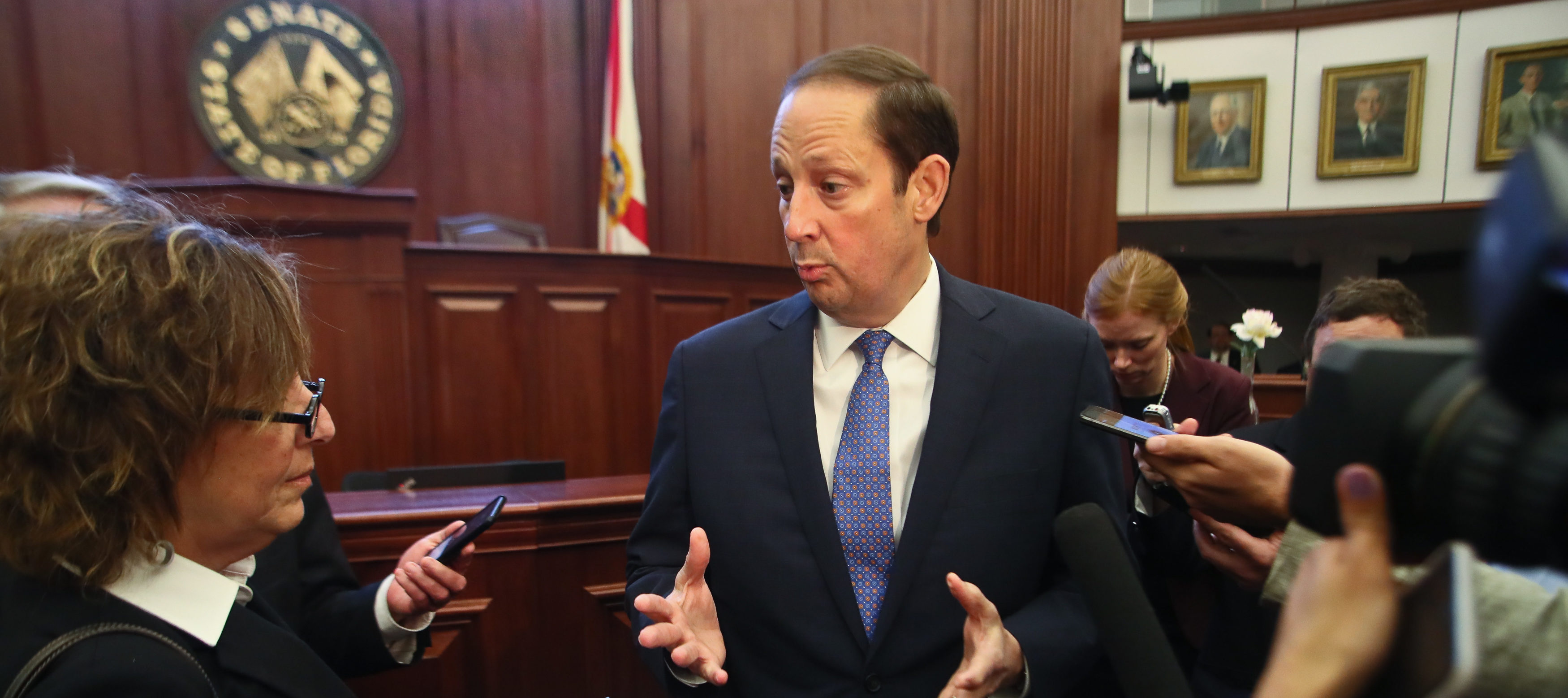 Five months after he quit a law firm job following concerns of conflicts of interest, Senate President Joe Negron has joined the Akerman firm's West Palm Beach office.
The firm announced the move Wednesday in a press release. Negron will be "of counsel," an arrangement usually meaning an attorney works on a case-to-case basis and not as an associate or partner.
Negron previously worked at Akerman from 2005-10. It is ranked the largest law firm in the state by Florida Trend magazine and the Daily Business Review.
"Joe is widely known by both the bench and the bar as a compelling advocate who skillfully represents businesses and directors in complex commercial disputes," said Lawrence Rochefort, chair of Akerman's Litigation Practice Group. "His strong reputation and track record make him a powerful addition to our trial team."
In January, Negron—a Stuart Republican—had resigned from the Gunster law firm, four days after Gov. Rick Scott suggested ethics reforms affecting lawyer-legislators.
At the time, Negron said his decision was spurred by Gunster's representation of U.S. Sugar, which was named in a land acquisition provision included in a Senate measure (SB 10) aimed at protecting Lake Okeechobee from toxic runoff.
Both Gunster and Akerman have lobbying practices in the capital.
"Throughout my legislative service, I have carefully scrutinized my legal and legislative work to ensure I fully uphold the highest ethical standards," Negron said earlier this year.
"For the first time, I have reached a crossroads where my firmly held conviction to promote legislation that would benefit my constituents, community, and state has the potential to result in a possible perception of a conflict with my professional employment," he said.
"In the abundance of caution, to avoid even the possible appearance of such a difference, and to make certain I can continue to effectively advocate for my community, I have made the decision to step away from my position with the Gunster Law Firm."
Negron has "30 years of experience in high stakes litigation, business law and complex commercial litigation," the press release said.
"He counsels officers, directors, publicly traded and privately held corporations, and individuals in an array of business disputes, including breach of contract and warranty, breach of fiduciary duty and negligence," it says. "He represents clients across a range of sectors, including healthcare, insurance, real estate and technology."
On Wednesday, Negron said in a statement, "Given Akerman's leadership position in Florida and in major markets across the United States, I am very pleased to be returning to the firm, which provides the right platform for me to advance my practice while maintaining my deep commitment to the West Palm Beach market."