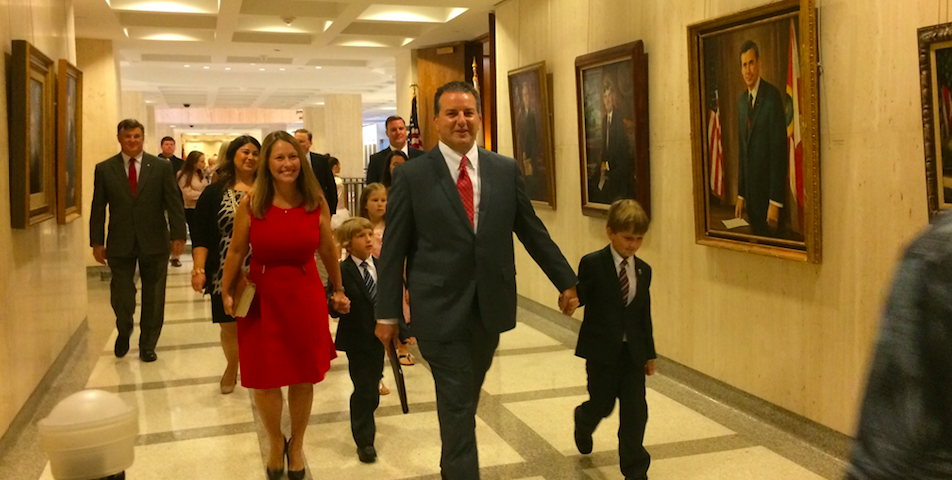 Former state Rep. and Public Service Commissioner Jimmy Patronis was sworn in Friday morning as the state's fourth Chief Financial Officer.
Patronis took the oath of office in the Governor's office, given by Chief Justice Jorge Labarga, and standing next to wife Katie and sons Theo and Johnny.
"Thank you for allowing me to partake in this incredible honor," the Panama City Republican told them. "I look forward to keeping up the same standards and values that CFO (Jeff) Atwater has brought to the job."
Patronis was appointed by Gov. Rick Scott to replace the departing Atwater, who's leaving government to become chief financial officer of Florida Atlantic University in Boca Raton.
He was guarded on what changes he plans for the Department of Financial Services, which he now oversees as CFO—even deflecting questions on possible staff moves, including whether he "was OK with the current Insurance Commissioner," David Altmaier.
"That's something I'll get up to speed on," Patronis said. "I'll weigh … all the facts. Right now, I'm just looking forward to my first Cabinet meeting."
He also didn't address whether he plans to run for the elected position in 2018. Atwater served two terms and would have been term limited.
As CFO, Patronis—a Scott loyalist—will be one vote on the Florida Cabinet, in addition to Attorney General Pam Bondi and Agriculture Commissioner Adam Putnam.
The CFO is head of a roughly 2,600-employee agency that includes the state treasury and insurance regulators, as well as being state fire marshal. The CFO also oversees management of the state's multi-billion dollar financial portfolio.
The office was created after the 1997-98 Constitution Revision Commission recommended collapsing several state departments into one, including Insurance, Treasury, State Fire Marshal and Banking and Finance.