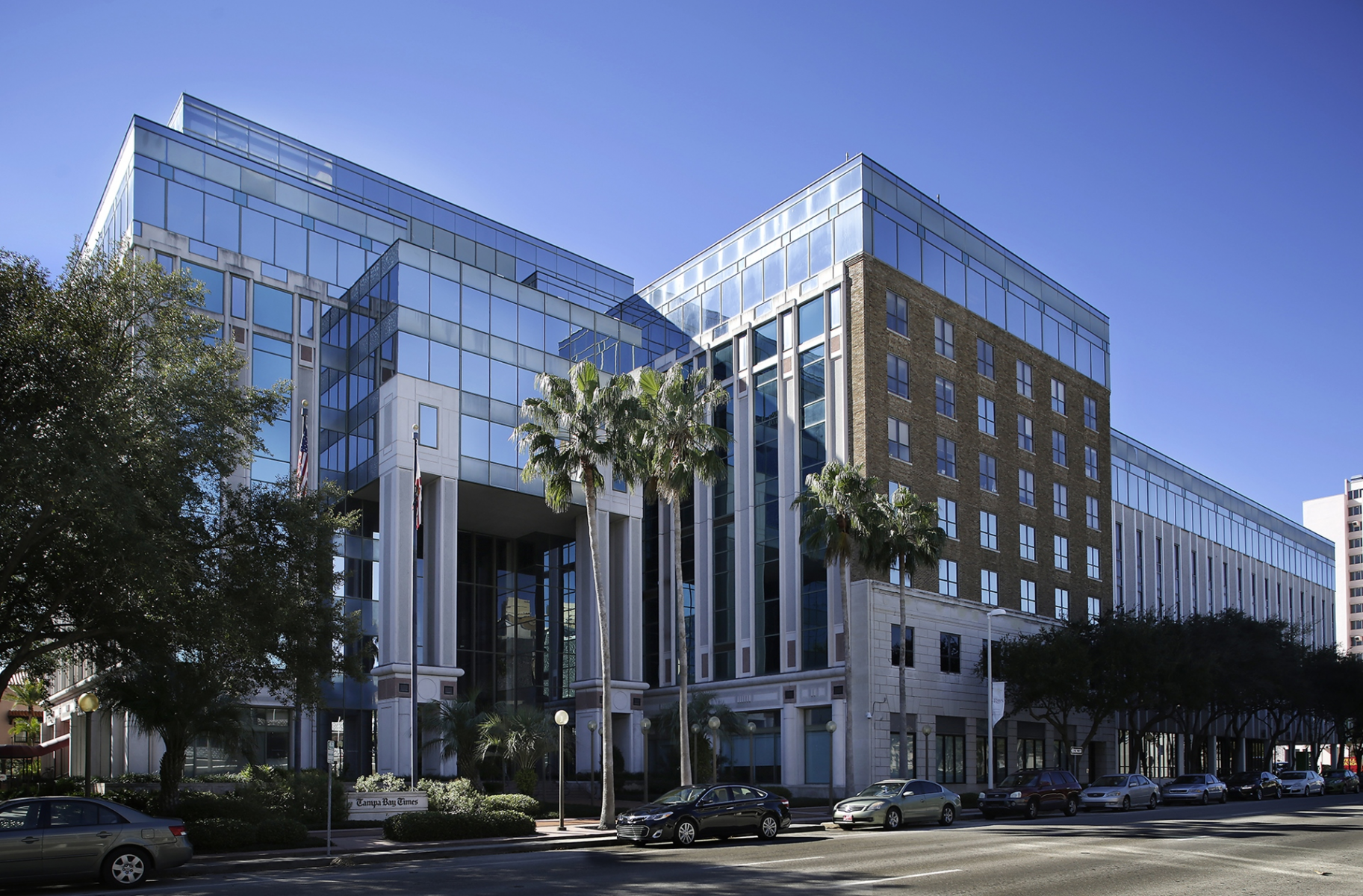 Someone at 490 First Avenue South should strike up the band. Happy days are here again.
So long sad times
Go long bad times
We are rid of you at last
Howdy gay times
Cloudy gray times
You are now a thing of the past
In case you missed it—and it's difficult to determine whether the deal described below was reported soon after it came together or was taken out with the trash in a Friday-before-a-holiday-weekend news dump—the Tampa Bay Times has refinanced the debt once held by Boston-based Crystal Financial LLC, a lender whose website says it provides liquidity to companies that require "more debt capital than is currently made available from traditional lenders."
Originally, the Times pledged at least six parcels of land, including its headquarters, to obtain a $28 million loan from Crystal.
According to a column written by Times CEO Paul Tash, an investor group (not ironically named FBN Partners for "Florida's Best Newspaper"), has taken a mortgage on the buildings and 27 acres of land at the newspaper's printing facilities in central St. Petersburg.
The other, larger part of the company's refinancing comes from Encina Business Credit in Chicago, for a maximum of $20 million. That loan is secured by the company's other assets—except the printing plant—plus the real estate at the Poynter Institute, which owns the Times.
Let's just say right here that this capital infusion, regardless of what anyone thinks of the Times coverage or its business dealings, is good and welcome news for the hundreds of hard-working journalists and employees of Times Publishing Co. Tash's column specifically commits to "making contributions" to the company's pension plan.
(In 2015, the federal Pension Benefit Guaranty Corp. placed liens on all property owned by Times Publishing Co. and its parent organization, the Poynter Institute for Media Studies, for failing to make required contributions to their pension plan, according to a report by the Times' Susan Taylor Martin.)
Also, having a strong, locally-owned newspaper is, by and large, a good thing. If you need proof of this, just read some of the Gannett-owned, Florida-based newspapers, which fill their insides with filler from USA Today while mostly skimping on local news coverage.
Several investors (plus Tash and his wife) recognize this and have agreed to lend up to $12 million to the Times, which Tash says will be used to replace the lender that refinanced the purchase of the Tampa Tribune (which turned out to be a bigger lemon than anyone knew) and add fresh working capital (read: no mass layoffs, hopefully).
Among the investors are local big wigs Frank Morsani, Ted Couch, Robert Rothman, Tash and his wife Karyn, and …
"Some of the investors decline to be identified publicly," Tash explains.
Say what?
The media company that shouts from the rooftops everyday about the virtues of transparency isn't being transparent about its new sugar daddies?
(The stunning hypocrisy of the Times was not lost on several local lawmakers, including state Rep. Chris Latvala, who were recently described by the editorial board as "Disciples of Darkness" for their votes on several transparency issues.)
Because it is a private company, the Times is under few, if any, obligations to disclose its internals.
What is known about the Times' financials is mostly because it is technically owned by The Poynter Institute as part of a unique, somewhat symbiotic non-profit relationship. Furthermore, because this refinancing is about debt and not about investing into the company, the Times really didn't have to disclose any information about the lenders.
Tash did so, partially/probably, in the, um, spirit of transparency.
Tash describes the unnamed investors as "all hav(ing) big investments in the Tampa Bay region. Several have made huge charitable contributions to local institutions."
So three or four major players in the Tampa Bay region just went into business with the newspaper and the gods of Transparency at the Times are not going to tell its readers who they are?
A decade or two ago, this would be beyond the pale.
The Tampa Tribune would have hammered the Times again and again for this secrecy. The Weekly Planet would have sounded off. Media critics throughout the country, while lauding the overall mission of the Times, would have filleted Tash's decision.
But the environment has changed dramatically, both locally and nationally.
There is no Tampa Tribune. The Weekly Planet is now Creative Loafing, which is mostly a bar and restaurant guide. And the last media critic who paid attention to anything other than Joe & Mika turned off the lights a long time (oh, where have you gone, Jim Romenesko?)
There is no longer anyone watching the watchmen.
So Paul Tash and Co. can take out a multi-million dollar loan and there's no one really left to raise a stink.
Tash will tell you the investors won't have "a say in the Times' news coverage or editorial commentary." I genuinely don't doubt that.
But that's not the point. The Times would squawk if, say, the Tampa Bay Rays (a uniquely private company that is a major institution in the region) took out an eight-figure loan from unnamed investors with 'big investments in the Tampa Bay region.'
And does anyone believe that these unnamed investors won't get their call promptly returned by a Times executive/reporter if they casually mention some proposed development or project they are interested in?
Or what if one of these investors is Jeff Vinik or Bill Edwards or someone of their stature. What is $2 million to them if it all but guarantees the positive public relations keeps coming from the local newspaper?
(P.S. Good luck to Morsani, et al., if the Times doesn't pay back the $12 million to $15 million loan. Think the newspaper's gonna write about it not being able to pay its bills?)
Again, millions in fresh operational capital is, on the whole, good news for the Tampa Bay Times' employees and the community they serves.
But in not disclosing all of its lenders, the Times is—watch this—doing almost exactly what it criticizes this blog for: Not disclosing the interests who we may or may not be writing about.
So come on in, Paul. The water's just fine here.