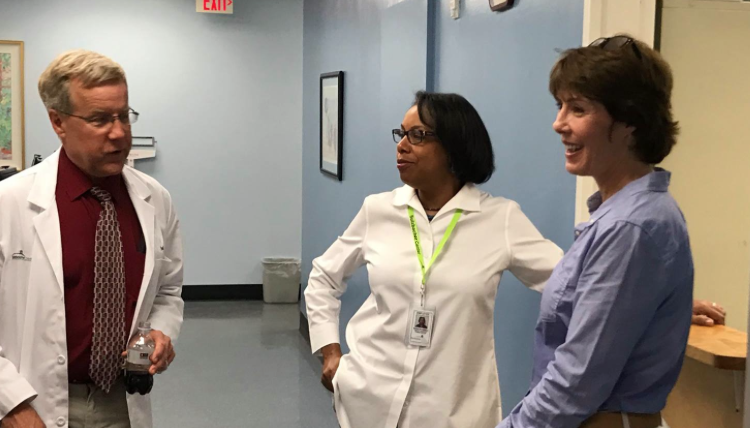 Democratic gubernatorial candidate Gwen Graham spent her recent "workday" event Friday at a community health care center in Jacksonville; she came away even more aware of the health care issues at stake in public policy.
"Community health centers are a vital safety net for working families across our state. In addition to providing care, they lower costs for hospitals and for all Floridians," Graham stated in a campaign news release issued afterward. "Unfortunately, Rick Scott's failure to expand Medicaid has placed even greater stress on community health centers and President Donald Trump's proposed cuts to Medicaid could cripple them. This isn't a partisan issue, every elected official in our state should be speaking up against the plan to repeal the Affordable Care Act and replace it with TrumpCare."
Graham worked at Jacksonville's Sulzbacher Center, one of 49 federally qualified community health centers in Florida that are required to treat all Floridians, regardless of their ability to pay. The Sulzbacher Center is Northeast Florida's largest provider of comprehensive services for homeless men, women, and children. It is one of only a few centers in the nation to offer a full range of services for the homeless 24 hours a day, 365 days a year.
"It was deeply disappointing and frustrating to hear professionals at the center compare Florida's lack of services for the homeless to programs provided in other states. We are truly blessed to live in America. No one in this country should have to go without housing, food or health care," Graham said.
Her release quoted Andy Behrman, president of the Florida Association of Health Care Centers, as saying that Florida's 49 federally-qualified centers saw more than 1.4 million patients last year, with about 500,000 of them uninsured and another 600,000 covered by Medicaid.
"Medicaid is a huge part of the federally-qualified health center system and represents more than 45 percent of all patient revenues," Behrman stated in the release. "The changes that are being proposed will have a devastating effect on our health centers' ability to provide compressive primary care to all Floridians."
Workdays are Graham's effort to continue a tradition her father Bob Graham followed as Florida governor and as a U.S. Senator, spending an occasional day working an ordinary job somewhere in Florida. On Friday, Graham spent a shift serving lunches, checking out patients at the clinic, and passing out water, meals and hygiene kits to the homeless on the streets of Jacksonville.
She added, "The men and women at the center are angles. I could feel their compassion and dedication through their work. As governor, I will bring the same compassion for all Floridians to our state's government."