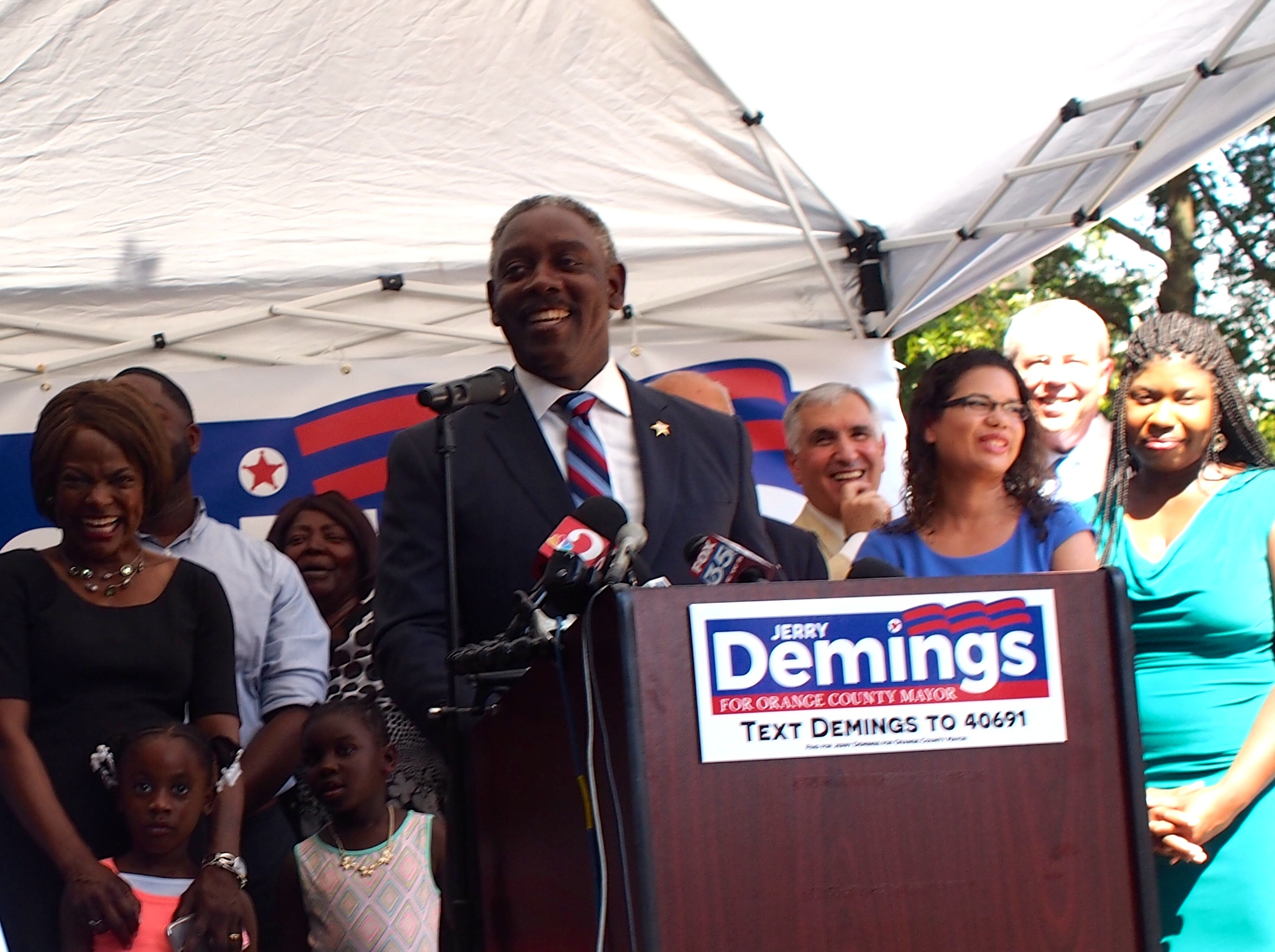 After 36 years in law enforcement including stints as Orlando police chief, Orange County public safety director, and his current post as sheriff, Jerry Demings announced Friday he's ready to take on the entire county as mayor, pledging public safety, smart growth, and "community bonding" as his platform.
Demings, 58, joined his wife Democratic U.S. Rep Val Demings and a handful of elected officials and community leaders Friday to claim early front-runner status for the 2018 election. No other major candidates have entered the race yet, in part, waiting to see what Jerry Demings would do.
His campaign kickoff outside the Orange County Administration Building in Orlando was partly a review of his career in law enforcement, partly his vision to be mayor, and partly religious revival, as the Demings were joined by their pastor and many of church friends as well.
"I am overwhelmed by the tremendous show of support," Demings began. "After much prayer and deliberation, and with the support of my family, I'm excited to announce my candidacy for Orange County mayor during the 2018 election cycle."
Demings has served two terms and a year as sheriff and said he would serve out the next year and a half. Before being first elected in 2008, he was public safety director for the county, in a position that was officially deputy county administrator. Before that he was Orlando's police chief, a job he got after 17 years in the department.
Not surprisingly, he listed public safety as his first campaign platform priority, noting that extends to fire and rescue and emergency management, as well as law enforcement. He pointed out that as police chief he led the city's responses to the 9/11 attacks, as county public safety director the hurricanes of 2004 and 2005, and as sheriff he was key in the response to the June 12, 2016, Pulse nightclub massacre.
"There are others I could speak about, but I think you get the point," he said.
He pledged to work with the unions to assure first responders are paid "a competitive wage" and have the resources and training required. That is an issue he took up this spring when he outlined his proposed 2018 budget to the Orange County Commission, arguing that his deputies were underpaid compared with other departments, and he proposed major increases. The Orange County Commission will take it up later this month.
His take on smart growth continues a policy set by each of the last four Orange County leaders, though it is a policy that has often led to rancorous public debates on developments. Demings sought to expand the concept of smart growth, calling for business development that "protects our quality of life and that provides for employment and entrepreneurship for everyone," and for jobs that "pay at or above a living wage." He also called for pushing renewable energy, and to preserve the rural character of rural parts of the county, and to address parts of the county suffering urban blight.
As for the community bonding, he began to address that by declaring, "Today, the politics of our nation are troublesome. And I promise you that I work across political lines to make our community a great place to live, work and visit. Orange County needs a unifier that can bond us together as one community, regardless of race, gender, socio-economic status, ethnic origin or religious beliefs. I have well-established relationships which cross the wonderful diversity of this community.
"Orange County is a beautiful kaleidoscope of colors, and represents people of different backgrounds from around the world. We should celebrate and embrace that diversity and use this to strengthen commerce," he continued.
He also talked about working with private sector to improve delivery of county services.
Other potential Orange County mayoral candidates including Orange County Commissioner Pete Clarke, Orange County Property Appraiser Rick Singh, Orlando chamber of commerce president Rob Panepinto, former Senate President Andy Gardiner, and Orange County School Board Chairman Bill Sublette. The position is non-partisan. But Demings, elected sheriff as a Democrat, suggested Friday that none matched up to him in experience.
"I doubt very seriously that they have any more experience than the 36 years of public experience that I talked about," Demings said. "I served in this building for six years, so I look forward to coming back to the fifth floor."
It was not lost on Demings that, if elected, he would become the county's first African-American leader, just as he was Orlando's first African-American police chief, and Orange County's first African-American sheriff.. He paid tribute to the previous four county mayors and chairs since a county charter amendment established the position, saying he looked forward to becoming the fifth.
"And, I add, the first African-American to do so," he said. "I'm proud of what it signifies that today our community has progressed to the point that one can be considered a serious candidate to hold the office of chief executive for Orange County regardless of their race, gender or ethnic origin.
"I'm standing here today as the son of a maid and a cab driver, as well as the great, great, grandson of slaves," he added.