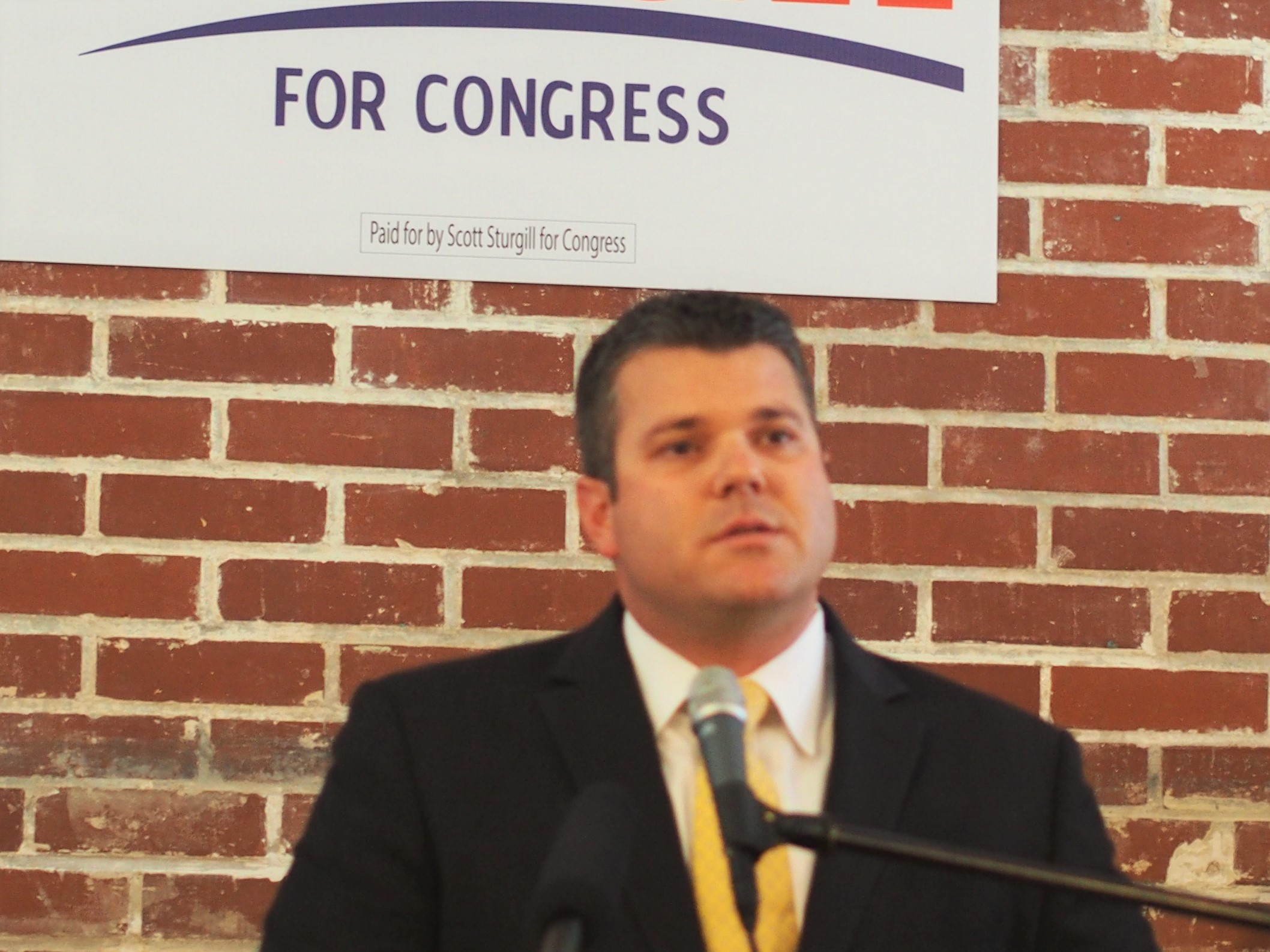 Republican Sanford businessman Scott Sturgill announced Wednesday he is running for Congress in Florida's 7th Congressional District, setting up a primary showdown with state Rep. Mike Miller of Winter Park.
Sturgill, owner of a company that produces work safety equipment such as hard hats, made his announcement at the Sanford Regional Chamber of Commerce surrounded by about 100 guests, including numerous members of the chamber, and several Seminole and Sanford elected officials including Sanford Mayor Jeff Triplett.
He called for a return of civility to Washington D.C. and promised a platform that would put heavy emphasis on pushing for more reform of the Veterans Administration to assure quick, quality health care, and for aggressive efforts to keep and support the military presence in Central Florida, notably the simulation and modeling industry.
Sturgill is pushing his business background.
"Washington has been out of touch with reality for far too long. But there are too many bureaucrats, political appointees and career politicians who refuse to address or understand the issues that impact us every da," he said. "Because they have never experienced what it is like to sign a paycheck. They've only signed the back. If we continue down this path we will see another economic downturn, only next time it will be much worse
"We will be able to take our entrepreneurial experience and work with both parties and all branches of government with civility, despite personality conflicts or differences," he added.
Also there was Seminole County Joel Greenberg, who also had discussed a run in CD 7. On Wednesday he said he fully supported Sturgill. So that reduces the potential field wanting to take on Democratic U.S. Rep. Stephanie Murphy of Winter Park, who won the seat last fall, ousting longtime Republican U.S. Rep. John Mica. Orange County Mayor Teresa Jacobs also has been mentioned as a potential Republican candidate, but recently seemed to dismiss the prospect.
Miller announced his candidacy last month.
Sturgill had run for the Florida House of Representatives in 2014, losing in the Republican primary to now-state Rep. Bob Cortes of Altamonte Springs.
He said he wants to push for veterans to select their own doctors close to home for health care, to be covered by the VA. And he said the military, thanks to the modeling and simulation industry, has become the second largest employment industry in Central Florida. "I will do everything in my power to assure we keep these jobs right here," Sturgill pledged.