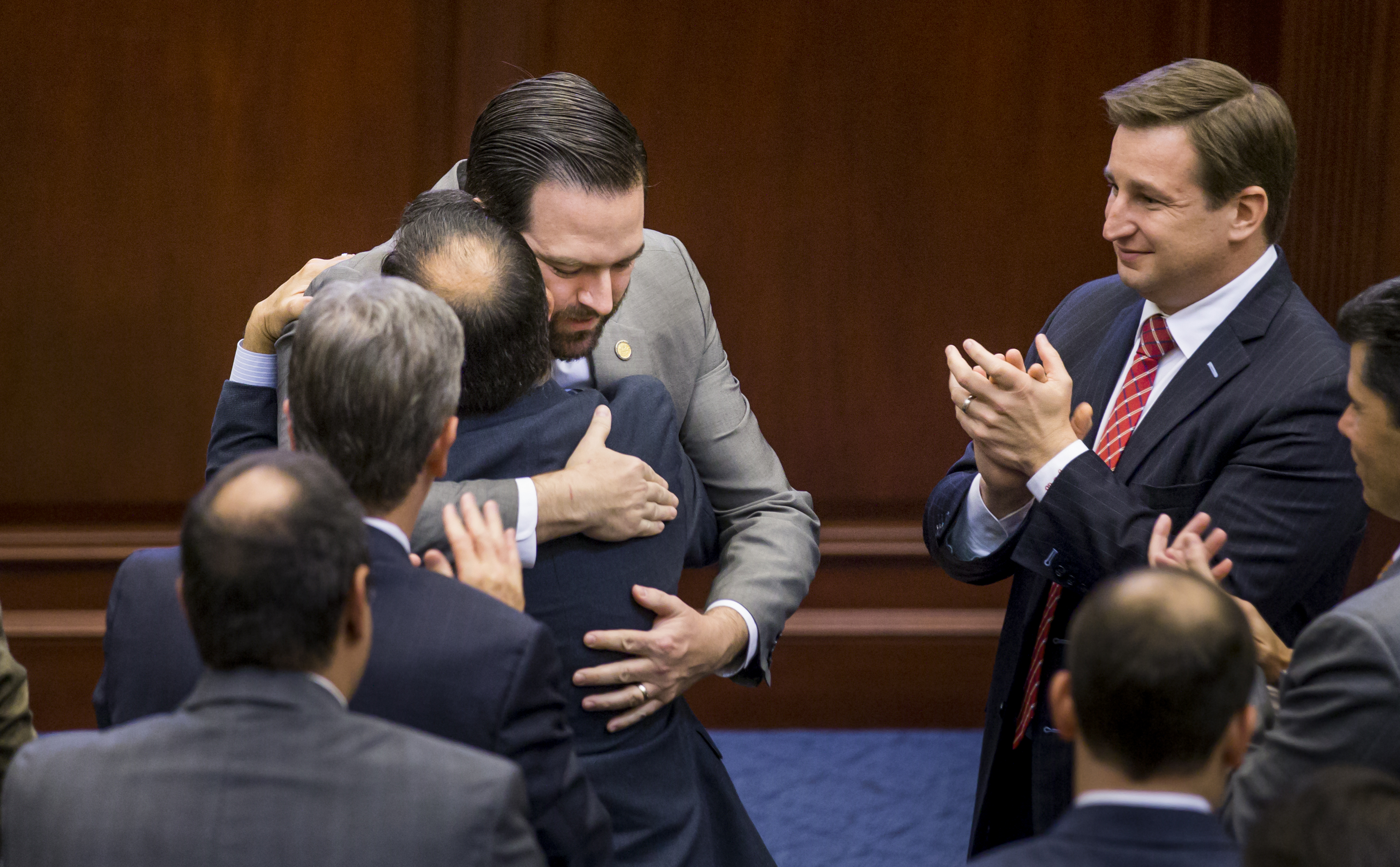 Ask the team that helped propel Jose Felix Diaz to victory in his Senate District 40 primary how they did it, and their answer is simple: They just had the better candidate.
That might be true, but it only tells part of the story.
The affable 37-year-old state representative didn't find himself up against a political novice, instead he faced a member of a South Florida political dynasty hoping to make his way back to the Florida Legislature. An early poll indicated the Miami-Dade Republican wasn't well-known in the district and showed him trailing Alex Diaz de la Portilla by 36 points.
Yet when the polls closed on July 25, Diaz crushed his opponents, receiving nearly 58 percent of the vote. Diaz de la Portilla, a former state Representative and state Senator, received about 26 percent; while Republican Lorenzo Palomares, a longshot candidate, pulled in about 17 percent.
"Pepi Diaz is one of the best candidates anyone can work for," said Anthony Pedicini, a Tampa-based political consultant. "He's meticulous. He's smart. He outworked Alex."
Outworking his opponents meant spending a lot of time and resources on the ground, all in a very short period of time. As soon as Gov. Rick Scott called a special election to replace scandal-plagued Sen. Frank Artiles, who resigned in April, Diaz was hitting the streets.
Steve Marin, a Miami-based political consultant, has been been on Team Diaz since his first campaign. A mutual friend introduced them, and Marin said he was immediately drawn in by Diaz's family and his work ethic.
That history between the men let them easily slip back into campaign mode, something that was necessary with such a shortened election cycle. There were about 75 days between when Scott called the special election and the primary; another two months separate the primary election from the Sept. 26 general election.
But Marin said that shorter window was really one of the only things that differentiated this campaign from others he worked on with Diaz.
"It's not much of a change, it's just the speed of things. It's trying to condense everything," he said. "I think the days get longer. You have to walk, you have to do fundraising, you have to produce, you have to sit with folks. Instead of doing a production at noon, you may have to push it out. Walking it at a certain time."
David Custin, another Miami political consultant who worked on Diaz's campaign, said the team set up a "central command-type structure" to make sure there was a coordinated push to get their message across.
Custin, who has been running campaigns in Miami-Dade for more than two decades, agreed the reason they came out on top was because they "had a better candidate." But, he also acknowledges there was something else that helped Team Diaz secure a 32-point victory over Diaz de la Portilla: They had the resources, and "spent the money properly."
Diaz raised more than $1.3 million — $809,725 for his official campaign and $504,500 for Rebuild Florida, his political committee — in the two months leading up to the election. His campaign spent more than $2.1 million — $736,434 from his official campaign account and $1.4 million from Rebuild Florida — during the same time period, according to state records.
"It's all pretty transparent," said Custin. "We spent our money wisely."
The team spent more than $600,000 on advertising efforts; $395,700 from his official campaign on media buys, which included radio, television, cable and Spanish-language media buys while Rebuild Florida spent $224,750 between June 9 and July 20 on mailers.
This was the first time Pedicini, the founder of Strategic Image Management, worked with Marin and Custin, but Pedicini said he was "happy to be included in the mix." Pedicini said his team has mastered the art of helping where they can and being good at execution, something that would be key in a short election cycle.
Having the money allowed the team to get the message out about who Diaz was. It also gave them plenty of means to highlight Diaz de la Portilla's record, which Pedicini said was key to Diaz's victory.
"I think Alex's history helped win that race," said Pedicini. "He made such bad votes."
Diaz de la Portilla served in the Florida House from 1994 until 2000, when he was elected to serve in the Florida Senate. He served there until 2010, including stints as the Majority Leader and Senate President Pro Tempore.
"When we were down … in early June, there was no fear, there was no panic," said Custin. "Alex has name ID and a history, but it was bad."
His votes during his time in office — along with well-publicized personal disputes — played into the race. Making a Better Tomorrow, a Venice-based political committee, released a series of mailers highlighting his record, even launching a bilingual website to target Diaz de la Portilla, a member of a well-known Miami-Dade political family.
His brother, Miguel Diaz De la Portilla, succeeded him in the Florida Senate, serving from 2010 to 2016. He lost his seat to Jose Javier Rodriguez in a nasty and expensive re-election bid. Renier Diaz de la Portilla served one term in the Florida House, succeeding Alex in 2000.
But Pedicini said there appears to be a move afoot to say good-bye to the old guard, saying the "days of the old families and the old ways of doing things" are on their way out.
"I think what they're doing is creating a new dynasty," he said.
Custin agreed, saying it's "OK to be the old guard if you're (Mario Diaz-Balart) and you have an impeccable record," but that wasn't the case with Diaz de la Portilla.
"There is a … a move for new blood down here," he said.
Diaz crushed his GOP opponents, but he still has one more hurdle to face before taking up residency in the upper chamber: the general election. Diaz faces Democrat Annette Taddeo in the special general election. Christian "He-Man" Schlaerth, a no party affiliation candidate, is also running.
Democrats see Senate District 40 as a possible pick-up, and a recent Democratic poll showed Taddeo with an ever-so-slight lead over Diaz. The survey, conducted by Anzalone Liszt Grove Research for the Florida Democratic Legislative Campaign Committee, showed Taddeo led Diaz by 16 points among no party affiliation voters, who couldn't vote in the primary.
The district has slightly more registered Democrats than Republicans. In 2016, Hillary Clinton carried the district, defeating Donald Trump 56 percent to 40 percent; however, Sen. Marco Rubio also came out on top, defeating Patrick Murphy 51 percent to 47 percent.
Custin isn't fazed by those top of the ticket results. While neither he nor Marin would discuss their general election strategy, Custin said "local Republicans here always outperform the top ticket by 6- to 20-points."
For Marin, it's all dependent on "who runs a better campaign."
Team Diaz is already getting help from the cavalry. Senate President Joe Negron, Sen. Bill Galvano, and Majority Leader Wilton Simpson were quick to commit the full support of the Florida Republican Senatorial Campaign Committee, which works to elect Republicans to the Florida Senate. And the Republican State Leadership Committee, an organization of Republican state officials, has already chipped in $100,000 to the FRSCC to help with the race.
The special general election is Sept. 26.