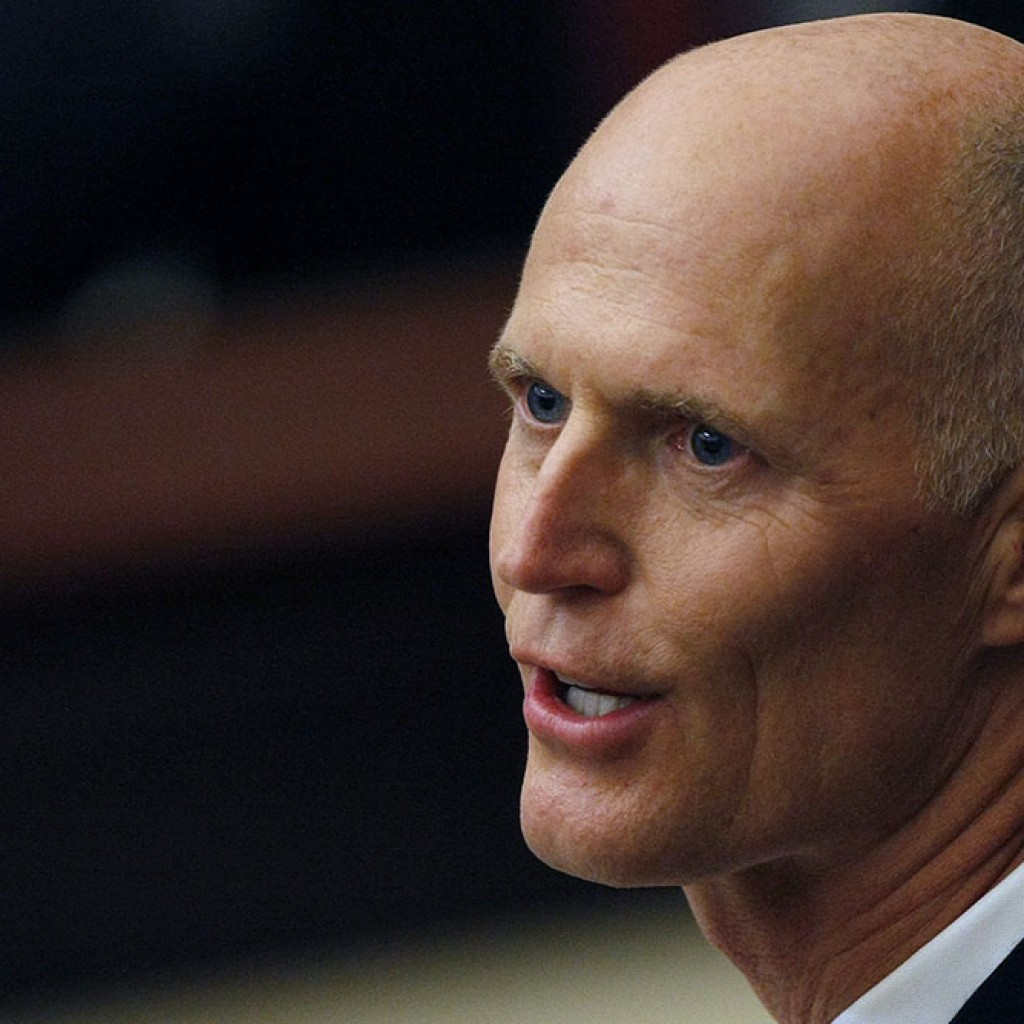 The super PAC chaired by Gov. Rick Scott has posted over $270,000 in fundraising for May and June, with $100,000 of that kicked in from the holding company for The Villages, according to a new report filed with the Federal Elections Commission.
The New Republican PAC, a national committee aimed at "rebranding and reinventing" the Republican Party after the election of Donald Trump, also paid out almost $50,000, leaving it with around $250,000 in cash-on-hand.
Other contributors include South Florida-based Dosal Tobacco ($25,000), former Senate President Mike Haridopolos's PAC "Friends of Mike H" ($25,000), and Gulf Coast Health Care, a Pensacola-based long-term care provider ($40,000).
POLITICO Florida reports that Gulf Coast is behind a major push to shift from a Medicaid cost-based approach for paying nursing homes to the use of a formula-based daily rate applicable to all providers.
The issue has caused a rift in the industry, with LeadingAge Florida opposing the switch, while the Florida Health Care Association favors it. Jamey Richardson, Gulf Coast's president, wrote an opinion piece on FloridaPolitics.com defending the change.
Before giving New Republican the $40,000, the only other federal level donation by Gulf Coast Health Care was $5,000 to Republcvian Congressman Matt Gaetz, who represents Pensacola. At the state level, however, Gulf Coast has been a frequent donor.
As for The Villages, POLITICO Florida notes that it was also a big winner during the 2017 Legislative Session, primarily through a carve-out in a telecommunications bill that allows telecom giants to attach 5G wireless technology boxes to telephone polls on public property. While municipalities opposed the proposal, arguing it violates home rule and limits what telecom companies had to pay, an amendment exempted The Villages.
The PAC's treasurer is Mori Hosseini, the Daytona Beach homebuilder whom Scott appointed to the University of Florida board of trustees last year. Hosseini, a member of INFLUENCE Magazine's 100 most influential Floridians list, previously served as the chairman of the State University System's Board of Governors.
The PAC is "focused on how do we rebrand the Republican Party," Scott told FloridaPolitics.com reporter A.G. Gancarski last month.
"The Republican Party ought to be the party of open government, choice, bottom up economy," Scott said. " … Younger voters should be voting Republican. We should target everybody because they believe what we believe in. People want a job."
With a goal of "get rid of all our tired old political jargon and clichés," New Republican was founded in 2013, but rebranded in May by Republican strategist Alex Castellanos, who serves as senior adviser. Former Scott Chief of Staff Melissa Stone serves as executive director; Taylor Teepell, finance director. The PAC states its primary goal is to raise $20 million.
According to the New Republican website, the group will focus on three issues:
— When a politician says deregulation, people's eyes glaze over. It's not sexy; no one really wins elections on it. But the simple truth is this — excessive regulations are the number one thing that keeps our private-sector economy from working. In Florida, we have cut taxes many times, and that has been important, but deregulation is what has really made our economy take off. We will aggressively back the President's push to take the leg irons off this economy and reinvent government.
— We will appeal to and target younger voters. Let me be clear: We are not going backward. This is not a nostalgic effort to go back to Ronald Reagan.  Instead, we are going to do for our party in our time what Ronald Reagan did for his party in his time:  Attract young voters, the voters of the future.  We are going to bring a generational change to the Republican Party.  This is crucial.  We have a great message for younger voters.  Our focus on open systems fits the experience of younger voters, and our focus on bottom up organic solutions as opposed to top down antiquated government systems is a perfect fit for younger voters.
— We will win Hispanic voters. In both of my campaigns for Governor, I refused to accept the idea that Republicans cannot win the hearts and minds of Hispanic voters.  It's an absurd notion.  In my re-election, I received about half the Hispanic votes — and this was two years after Romney had only gotten about one-quarter.  In my experience, Latinos want to pursue the American dream with a gusto that puts a lot of other folks to shame.  They should absolutely be Republicans. I will summarize it this way: The idea of the emerging Democratic majority is a fraud.
Some operatives, like Democratic consultant Steve Schale, see New Republican as a possible platform to expand Scott's voter base ahead of a bid for the U.S. Senate in 2018.
"I don't think the Republicans have an outreach problem with African-American and Hispanic voters; they have a policy problem," Schale told the Orlando Sentinel earlier this year. "Until they're willing to address that they can raise all the money in the world for entities like [New Republican], and it's not going to change the fact that Donald Trump has people knocking down doors and taking children and deporting them."