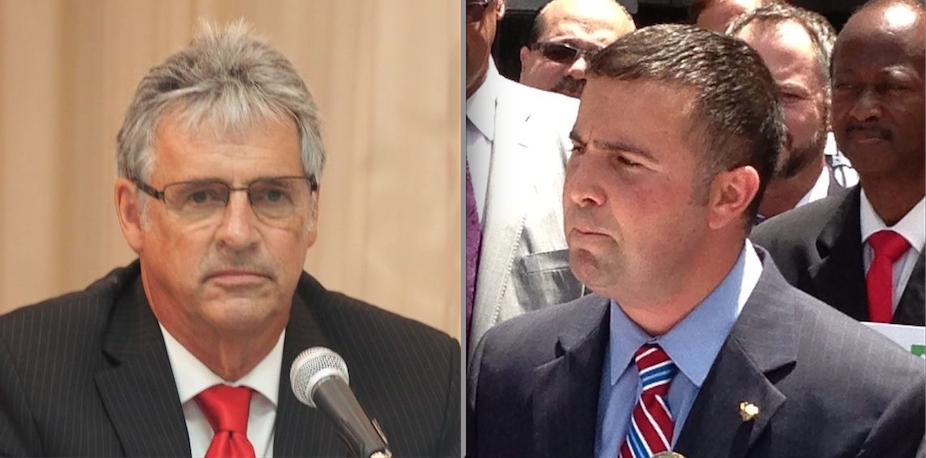 Republican congressional candidate Wayne Liebnitzky criticized the rent U.S. Rep. Darren Soto is paying for his Kissimmee office as "unusually extravagant expense of peoples' money," while the congressman defended the office Tuesday for its convenience and service to the district.
Soto is spending $4,638 a month for his primary district office, plus $866 a month for a CD 9 office in Orlando, according to Congressional Office Disbursement Reports filed with the U.S. House of Representatives. He also has been opening other satellite and part-time offices, notably in Polk County.
That's 40 percent more than Soto's predecessor, former U.S. Rep. Alan Grayson paid. Grayson had his main office in Orlando, for which he spent $3,300 a month in rent, and a district office in Kissimmee that cost $626 a month.
"My opinion of paying $55,000 a year for a congressional office in Kissimmee is an unusually extravagant expense of the peoples' money," said Liebnitzky, who lost the 2016 general election to Soto and filed for a rematch in the 2018 election.
"In the uncertain times of increased expenses the people of our community are experiencing, was this a wise decision to spend that kind of money on an office space? What decisions in the future are we expected to hear about that have not been thought through fiscally?" he added.
In his written statement, Soto responded, "We are deeply proud of our Kissimmee district office, which is centrally located to serve our constituents, symbolic of our rancher heritage, and provides a facility that is very conducive to community gatherings."
Nonetheless, the rents Soto is paying now and Grayson paid last year are both relative middle points in the wide spectrum that Central Florida members of Congress pay or have paid for their offices to support local staffs, the members when they're back home, and services to constituents.
Democratic U.S. Rep. Stephanie Murphy pays $7,142 a month for her Winter Park district office in Florida's 7th Congressional District.
On the other extreme, Republican U.S. Rep. Daniel Webster has three local offices for Florida's 11th Congressional District, and pays less than $800 a month in rent for each of them.
Then there is Republican U.S. Rep. Bill Posey. He doesn't pay a dime for his office in Viera for Florida's 8th Congressional District. That's because Brevard County has long – predating Posey – provided its congressional representative with rent-free office space in the government center there, something approved by the Congressional Ethics Office.
Members of Congress receive set allocations, adjusted for costs of living in each district, for their offices, staff, travel, and operational expenses. Generally the members are free to budget the money however they see fit. If their spending goes over the allocations, the law requires them to make up the difference out of their own pockets. If they go under, the unspent remainder is returned to the U.S. Treasury, something Webster touts every year. A higher-than-average district office rent likely would have to be offset by lower expenses elsewhere in the member's budget.
Liebnitzky, a St. Cloud small business owner, questioned whether Soto could have been more economical, especially considering what Grayson spent last year, and considering the rise of internet communications.
"My opinion is an office is a shrine. It serves very little purpose in the technology times of telecommunications and social media," he added. "Communication with the people you are suppose to represent should be top priority. We must do it better than anyone else can and set the example for the country to experience. This will be part of the performance I shall deliver in 2019. And, yes, I will have offices, but much more reasonable so we can communicate with all of our constituents."
Soto's landlord is the city of Kissimmee. The office is a historic old building at 804 Bryan St., in the heart of the Kissimmee government complex. Its 3,613 square feet provides enough space for small town hall meetings.
"It's location in the Osceola Government Complex fosters critical communication with local and state officials and is ideal to maintain office security," Soto stated. "We also have important satellite and part time offices in Lake Nona, Winter Haven, Haines City and Lake Wales to more conveniently serve our constituents in Orange and Polk Counties."
Among other members of Central Florida's congressional delegation, Democratic U.S. Rep. Val Demings pays $5,319 a month for her office in west Orange County for Florida's 10th Congressional District. Republican U.S. Rep. Ron DeSantis pays $1,700 a month for his primary office in St. Johns, $300 a month for a satellite office in DeLand, and $100 a month for one in Port Orange, for Florida's 6th Congressional District.
The three freshmen Democrats – Murphy, Demings and Soto – all are spending more than their predecessors.
Murphy's predecessor, Republican former U.S. Rep. John Mica, had three district offices with a total rent of $5,077 a month for the trio.
Demings' predecessor was Webster. However, due to redistricting, most of her district actually was represented by Democratic former U.S. Rep. Corrine Brown. She spent $3,114 a month for an office in Orlando, and $2,356 for one in Jacksonville. Her total was a little more than what Demings spends now, but with a district spanning parts of two major cities.