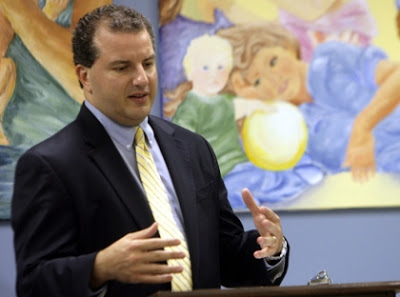 Chief Financial Officer Jimmy Patronis on Monday announced in a press release he had named Ryan West his new Chief of Staff, effective later this month, taking over for the retiring Robert "Budd" Kneip. 
"Ryan has been a trusted member of my team since day one, and there is no one better suited to serve as my second in command," Patronis said in a statement. "His instincts and experience have afforded him the tools to do the job, and I have full confidence that he will successfully lead our team for years to come."
West had been Patronis' chief advisor when he was a commissioner on the state's Public Service Commission (PSC), which regulates investor-owned utilities.
Kneip will retire Aug. 31, the office announced Friday.
He had been former CFO Jeff Atwater's man, a fellow Palm Beach Countian who served as Atwater's chief of staff when he was Senate President, following him to the CFO's office in 2010. Atwater stepped down to become CFO for Florida Atlantic University; Gov. Scott tapped Patronis to replace him in June.
Here are excerpts from the rest of the press release:
(At the PSC,) Ryan was charged with overseeing policy areas that included electric energy, water and wastewater systems, natural gas and telecommunications. Additionally, he monitored and advised the Commissioner on significant energy policy shifts in state, national and international arenas. He has also served as Chief Advisor to Commissioners Ronald A. Brisé and Ben "Steve" Stevens III.
Prior to the PSC, West led the Florida House of Representative's Economic Development and Tourism Subcommittee as Policy Chief. 
Ryan honed his economic development skill set early in his career, while serving as the Florida Chamber of Commerce's Director of Economic Development and Education Policy. There he crafted portions of the Chamber's legislative agenda and served as the Chamber's lead lobbyist on legislation that included top-tier topics, such as teacher merit pay, digital learning and charter schools, and tax relief packages for Florida businesses.
He earned a Bachelor of Arts degree in History and a Master's of Science degree in Applied American Politics and Policy from Florida State University. He lives in Tallahassee with his wife, Kim, and young son, Parker.