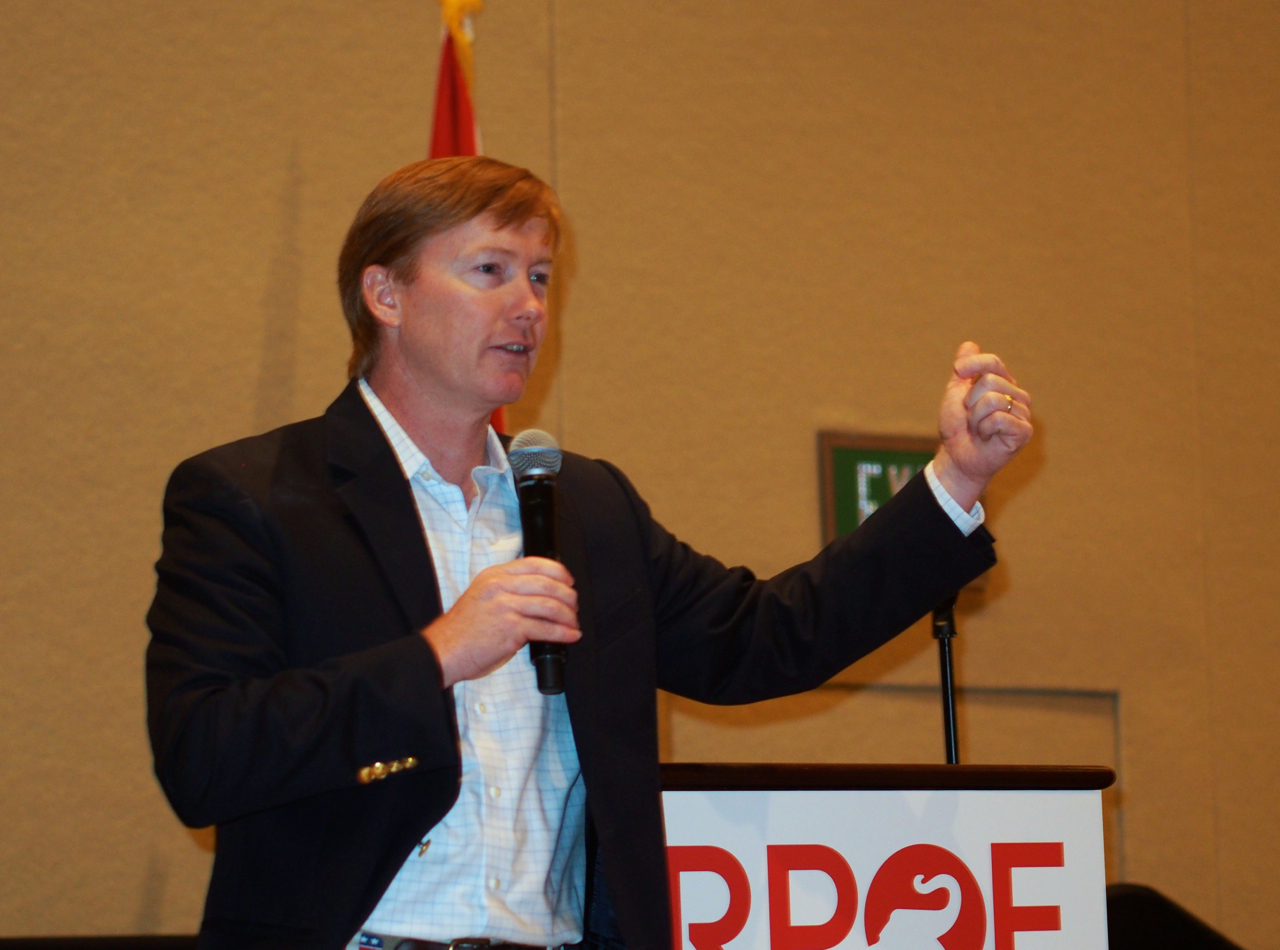 Adam Putnam assured the 200 or so delegates to his breakfast at the Republican Party of Florida quarterly meeting in Orlando Saturday that he knows their towns, he knows their roads, he knows their barbecue places, and he knows their hopes, dreams, and struggles of living somewhere that's not on an Interstate exit.
The Florida agriculture commissioner and former state lawmaker and former U.S. Congressman running for governor spun his theme of Florida being the greatest state, where everyone wants to visit or live, while pressing conservatism, urging that Florida must be "the launching pad of the American dream," and warning of liberal uprisings, with "The left is coming for us!"
And, most of all, the candidate turned on his folksy side, reminded everyone he's a fifth-generation Floridian with a ranch outside of Bartow, and strove to connect with Republicans in too-often-ignored rural areas and small towns from the Keys to the western panhandle.
Putnam, alone in the Republican race for governor until Friday, now has serious competition for the Republican primary nomination. State Sen. Jack Latvala of Clearwater filed to run Friday and addressed the Republican convention Friday night. Potential candidate U.S. Rep. Ron DeSantis of Ponte Vedra Beach was to address the crowd Saturday afternoon. House Speaker Richard Corcoran of Land O' Lakes also is a real prospect.
On Saturday morning, Putnam was positioning himself as the grassroots candidate.
He spoke of how two-thirds of Floridians don't have college degrees so the state must put more emphasis on technical training and less on trying to get everyone to go to college. He spoke of making sure everyone has the chance to start their own businesses, and don't dismiss someone starting out with a lawn-care business.
"I know our state," Putnam said. "I know every corner of our state. I've been down every four-lane, every dirt road. I know all the barbecue restaurants. If you need a tip I can tell you where the best pulled-pork meal is, where the best brisket is, who's got the best chicken. I know our state like the back of my hand. I am dedicated to the future of our state."
From there, he appeared to respond to Latvala's comments Friday night, when the House Appropriations Committee chairman lashed out at other candidates, whom he didn't name, whom he accused of forgetting the needs of the Republican Party of Florida while they pursued their own careers, and of raising money for their own causes, without contributing to the party.
"We're going to bring this state together. And this party is a part of that. It's an integral part of that," Putnam said to the party loyalists at the Rosen Shingle Creek Resort. "It's not us against them. It's not Bradford versus Highlands. It's not the party versus the electeds. You have seen me at your meetings and in your Lincoln Days…. I can't succeed as a governor if we don't succeed as a party."