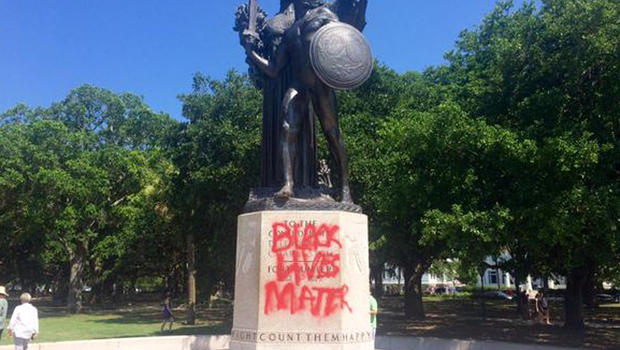 Crews on Monday were removing one Confederate statue in a Florida city and authorities said someone had splashed red paint around a Confederate memorial park in another city.
Sounds of a jackhammer echoed in downtown Gainesville as workers tore out the foundation of the statue known as "Old Joe" after local authorities decided to move it from outside the Alachua County Administration Building.
The statue's removal had been in the works for months after protests and several failed attempts to relocate it. It was unclear if the work was hastened by violent protests surrounding the removal of a Confederate statue in Charlottesville, Virginia over the weekend.
The statue is being returned to the local chapter of the United Daughters of the Confederacy, which erected it in 1904. The county said it did not know where the statue would go, the Gainesville Sun reported.
In Tampa, a passer-by called 911 after seeing that paint had been tossed on and around the Confederate memorial's columns and derogatory comments were scrawled in paint, Hillsborough County sheriff's officials said in a news release. The site is on private property near Tampa on Florida's west coast.
Other Confederate memorials in the area have been targeted as well.
Hillsborough County commissioners voted on July 19 to remove a different monument in the county, this one in downtown Tampa and on county property, after several heated meetings filled with public discussion.
On Wednesday, the commission is scheduled to discuss the monument again with an update on the relocation.
The attention focused on Florida's Confederate monuments comes as similar debates heat up in other states. Tension flared into violence this weekend in Charlottesville, Virginia, after a white nationalist rally that was tied to protest against the removal of a Confederate statue there.
Republish with permission of The Associated Press.