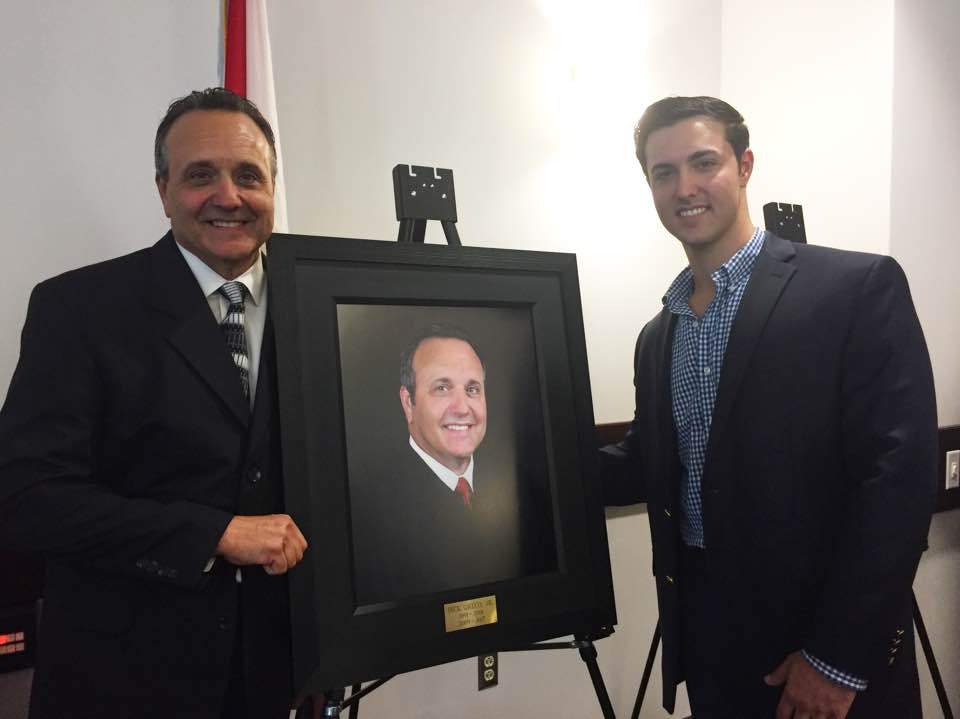 Retired judge Dick Greco Jr. says he is still considering running for Tampa mayor in 2019.
"I've been talking to some friends and family, and quite flattered, was very flattered that some people were asking me if I would be interested, so I'm just looking at all my options and that type of thing now," Greco Jr. said Friday.
Greco is, of course, the son of Dick Greco, who served as mayor for parts of four different terms in four different decades. He came up 384 votes in 2011 of making the runoff to win a fifth term.
Greco Jr. first discussed his mayoral ambitions in an interview with the Tampa Bay Times' Sue Carlton last month. He says he's thought about running for "years and years," but says he never felt it was the right time to leave the bench, where he served as a county and circuit court judge before stepping down in January,
He graduated from Auburn University and the South Texas College of Law. Greco was a prosecutor in Hillsborough for two years in the 1980s. He later worked in private practice and as an assistant county attorney. In 1990, Greco won election to the county court bench, where he stayed until returning to private practice in 2002. Greco served as a senior judge in 2008 before Gov. Charlie Crist appointed him to the county bench in 2009.
One thing that Greco Jr. would have to do if he were to actually get into the race is move back to Tampa. He purchased a retirement home in Homosassa several years ago, and after leaving the bench earlier this year, he sold his Tampa home. But he says he is definitely moving back to Tampa.
"I think Tampa is a dynamic town," he says.
Former police chief Jane Castor, former state Representative Ed Narain, businessman David Straz and Council members Mike Suarez and Harry Cohen have all had their names floated as potential candidates when Bob Buckhorn's second term expires.
"There's some really great individuals who are thinking about doing it," he says. "I think Tampa would do well with any of the names that I've heard."
Greco Jr. does acknowledge that since he stepped down from the bench in January, life has been pretty good.
"I've really been enjoying retirement, and I've been able to travel some, and have my own schedule, and come and go like I wanted to," he says, acknowledging that "it would be a great commitment."
"But it's a great thing to do should I decide to run and if I was to win it'd be a great way to serve," he surmises.
Greco Jr. says he will make the first decision about a potential candidacy probably at the beginning of 2018.