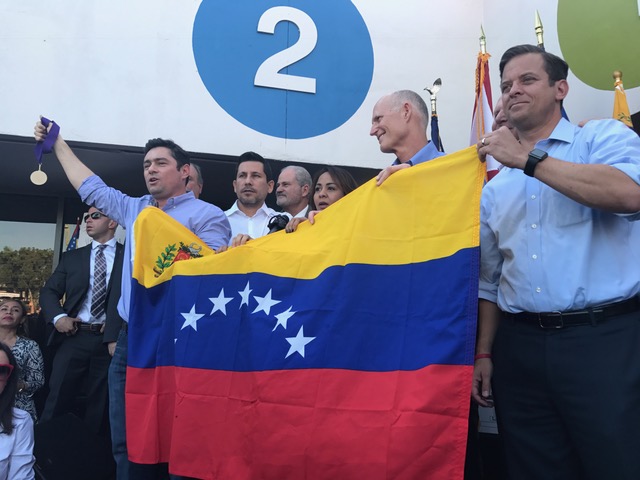 As Venezuela's economy continues to spiral downwards, Governor Rick Scott has been championing the opposition to President Nicholas Maduro.
Scott is expected to ask the Florida Cabinet on Wednesday for a resolution prohibiting the State Board of Administration, which acts as the state's investment manager, from investing in companies or securities that are owned or controlled by the Venezuelan government.
President Donald Trump threatened military action in Venezuela last Friday night, sparking condemnation from around the region, including from countries which are usually some of Maduro's harshest critics.
Maduro has seized on Trump's comments to reaffirm long-standing accusations that Washington is preparing a military attack. He called for military exercises on Monday, urging the public to join in a two-day operation on August 26 and 27 involving both soldiers and civilians.
"I know that the president is very concerned," Scott told Florida Politics Tuesday when asked if he had any concerns about Trump's provocative comment.
"I've talked to him about Venezuela a number of times. I think doing the sanctions was right against everybody involved with Maduro," said the Governor, speaking to reporters at the Florida Aquarium after holding a press conference touting the record number of tourists who visited Florida during the first half of 2017.
"It's disgusting what's happening down there," Scott said.
Scott derided the Maduro government for placing opposition leader Leopoldo Lopez under house arrest after he was released from prison following a three year sentence for leading anti-government protests.
"Maduro needs to step down, he needs to release all political prisoners, we need democracy again, " Scott said.
The Governor has not officially declared himself a candidate for U.S. Senate, but is expected to at some point in the next year. He'll face Democratic incumbent Bill Nelson. With the crisis in Venezuela exploding, both men have been competing with each other to show how devoted they are to the Venezuelan-American constituency in Florida.
Nelson has been seemingly trying to catch up to Scott in talking tough on the Maduro government. Last month he called the Trump administration to consider cutting off imports of Venezuelan oil. While limiting Venezuela's oil imports to the U.S. is seen as a powerful weapon, it's not clear how effective it would be, and is not something that even Marco Rubio has publicly called for (though he has said the issue should be on the table).
Nelson and Rubio introduced legislation in May to provide humanitarian assistance to the Venezuelan people and increase sanctions on the Venezuelan officials responsible for the ongoing crisis there. Meanwhile, officials close to the governor note that he has been concerned about the Venezuelan people going back to 2014.
Scott brushed off a question about whether he supported Nelson's request, saying that the Trump administration is looking at everything that they can do to promote democracy.
Over 120 people have been killed since anti-government protests began in April, driven by anger over shortages of food and medicine and Maduro's creation of a legislative superbody that governments around the world say is dictatorial.
"I've talked to a variety of people, including some people who do charity care down there and they can't even get charity care in there," Scott decried.
The governor then got personal, saying that his daughter is pregnant with twins, and said he couldn't imagine having a daughter or wife in a country that is enduring a shortage of medicine, which is the case currently in Venezuela.
"Can you imagine that knowing that your wife or daughter or somebody is going to have a baby and you know that unfortunately you're in a country where they won't even allow in the right medicine to take care of their citizens?" he asked. "That's wrong."