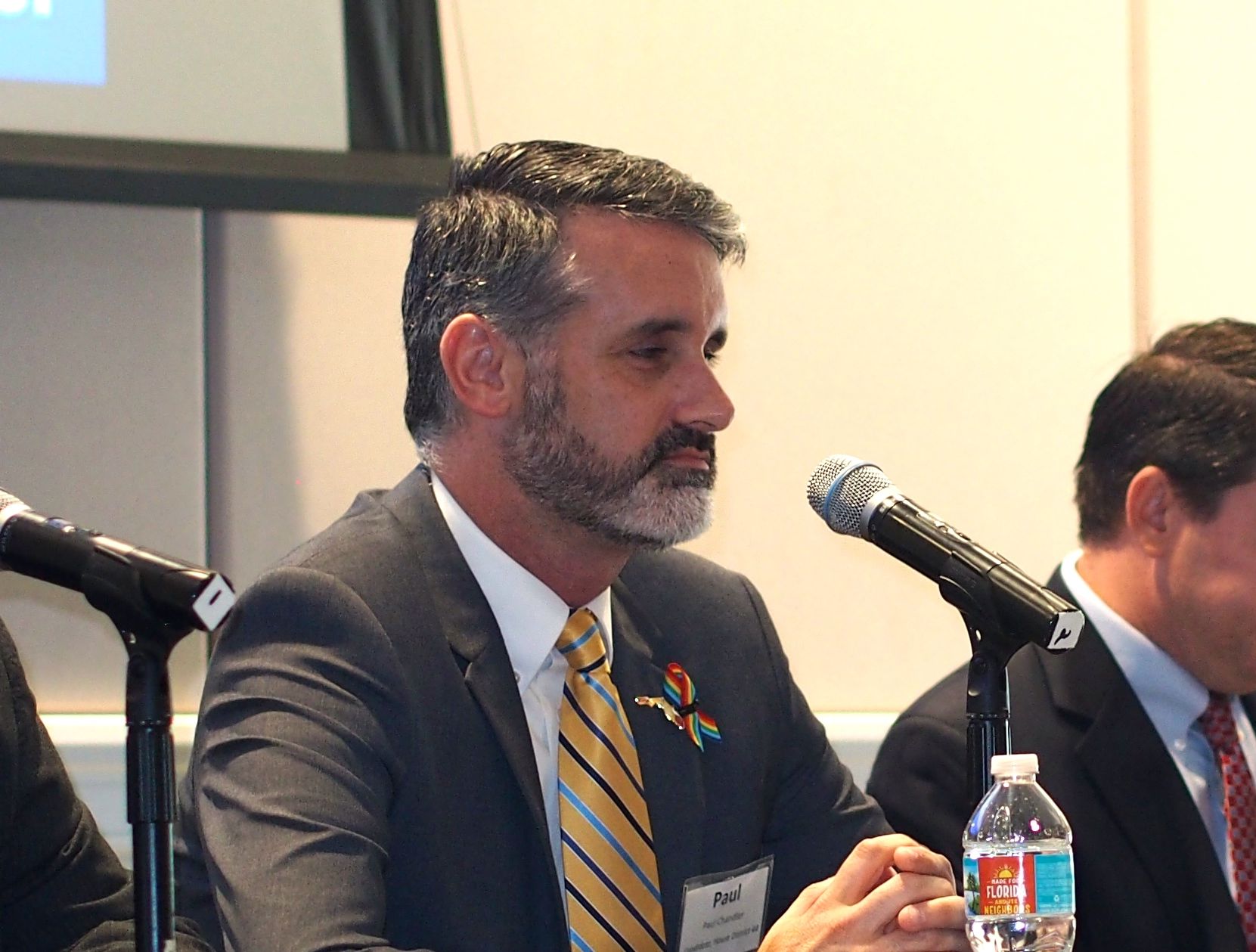 A defiant and angry Paul Chandler declared Friday he has not withdrawn from the House District 44 special election and is weighing his options as he and the Democratic Party reach open warfare over the party's wish to replace him.
Chandler had said in a press release and on social media on Tuesday that he would be dropping out of the the Oct. 10 race after state and Orange County party leaders urged him to. The party leaders were worried he could be ruled ineligible to run, based on a lawsuit challenging his qualifications filed by a Republican in the district.
But since then Chandler has lashed out out the party leaders, saying they pressured him when he still thought he had a chance to win both the lawsuit and the election.
"With the feedback of grassroot supporters who actually believed in our campaign, I am still considering options," Chandler said in a statement to Orlando-Rising.com Friday afternoon.
The Democratic leaders were hoping Chandler would be out by Friday to give them time to name a replacement candidate in time to get the new nominee's name on the absentee ballots, which could start going out this weekend.
The Democratic in-house battle is great news for the Republican nominee, Winter Garden businessman Bobby Olszewski, who won a tumultuous primary Aug. 15, and already holds advantages in a district that has a strong Republican lean and a history of being owned by Republicans. The seat came open only because Republican incumbent state Rep. Eric Eisnaugle resigned this spring to take a judicial appointment.
"I have not filled [paperwork to withdraw] yet with the [Florida] Secretary of State's office," Chandler declared in a statement.
Now the Democratic Party also is weighing its options.
"Paul Chandler announced his intentions to the voters of District 44 on Tuesday when he issued a press release stating he was withdrawing from the race," said Orange County Democratic Chairman Wes Hodge.
But Chandler characterized that press release and events earlier this week as an episode of harassment from party officials.
Chandler said Hodge came to his apartment and office unannounced to talk about his leaving the race, and then The Florida Democratic Party and its Florida House Victory committee called him Monday saying he needed to resign by 5 p.m. Monday in order to give the party time to get a new name on the ballot.
"Tuesday morning our campaign published a press release saying I was going to resign, based on outside sources. Those 'outside sources' was not the lawsuit, which we are confident we will win. Those outside sources were the Florida Democratic Party and Orange Country Democrats Executive Committee," Chandler stated.
The lawsuit alleges that Chandler, who maintains homes in Lake Buena Vista and St. Louis, Mo., voted in Missouri last fall, and charges that would mean he has not resided in Florida for the mandatory two year period the Florida Constitution requires for incoming members of the Florida Legislature.
Chandler has not disputed he voted in Missouri last fall, but has maintained that Florida law does not stipulate that a vote in another state negates a person's residence in Florida. He and his campaign insist he has maintained his primary residence in Florida since at least 2014, and were ready to defend his residency in court.
Democratic Party officials, including Hodge, were not so confident about his chances in court.
He said the party officials offered to back him in a future school board race if he got out quickly and quietly, but said they would not back him this fall if he stayed in the race.
Hodge insisted he made no such threats.
Chandler accused the party of doing little or nothing to support his campaign to date, so he didn't see a big problem if the party refused to support him from here on out.
"I did not get into this race to just get into politics. I got into this race because no other Democrat would. For years the Florida and Orange County Democrats stood by the sidelines and let the Republican Party win HD 44," he stated. "I was tired of hearing the same empty promises of the Republican Party and problems not being fixed in Tallahassee."
"I have made this race my top priority this year. Until the last two weeks, the Florida Democratic Party and the Orange County Democrat Executive Committee has shown little interest in this race or my campaign. I, along with our dedicated campaign volunteers, have put countless hours of energy and sweat into this campaign. As the only candidate to step forward to run (without the recruitment of the Democratic Party), I have the right to officially end my campaign when I end it," Chandler concluded.