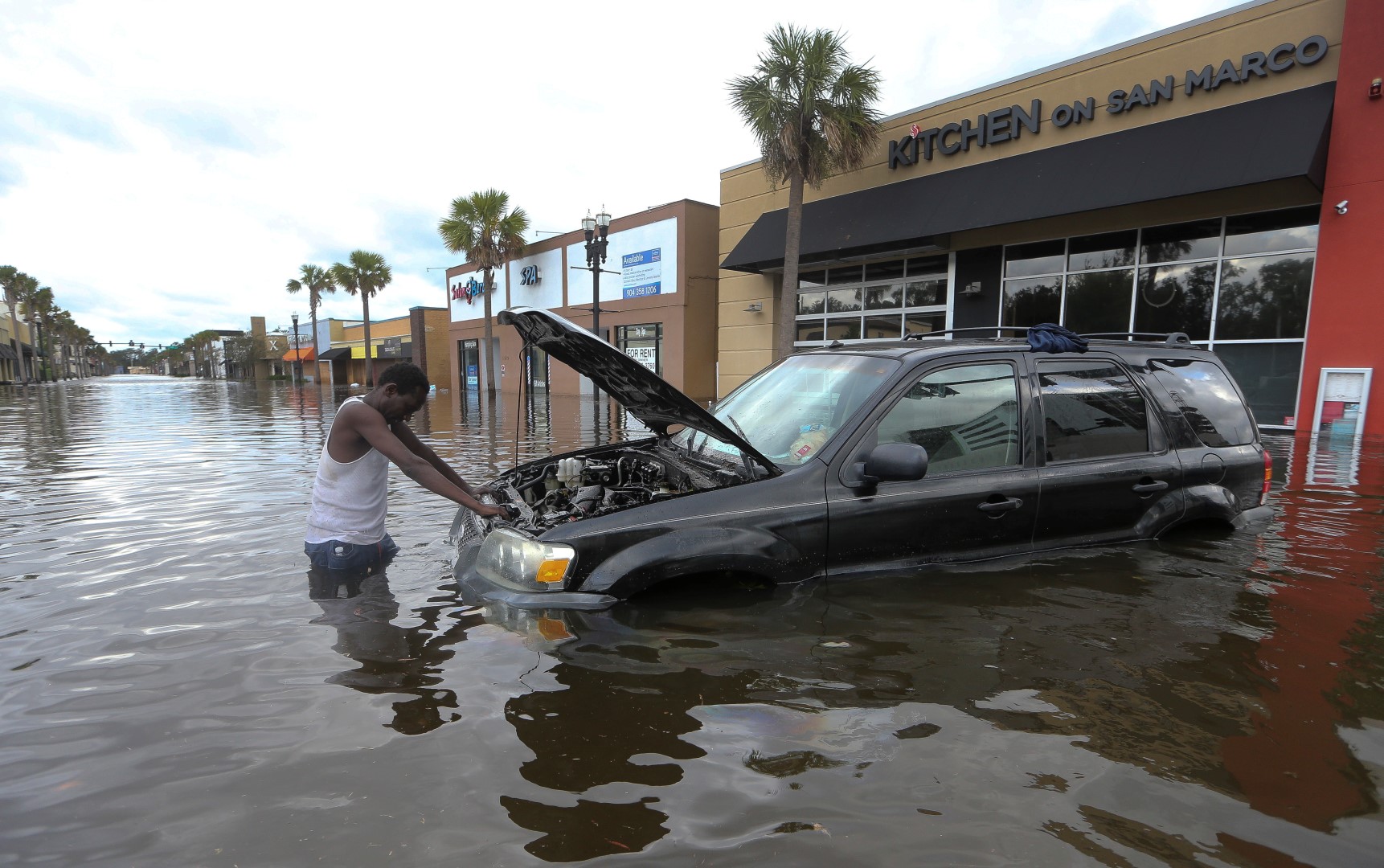 If Irma flooded your car, don't try to start it. You could do even more damage than the storm did.
That advice Wednesday from the Property Casualty Insurers Association of America, or PCI, a trade association representing a broad swath of the auto, homeowners, and commercial markets.
Comprehensive auto policies typically cover water damage to vehicles, the organization said in a press release.
Additionally, the Federal Emergency Management Agency, or FEMA, can assist with "reasonable needs and expenses" for damage not covered by insurance.
"Owners will likely have to prove that liability insurance requirements were met at the time of the loss, and aid is likely to come in the form of a loan that they will have to pay back," the association said.
PCI offered this advice:
Don't try to start the car if the water rose above the floor boards or the seats are wet. You might cause more damage to the electrical system.
Crack the hood and check the air ad oil filters. If they're wet, don't try to start the car.
Finally, report the loss to your insurer and avoid additional damage by covering any broken windows. Report missing vehicles to the police.
"Like any total loss vehicle, the vast majority of insured vehicles will be disposed of via salvage auctions and branded as flood damaged or salvage according to the title laws of the state," said Bob Passmore, assistant vice president for personal lines.
"While a properly restored and titled vehicle can be a very economical option to purchase a car, consumers should know what they are getting, because there is always a chance that there will be problems down the road with corrosion or of malfunctions in the electrical systems," he said.
Flood damage is supposed to be recorded on vehicles' permanent records — their titles. Car Fax is offering free flood damage VIN checks at http://flood.carfax.com/, and the National Insurance Crime Bureau offers the same service at www.nicb.org.
Additionally, you can check the vehicle history at www.vehiclehistory.org
Unscrupulous dealers sometimes "wash" auto titles of damage histories. PCI suggested asking sellers outright about damage, and checking titles for brands like "flood damaged" or "rebuilt salvage."
You can check seats and carpets for signs of moisture, or suspiciously new-looking materials compared to the rest of the car. You should inspect for signs of rust and mold, including obvious cleaning product smells.
Moisture inside headlights and tail lights is a give-away, as is debris in spaces where water might collect.
A professional car inspection also is a good idea, PCI said.