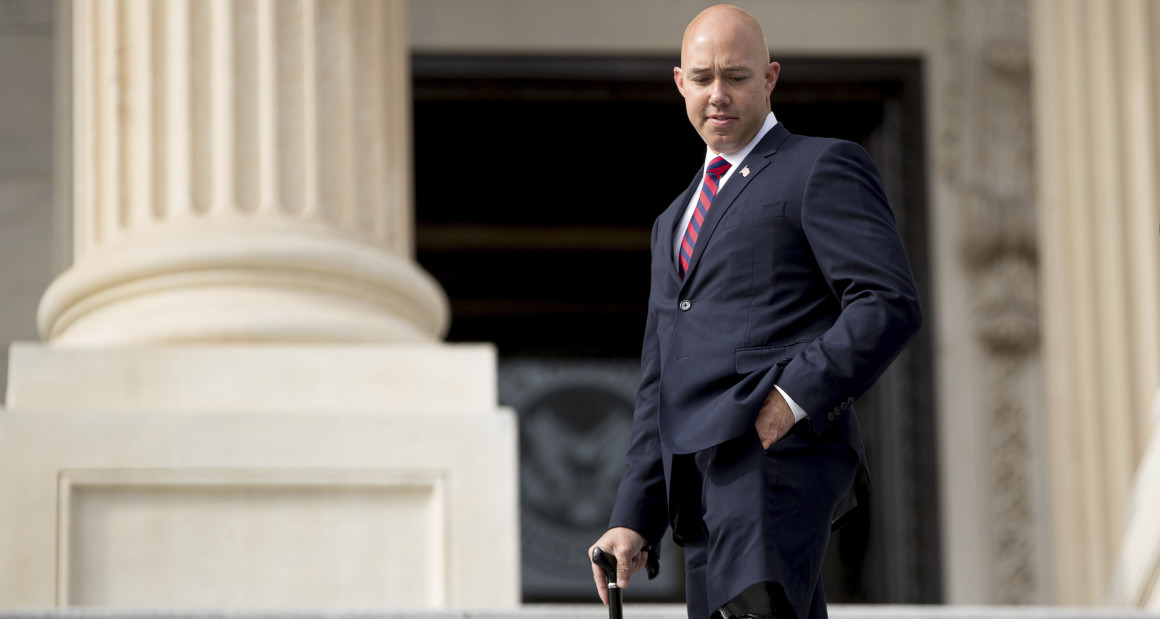 A day after dozens of NFL players kneeled in silent protest during the playing of "The Star-Spangled Banner," U.S. Rep. Brian Mast weighed in with own hot take on the simmering controversy.
"The NFL doles out penalties for celebrating a touchdown, but won't require respect for our flag?" Mast wrote on Facebook Monday.
Mast served in Afghanistan as a member of the U.S. Army. In 2010, he stepped on an IED in Kandahar and lost both of his legs and one of his fingers in the blast. He referenced his military past in blasting the NFL players who opted not to stand during the playing of the anthem on Sunday.
"I have taken a knee after jumping out of a helicopter as we looked for the enemy, taken a knee in front of the Soldiers Cross as we mourned a fallen brother and taken a knee in church. Any player who has taken a knee to protest this great country during its anthem should already be gone," Mast writes, adding, "To all my brothers and sisters still serving overseas: we stand with you!"
Mast is a freshman Republican who was elected to Florida's 18th Congressional District last November. His sentiment is similar to several other Florida Republicans who have weighed in over the past 24 hours regarding the controversy, which has been ongoing for more than a year after former San Francisco 49ers quarterback Colin Kaepernick became the first player to sit during the anthem, saying that he was doing so to highlight how blacks are treated by the criminal justice system.
President Donald Trump ignited passions about the issue over the weekend when he called for such players who refuse to stand during the anthem to be fired and called them "sons of bitches."