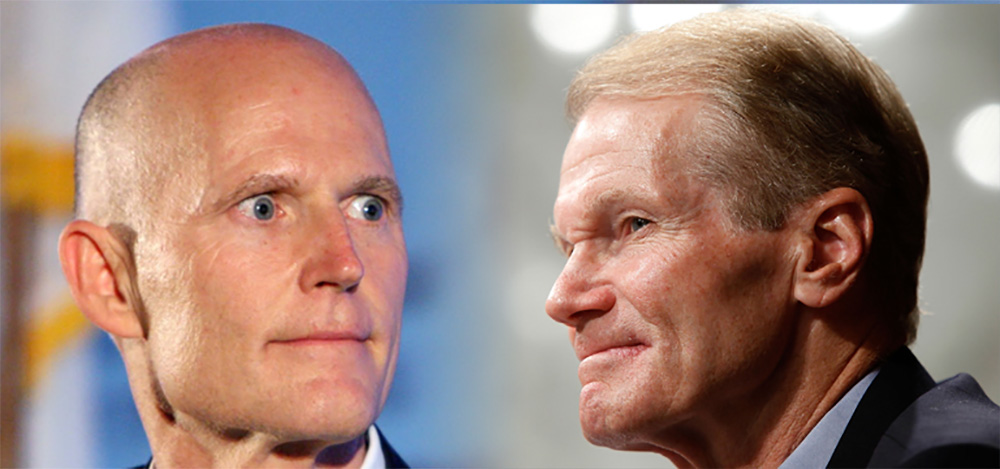 Though the margin of just two percent is too close to call, a poll released Wednesday by the Florida Chamber of Commerce suggests a potential sea change in the Senate.
The Chamber poll has Gov. Rick Scott ahead of Sen. Bill Nelson in a hypothetical head-to-head matchup, 47 percent to 45 percent.
Scott, at least according to the 615 likely voters polled by live phone calls between Sept. 17 and 24, does not suffer from close association with President Donald Trump. Nor is he in any risk of losing ground in the Democratic "wave" election many observers expect.
Indeed, the Chamber poll shows President Trump with a 48 percent approval rating against 50 percent disapproval.
Scott's fortunes are buoyed by key metrics driven by his handling of Hurricane Irma, which include 56 percent of likely voters thinking Florida is headed in the right direction, and 91 percent of Floridians — including 84 percent of Democrats — approving of his crisis management in the storm.
This bodes well for the Chamber and affiliated interests.
"Despite Hurricane Irma's destruction, Floridians believe securing Florida's long-term future is more important than short-term politics," said Marian Johnson, Senior Vice President, Political Operations for the Florida Chamber of Commerce. "It's heartwarming when voters believe Florida is headed in the right direction immediately after a hurricane."
Per the Chamber: " The sample size included 263 Democrats, 256 Republicans and 96 Others for a total of 615 respondents statewide."